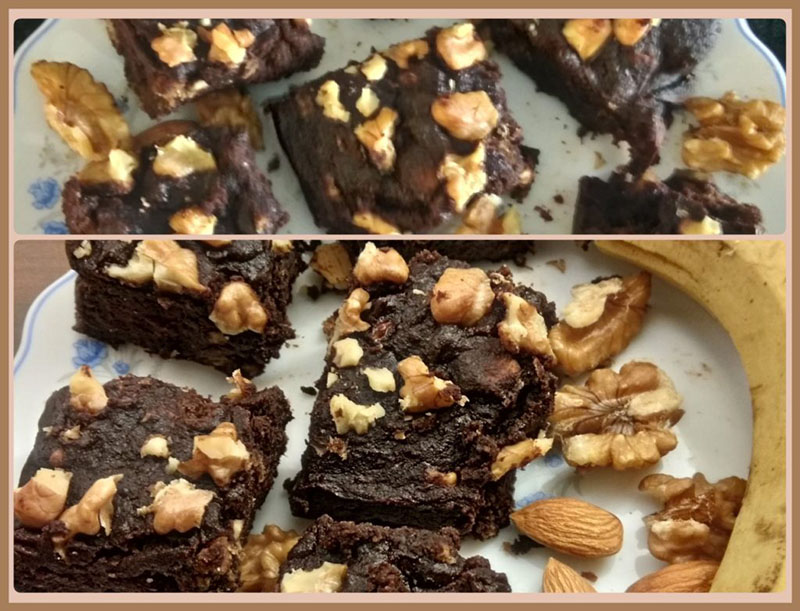 25 Mar

Almond Pulp Brownies

Previously I had posted in my Nut milk recipe what to do with the left over almond pulp after extracting the milk. You can make these healthy Almond Pulp Brownies mixing the pulp with Ragi flour.

Ingredients:
Leftover almond pulp                   ½ cup
Brown sugar / jaggery powder* ½ cup
Ragi Flour                                         ¼ cup
Cocoa powder                                  4 tablespoon
Mashed ripe banana                     ¼ cup
Flax seeds powder                       2 tablespoon (mixed with 6 tablespoon                                                                              lukewarm water and kept for 15 mts)
Nut butter** / any oil                  2 tablespoon
Vanilla essence                            ½ tsp
Walnuts chopped                        2 tablespoon + 1 tablespoon for garnishing

* I have used palm jaggery powder (powdered karupatti vellam) here
**Almond butter/ Cashew butter/peanut butter
Soak 2 tablespoon flax seeds powder in 6 tablespoon lukewarm water for 15/20 mts till it becomes a gooey liquid like an egg white.
Take ¼ Cup mashed, ripe banana in a bowl.
Add flax seeds meal, nut butter (oil) and vanilla essence. Mix well
Add almond pulp, brown sugar, ragi flour and cocoa powder.
Mix all well.
Add chopped walnut finally
Take a 6" square baking dish/ any other equal size dish, line with parchment paper and press down the brownie mix.
Top with chopped walnuts.
Bake at 180˚ C for 30 to 35 mts.
This quantity makes 9 Almond Pulp Brownies. If you don't have left over almond pulp you can use almond flour. If the resulting mixture is dry, you can add 2 to 3 tablespoons of water to bring it to dough consistency.
Flax seeds powder mixed with lukewarm water is one of the substitutes for egg. 1 tablespoon of it mixed with 3 tablespoons of lukewarm water and left for 15 mts is a substitute for 1 egg. Have been using it regularly and successfully.