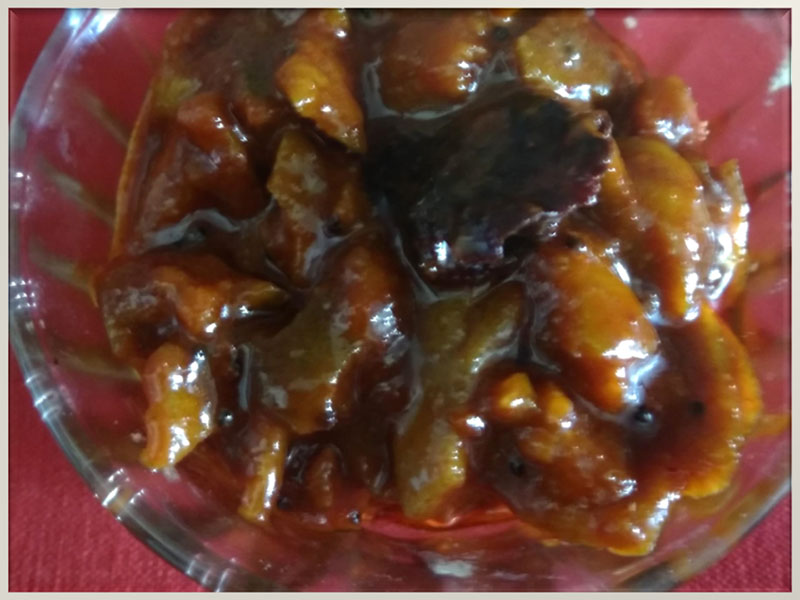 30 Mar

Orange peel Chutney

Orange peel Chutney is a sweet and sour chutney. The bitterness of the peels depends on the sweetness of the oranges. More sweeter the oranges, less bitter the peels. Hence the Chutney does not become bitter. This Chutney goes well with idli, dosa, paratha, bakhri and even as a spread on bread. The sweet and sour taste with the flavour of orange makes this a unique chutney.

I have used OPOS technique to prepare this chutney

Wash and chop orange peels into small bits.

In a 2 litre cooker add
1 tablespoon oil
1 cup chopped orange peels
Juice of lemon sized tamarind*
2 tsp chilli powder, 6 teaspoons jaggery powder, salt to taste
Pour ¼ cup water around.
Cook on medium heat for 4 whistles. Let pressure settle. Add tadka of mustard seeds, methi seeds and 2 broken red chillies and asafoetida.
Replace:
Tamarind juice with / ready tamarind pulp 3 tablespoons
Tips:
If the mixture is too watery, boil in open vessel for few minutes.
If its too thick, add little cold water.
Adjust spice level according to taste.
*Soak tamarind in just enough hot water / cold water for 15 mts. Squeeze the pulp till you are left with dry tamarind by adding more water.
Store this Orange peel Chutney in a clean glass jar in the refrigerator. It stays good for a month also.