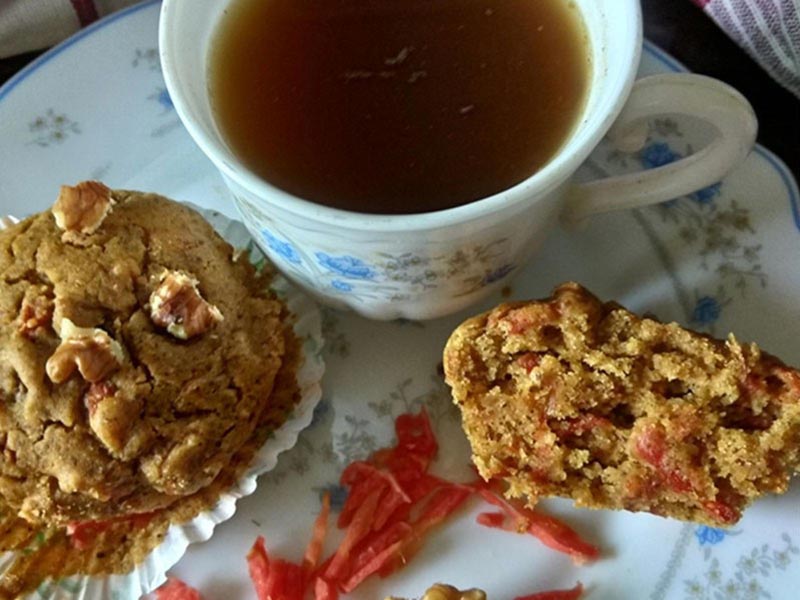 24 Apr

Carrot Cupcakes / Gluten free cupcakes

What can be better than a cupcake after a wholesome dinner? These are healthy Carrot Cupcakes using gluten free millet flour. They are also so quick and easy to make.

Called Fairy Cakes in British English, the term cupcake evolved when a recipe called "a light cake to bake in small cups" was written for the first time in 1796, in American Cookery by Amelia Simmons. The documentation of the term "cupcake" happened in 1828 in "Seventy-five Receipts for Pastry, Cakes, and Sweetmeats" in Eliza Leslie's cookbook.

Before 19th Century, muffin tins were not widely available and so the cakes were often baked in individual pottery cups, ramekins, or moulds and took their name from the cups they were baked in. This is the use of the name that has remained, and the name of "cupcake" is now given to any small, round cake that is about the size of a teacup.

These Carrot Cupcakes make a healthy snack or after dinner dessert option. Best for people with gluten intolerance.

Ingredients:
¾ cup Jowar flour
1/8 cup Rice flour
1/8 cup Tapioca flour / Arrowroot flour
½ tsp Baking Powder
½ tsp Baking Soda
¼ cup cooking oil
¾ cup brown sugar / jaggery powder ( I used palm jaggery power)
2 tablespoon flaxseeds powder mixed with 6 tablespoon warm water
1 cup finely grated carrots
½ cup walnuts chopped
½ cup coconut milk
Vanilla essence
Preheat the oven to 180˚C / 350˚F
Mix all the 3 flours thoroughly with a whisk.
Add baking soda and baking powder and sieve
In cooking oil add brown sugar / jaggery powder and mix
Add flaxseeds meal and vanilla essence
Add grated carrots
Add chopped walnuts keeping some for topping
Add flour mixture to wet ingredients
Add coconut milk slowly and mix gently checking the consistency of the mixture. The mixture should be a smooth batter.
The requirement of coconut milk depends on the quality of flour.
Line Muffin cup cake tray with cupcake liners and pour 2 tablespoons of batter into each. Top with chopped walnuts and bake in the preheated oven for 30 minutes.
Insert a toothpick and check if the cakes are done.
Makes 9 cupcakes