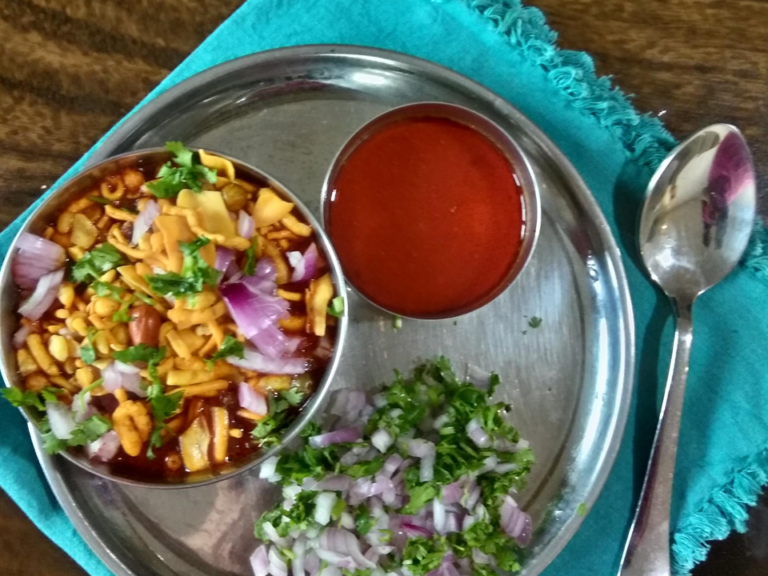 17 Apr

Mumbai Misal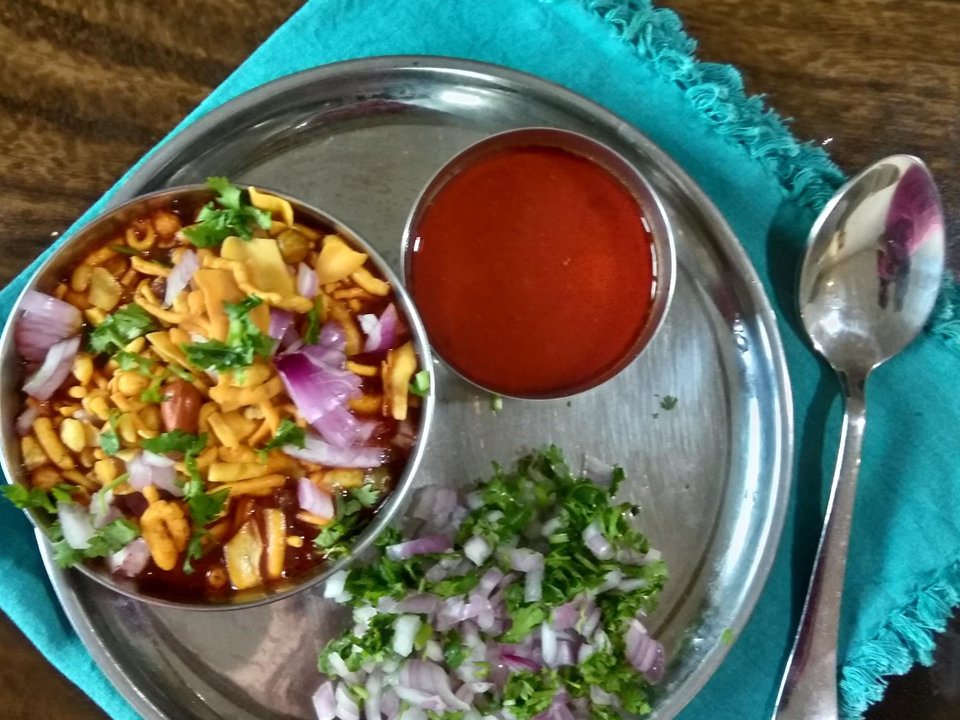 After Kumbakonam Kadappa, its time for Mumbai Misal. Misal is a very popular street food in Maharashtra. Mostly eaten for breakfast or a snack or even as a protein filled dinner, it being a nutritious dish. Misal is made different ways in different states of Maharashtra. Puneri Misal from Pune, Kolahpuri Misal from Kolhapur are popular street foods of the respective states. Puneri Misal is spicy but Kolhapuri Misal is spicier. The basic ingredients of the Misal are Sprouts, farsan, chopped onion, chopped coriander, and tari/kat/rasa (the spiced water).
Here is the recipe for Mumbai Misal.
Ingredients:
½ cup finely chopped onion
½ cup finely chopped tomato
1 tsp ginger garlic paste
1 ½ cups sprouted Moth (matki)* / any sprouts
2 tsp Misal Masala**
2 tsp Kashmiri chilli powder
2 tsp any oil
Salt to taste
Mixed Farsan (Mixture of different kinds of Sev)
Chopped onion and coriander for garnishing
Heat oil in a pressure cooker / pressure pan
Add onion and sauté till onions become translucent
Add Tomato and sauté for few more minutes. If the mixture is too dry, add some water
Add Misal Masala powder, Kashmiri chilli powder, salt and sauté for few more minutes till the masalas mix with onion and tomato base.
Add sprouts and 2 cups water.
Close the cooker and cook on high for 3 whistles.
Misal should be watery. Add 1 or 2 cups more water on opening the cooker and bring to a boil.
To serve:
Take a little Farsan in a cup
Add 2 ladle cooked sprouts
Add some onions and 2 ladle rasa (gravy) from the top of misal
Add more farsan, onion and coriander.
Misal is normally served with bread or Pav. For Gluten free, serve with non-glutenous multi grain bread / millet roti. Or you can avoid pav /bread and can just have it plain. Serve more rasa in a cup, extra onions and farsan.
*Matki is a variation of 'karamani'. It may be called 'sirupayaru' or 'tattai payaru' in some South Indian states. If you do not have Matki dal, you can replace it with any sprouts.
**Misal Masala
Misal masala is easily available in markets. If you don't have access to it, you can make it at home:
6 tablespoons desiccated coconut
2 tablespoons coriander seeds
2 tablespoons sesame seeds
1 teaspoon Jeera
1 teaspoon Garam Masala
2 teaspoons Kashmiri chilli powder
Dry roast first 4 ingredients, add Garam Masala and Chilli powder and blend everything together to make fine powder. This can be stored in refrigerator for months.