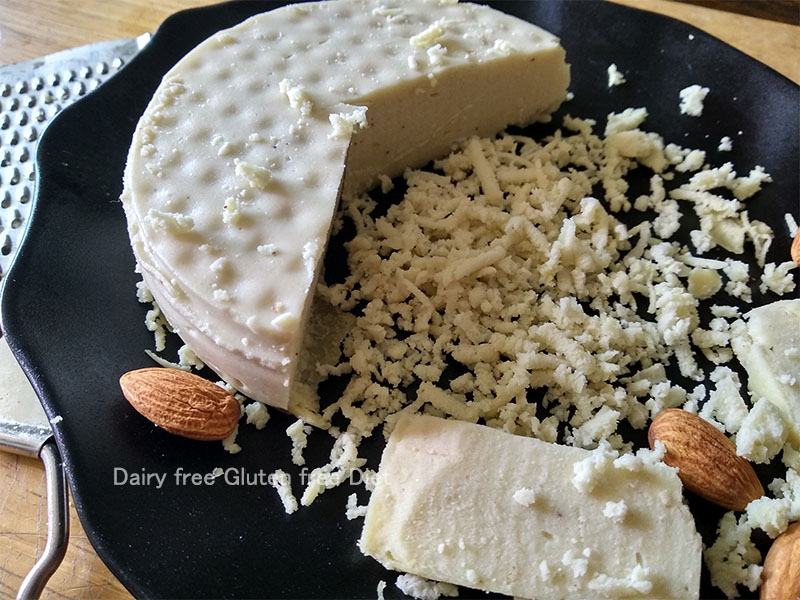 10 Apr

Vegan Cheese / Nut Based

After deciding to quit diary products from my food, initially I missed cheese. Not that I was fond of cheese. But an occasional pizza with mozzarella cheese was most welcome. Unlike in other parts of the world where veganism is popular and vegan products are available off the shelves in any super market, here in India, you cannot find Vegan Cheese off the shelves. Most of my search for homemade cheese had ingredients like miso paste, nutritional yeast, etc, which are either not available in India or cost a bomb if available. After 5 / 6 attempts to make cheese with available ingredients, I cracked this finally.

This Vegan Cheese is great recipe for homemade nut based vegan cheese that can be made with just a few simple ingredients.

Quick and easy to make, this is great to serve grated on gluten free flat breads, or sliced and grilled on breads or directly had with crackers.

Ingredients:
1/3 Cup almond  OR
1/3 Cup cashew
½ tsp salt
½ tsp white pepper powder
1/2 tsp garlic powder (optional)
3 tsp agar agar powder
Soak the nuts in hot water for 2 hrs. If you are using almonds, peel them.
Blend all ingredients very smoothly adding 1 cup water slowly.
Heat a heavy bottomed skillet.
Pour the blended mixture and cook on a slow flame stirring constantly.
Make sure to avoid limps.
When the mixture thickens and leaves the sides of the pan pour in 4" spring form pan /silicon moulds/any suitable container.
Chill in the refrigerator for 30 mts.
Unmould
You can grate it and have it on pizzas
Slice and use on sandwiches
Be warned that it does NOT melt & NOT gooey like mozzarella or cheddar.  But its very healthy and versatile and closest to dairy cheese.