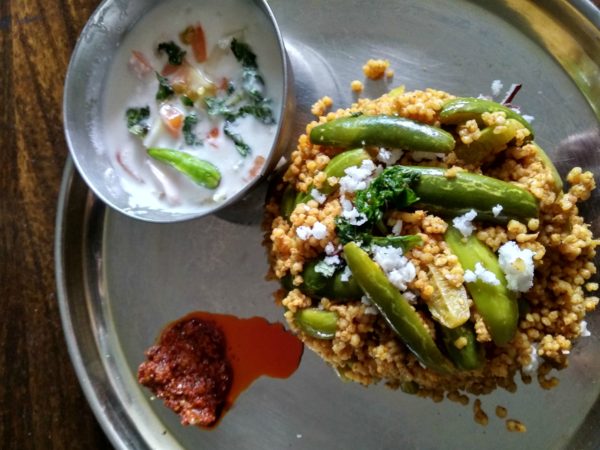 18 Jun

Masale Bhat / Kodo Millet masale Bhat

Masale Bhat is a popular dish in marathi cuisine. Served invariably in Maharashtrian weddings, it is traditionally cooked with vegetables like Ivygourd (Tendli) and Brinjal, mixed with typical Maharashtrian spices like goda masala, and Kopra. But down the line it has changed its avatar with the use of vegetables like Carrot, Peas, Cauliflower, etc. You are free to use them. What differentiates itself from normal Pulav is the use of Goda masala which gives it a distinguished flavour. Another uniqueness of this dish is that it needs no onion & garlic as in pulav. Served with simple raita or even just plain curd and some pickle, it tastes heavenly and is a great recipe for Lunch box.

Goda Masala is easily available in the market. If you don't have access, pl refer to my recipe to make it at home.

Here I have replaced rice with kodo millet. And used OPOS technique to prepare this. This masale bhat is simple, easy, time-saving and flavourful. Pl try and let me know.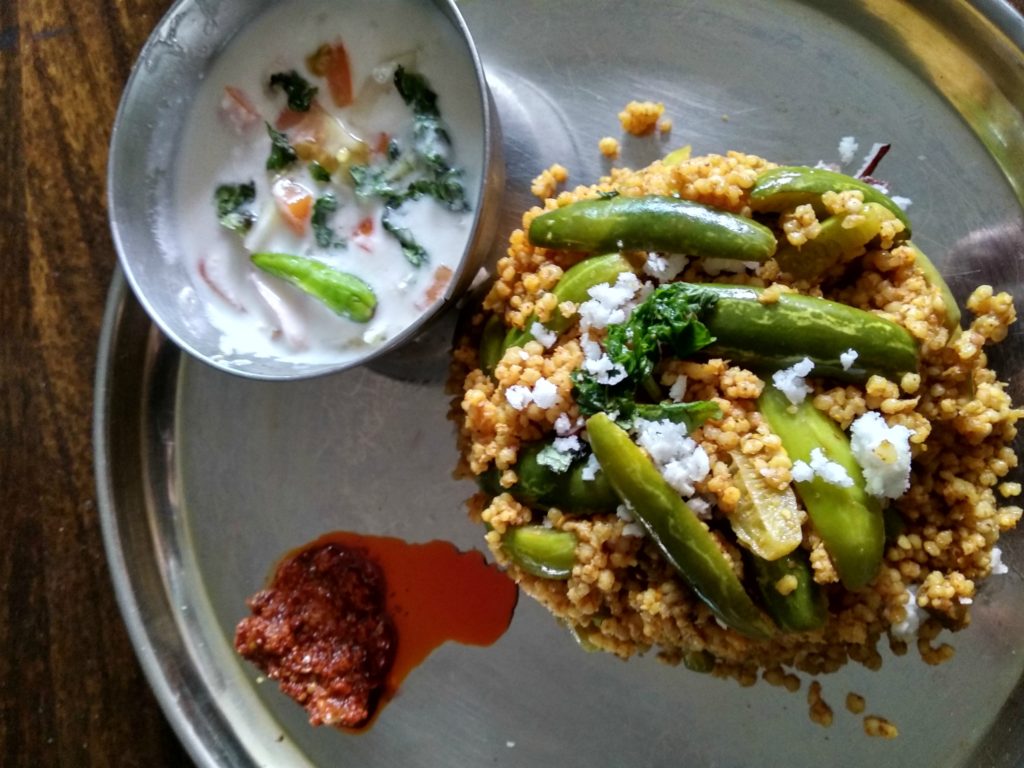 Ingredients:
½ cup Kodo Millet washed and soaked for 15 mts
½ cup chopped Brinjals (cut into long slices)
½ cup chopped Tendli (cut into long quarters)
1 tsp ghee
½ cup water
For marination:
2 tablespoons grated Kopra (dry coconut) / desiccated coconut
2 tsp Goda masala
1 tsp Chilli powder
1 tsp Dhania powder
Salt to taste
Method
Marinate the vegetables with all the dry masalas for 30 minutes
Wash and soak the Kodo Millet for 30 mts
In a 2 litre / 3 litre Pressure cooker layer as follows
Smear ghee at the bottom
Half of the marinated veggies
Drained Kodo Millet
Rest of the marinated veggies
Pour ½ cup water around without disturbing the layers.
Close the cooker and cook on high for 2 whistles. Let pressure settle. Fluff up the millet and vegetables.
Notes:
You can take 1 to 1 ½ cups of assorted vegetables
Add sliced onions as the second layer (before adding the veggies)
You can replace any millets with kodo millet
I would NOT advice you to replace Goda masala with Garam Masala