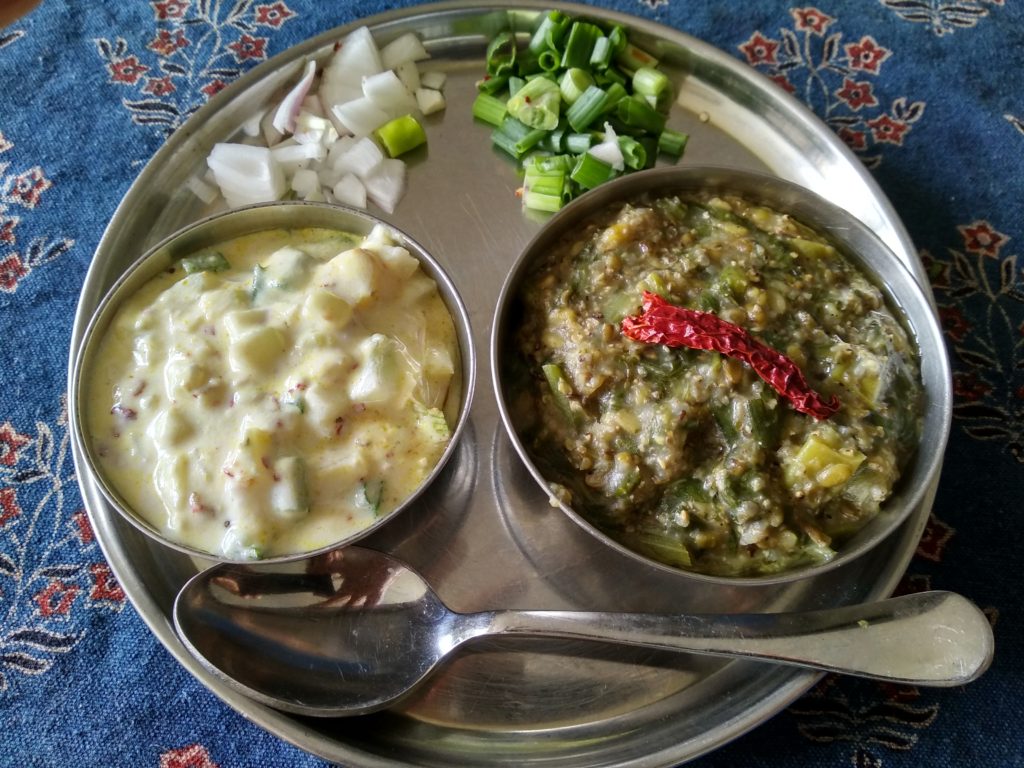 02 Jul

Bajra Kichdi Hara Bhara / Kambu Kichdi

This Bajra kichdi has lots of greens such as Spinach, coriander, mint, fenugreek leaves and spring onion greens in it making it Hara Bhara Kichdi. Again, to add, in this Bajra Kichdi I have used dehusked bajra. There are varied views on removing the husk from bajra. While some argue that husks are source of fibre and should not be removed and prefer to use whole bajra, others feel it has to be dehusked to improve their edible and sensory properties. So feel comfortable with whatever you prefer.

How to dehusk Bajra?

To de husk, sprinkle some water / mix the bajra with wet hands. Moisture will loosen the husk, making it easy to remove. Put bajra in a mixer, pulse it for one or 2 pulses. Blow away the husk that's removed. Do it for entire quantity. That said, dehusked bajra is easily available in some parts of India.

Surprisingly I found Bajra is recommended in Summer in South India. They believe that it is the power drink that helps cool your system. But on the contrary, in States like Rajasthan & Gujarat they recommend consuming it in Winter. Their Bjara raab is very very popular winter drink. They feel it helps to keep your system warm. Two opposing thoughts!!

So, ultimately I decided, be it winter, summer or monsoon, a healthy millet stays healthy always. Moreover, millets are not seasonal staples. They grow all through the year and so how you consume it is season independent. Hence go ahead and make this Bajra Kichdi whenever you fell like taking a healthy one pot dish.
| | | | | |
| --- | --- | --- | --- | --- |
| English | Hindi | Kannada | Tamil | Telugu |
| Pearl Millet | Bajra | Sajje | Kambu | Sajja |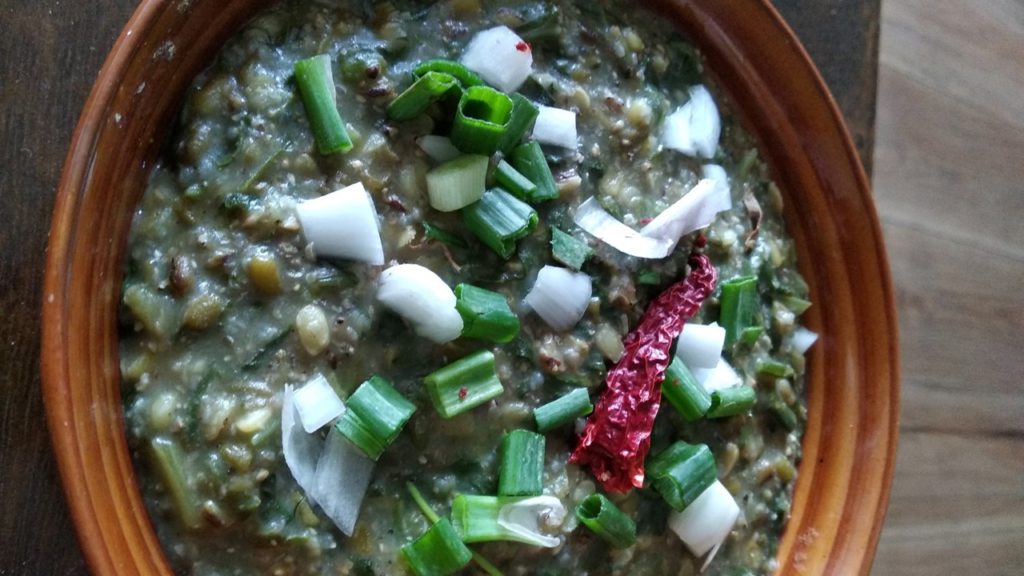 Ingredients:
½ cup Bajra with husks removed
½ cup split green mung dal (washed & drained)
1 cup shredded palak (spinach)
½ cup shredded spring onion greens
¼ cup shredded methi leaves
1 tablespoon shredded pudina
1 tablespoon coriander leaves
3 green chillies chopped finely
1" piece ginger chopped finely
Few curry leaves
4 cloves
4 cinnamon stick (1'' piece)
1 tsp pepper & jeera coarsely ground
Salt to taste
Oil for tadka
Soak the bajra for 1 to 2 hrs and drain. add:
In a pressure pan heat oil, add cloves cinnamon sticks
Once they are roasted well, add chopped green chillies, ginger and curry leaves and saute.
Next add spinach, onion greens, methi leaves, pudina and coriander leaves and saute further. They will shrink.
 Now add bajra, drained mung dal, pepper jeera powder and salt and mix everything well.
Pour 2 ½ cups water and close the cooker.
Cook on high for 4 whistles and let pressure settle
Top with hot ghee (for non-vegans).
Best served with cucumber raita and raw spring onions with greens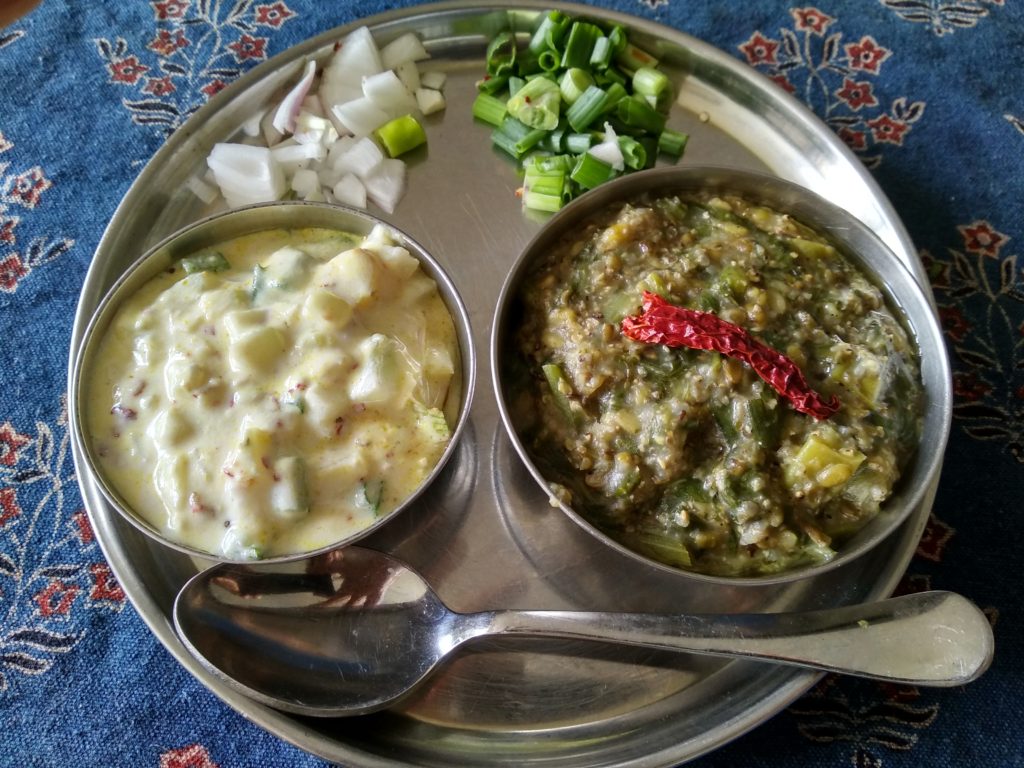 You can find other healthy Millet recipes here