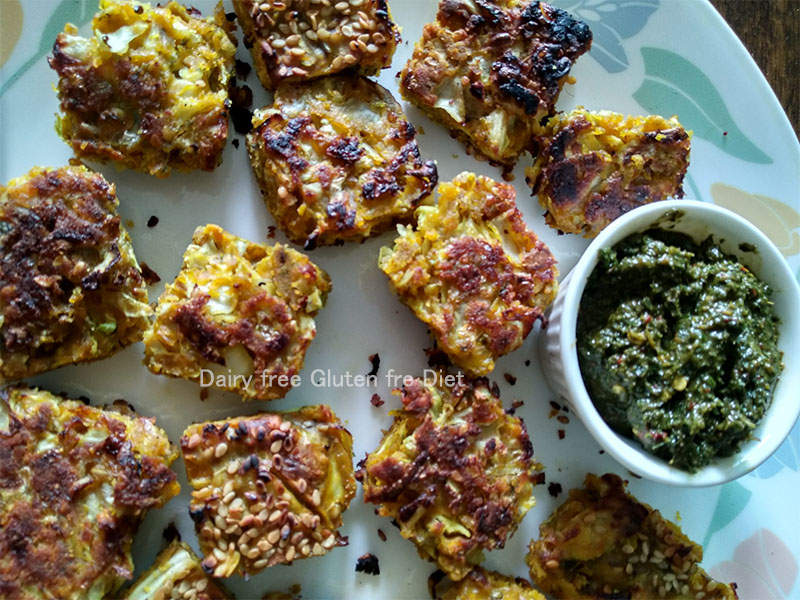 05 Jul

Kobichi Wadi / Steamed Cabbage Cake

Frankly, I'm not a great fan of cabbage. That's putting it very mildly. Kobichi Wadi is the only cabbage recipe I love. It's a famous Maharashtrian dish. The steamed cabbage with chickpea flour and other spices, Kobichi Wadi is the best evening snack. It is also a very good item for house parties.

Cabbage is not a favourite vegetable with many. But Cabbage is good source of many vitamins and minerals. Above all, it is said to protect us against radiation, prevent cancer, and reduce heart disease risk. With less than 20 calories per half cup cooked, it is a vegetable worth considering if you want to lose weight. With all these health benefits, one way to consume cabbage is through this Kobichi Wadi.  This can be made with many vegetables, popular ones being Coriander leaves (Kothimbir Wadi) and Cabbage. Its steamed and eaten as such /shallow / deep fried as per taste & convenience.
How to make Kobichi Wadi:
Ingredients:
2 cups shredded cabbage (shredded as thinly as possible)
1 cup chickpea flour (besan / kadala maavu)
½ tsp turmeric powder
1 tablespoon sesame seeds (til / ellu)
½ tsp cumin seeds powder
1 tsp red chilli powder
Salt to taste
1 tsp oil for binding & 1 tablespoon oil for shallow frying
Grind to a paste (without adding water):
2 green chillies, 1" piece ginger, handful of coriander leaves
Take cabbage in a bowl.
Add ground paste of chilli, ginger and coriander, all dry masala, salt
Then add chickpea flour and knead it to a dough. You may not require water. (If at all, you may require a tablespoon) The dough should be little looser than roti dough
You may add a little oil at the end for binding
Take a plate, oil it and spread the dough on it and pat the surface.
Steam for 10 minutes.
Cool and cut into pieces.
It is tasty as such. If you want it to be little crispier, shallow fry on a tawa adding very little oil.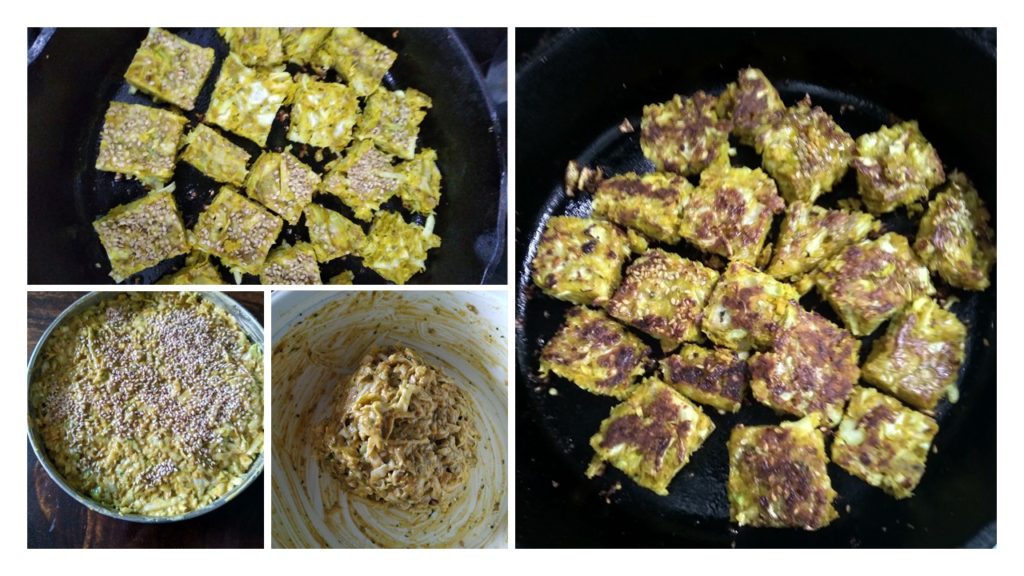 Serve with Mirichi ka Thecha