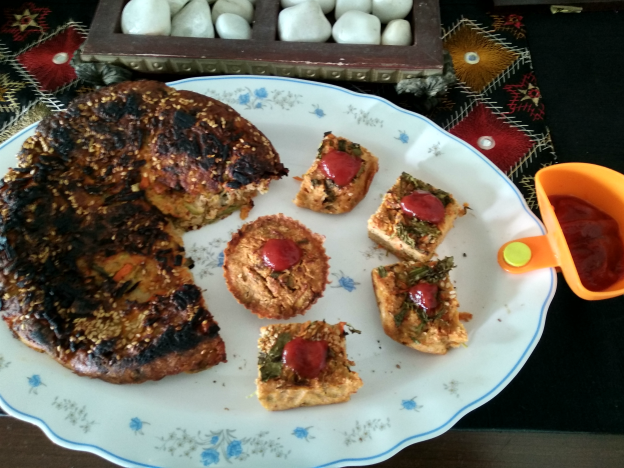 20 Sep

Handvo / Millet Handvo

Handvo is a Gujarati delicacy, a savoury cake made from rice and lentils. This recipe uses Millets in place of rice. Added to that are vegetables like bottle gourd, carrots, etc. Handvo can be either cooked in a pan or baked in an oven. Ready made Handvo flour is available in the market. But making it from scratch is not too difficult. Batter is prepared by soaking the grains, grinding them, fermenting them and adding mixed vegetables and cooking / baking.

Normally the grains are ground with curd and either baking soda / eno fruit salt is added for rising. To avoid both, I fermented the ground mixture overnight. The batter does not rise much, but the effect is achieved.

What is Thavala adai / Adai to South is Handvo to Gujarat. Except Handvo is baked mostly.

For a variation I have used Barnyard millet instead of rice.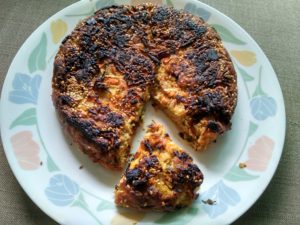 Ingredients: 
1 cup Millet (Any millet of your choice. I used Barnyard millet)
¼ cup channa dal
¼ cup tur dal
¼ cup moong dal
1 tblsp urad dal
1 cup grated bottle gourd (lauki / suraikkai)
1 cup grated carrots
1 cup chopped coriander leaves
2 teaspoons chilli powder,
1 tablespoon sesame seeds
Pinch of Asafoetida
2 tsp oil
Salt to taste
Directions:
Soak the millet and dals together for 4 to 5 hours
Grind to a thick, smooth and slightly coarse paste (similar to Idli batter) adding required water. It might become runny once the vegetables are added later. So add very little water for grinding.
Keep it overnight or for 10 hrs for fermenting
Add the vegetables, chilli powder and salt. Keep some grated carrots for spreading on top.
Heat 2 tsp oil in a heavy bottomed pan. Add sesame seeds and asafoetida.
Spread some grated carrots.
Pour batter and spread it evenly to make 1" thick handvo. The quantity of batter depends on the size of the pan.
Sprinkle some sesame seeds and grated carrots on top.
Cover and cook on a low flame till the bottom and the sides brown. Time again depends on the size of the pan.
Flip it gently and cook the other side becomes brown.
Serve with Tomato Ketchup or green chutney.
If you are baking in the oven, preheat the oven to 190˚ C.
Pour the batter with vegetables, salt and chilli powder in a baking tray, add the tempering on top.
Bake for around 35 to 40 minutes.