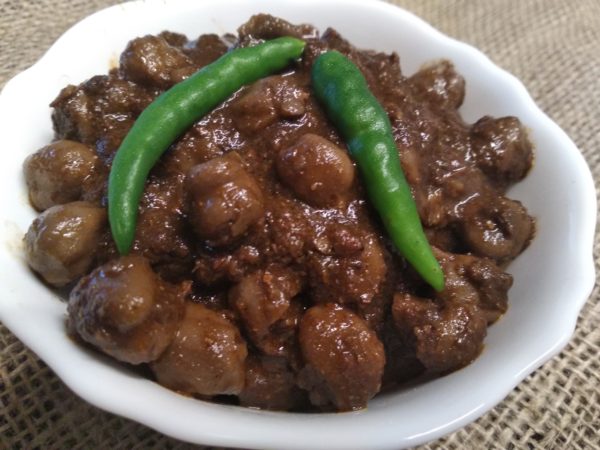 13 Sep

Satwik Chole / Punjabi Chole

Punjabi Chole, a delicious dish hailing from Punjab has now found its place and has become popular in all the cuisines all over India. This dish is special because this is a no onion & no garlic recipe and hence we can very well call it Satwik Chole.

Punjabi Chole equally famous in South, East and West India as it is in North. Each family owns it's own recipe in making this lip-smacking dish. But its almost never made without onion and garlic. Few in my family do not consume onion and garlic and so miss out on this delicious dish. To help them, I have cooked this without these 2 ingredients. In short this  no onion & no garlic recipe Satwik Chole is special and unique.

Satwik diet is a very popular food philosophy in India. It places great emphasis on fruits, nuts, seeds, whole grains, pulses, vegetables, non-meat proteins, etc. It is believed to keep a balance in our body making us calm, positive and healthy and keeps our mind alert. Foods like meat, onion, garlic are believed to have sedative effect on our mind and body and hence are avoided in Satwik diet.

What attracts this dish when it is served in restaurants is its deep brown colour. The secret ingredient in Tea leaves. Some restaurants add tea bags and some add boiled and strained tea decoction. Here I have added 2 teaspoon tea leaves in my tea infuser and kept it with chole while cooking in the pressure cooker. It brought out the best deep brown colour. And the Chole masala is freshly made to get the restaurant style flavour.

This Satwik Chole tastes best with Bhatura, plain paratha, jeera rice or even plain rice.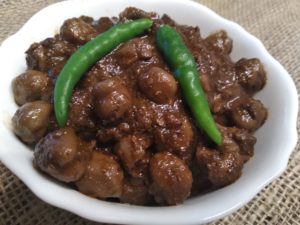 Ingredients:
1 cup chole soaked in water overnight / 7 to 8 hrs. (Yields 2 cups after soaking)
2 tsp tea leaves kept in an infuser / made into a potli / 2 tea bags
1" piece cinnamon stick
4 cloves
2 bay leaves
2 black cardamom
4 green cardamom
1 tablespoon oil
¼ tsp Asafoetida (Hing)
Salt to taste
Grind to a paste:
2 tomatoes
2 green chillies
1" piece ginger
For the masala:
2 tsp Anardhana / dried pomegranate seeds
1 tsp red chilli powder
1 tsp dhania powder
1 tsp jeera powder
1 tsp garam masala powder
1 tsp kasuri methi
Direction:
Drain the soaked chole and rinse in fresh water few times. Pressure cook adding 3 to 4 cups fresh water, whole masalas, tea bags and salt for 6 to 7 whistles. I have not added baking soda and hence kept for 2 more whistles. If you do not mind adding baking soda, less whistles will do.
Once the cooker is settled, drain the chole and retain the water. Remove the whole masala pieces.
Dry roast the Anardhana seeds in a kadai till it becomes dry. Switch off the flame and add the rest of the masala powder & roast in the retained heat. Blend to a smooth powder in a blender. Remove and keep in a separate bowl.
Grind the tomato, green chilli and ginger to a smooth paste in the same blender without adding any water.
Heat 1 tablespoon oil in a kadai and add the Hing. Chole is little heavy on the stomach. To avoid indigestion, adding Hing becomes necessary.
Add the tomato paste and sauté till it becomes almost dry.
Add the ground masala powder and sauté for few more minutes till they mix well.
Add chole and sauté for few more minutes mashing them lightly with a masher.
Add the retained water to required consistency, adjust salt level, cover and cook for 5 minutes.
Add the tempering to garnish:
In a pan heat 2 tablespoon oil. When the oil is hot, add Chole masala / garam masala and 2 slit green chillies. Switch off the flame and pour it on chole. You can add Ginger Julienne if you want.
You may also like more Punjabi recipes here