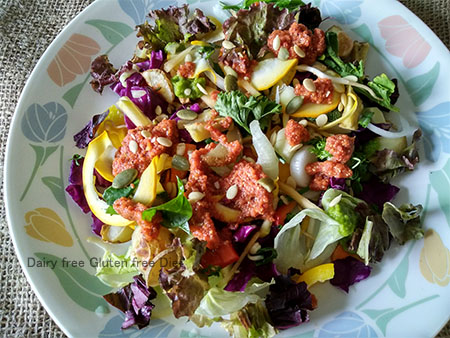 18 Sep

Salad / Make interesting Salad

Posted at 16:38h

in

Andhra pradesh

,

Bengal

,

Cuisines

,

Gujarat

,

International

,

Karnataka

,

Kerala

,

Lifestyle

,

Maharashtra

,

Main Course

,

North India

,

Punjab

,

Rajasthan

,

Recipes

,

Sindhi

,

Tamil Nadu

0 Comments

Just the word 'Salad' brings to everyone's mind grated carrots and cucumbers dressed with lime, pepper and salt. No, a salad need not be boring. There are multiple ways of making interesting, tasty salads. Lets see what are the ingredients that go to make an interesting salad that is nutritious as well.

Salads are wonderful ways of adding health to your life. Firstly, they have natural flavours, crunchy texture and wonderful colours gifted by Nature. Secondly, including a large serving of fresh raw vegetables in our everyday meal can have significant health benefits. Salads are a natural source of fibre. Be it summer or winter, a crisp salad is the basis for an energizing meal.

Even while dining out, ordering a fresh salad is the best way to start a dinner. The digestive enzymes that are present in the raw vegetables prevent indigestion that might be caused by the food that was to follow.

Vegetables:
Include any one or more of the following:
Carrots, tomatoes, cherry tomatoes, capsicum, bell peppers, cucumber, zucchini, avocado, both purple and green cabbage, red pumpkin, raw papaya…
Cut them into cubes, shred them, slice them, cut into finger size, grate them. You can play around with these vegetables. Raw papaya and red pumpkin when cut into thin julienne make excellent salad materials.
Cutting the vegetables in different shapes adds an interesting look and taste to the salad. A spiralizer is a very good tool to invest in for making a salad. It can make a cool salad out of any firm vegetable and is a must have at home if you love salads. It need not be an expensive one. There are good low-cost spiralizers available in the market. Zucchini when spiralled becomes Zoodles. When added to salad as Zoodles, they look and taste great.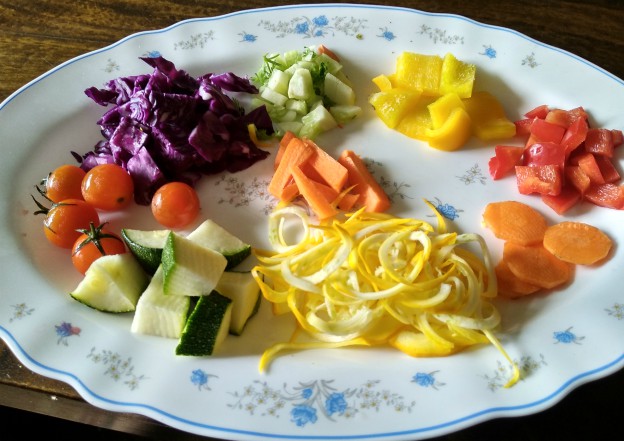 Greens: 
Include any one or more of the following:
Unlike olden days, a wide variety of greens are easily available with vegetable vendors these days. Iceberg lettuce, Romaine lettuce, Argula (also called Rocket leaves), Asparagus, green sorrel, red amaranth leaves, spinach, baby spinach, spring onions, Chinese cabbage have all found their ways to Indian markets. They contain loads of vitamins and minerals.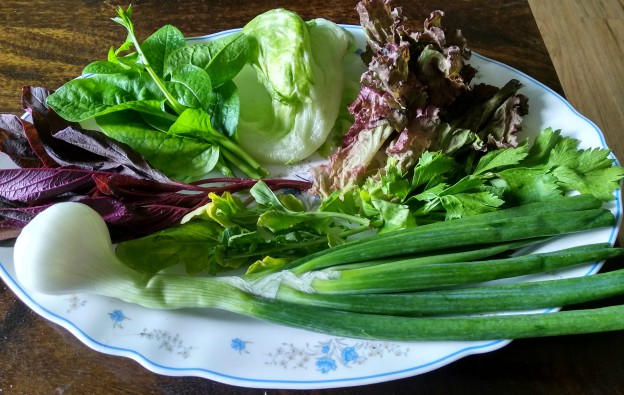 Herbs:
Include any one or more of the following:
Coriander leaves, mint leaves, celery & parsley are normally easily available. Italian herbs like Sage, thyme, rosemary, oregano are also available with leading vegetable vendors. If not available in fresh form, use the dried herbs which are available in every super market.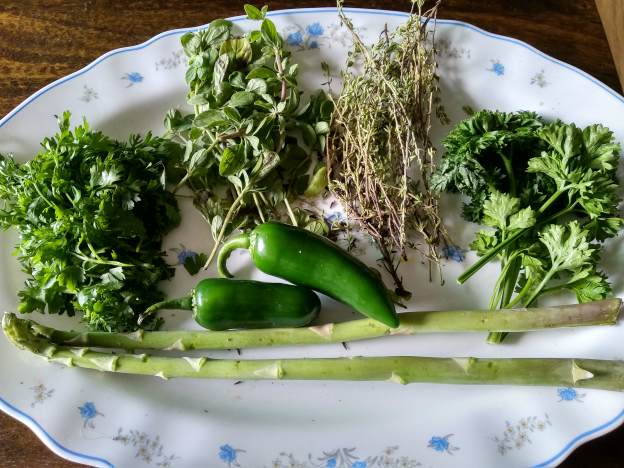 Tubers: 
Include any one of the following:
Steamed beetroot, baby potatoes (cut into wedges with skin), potatoes (cut into roundels) and sweet potatoes (cut into finger lengths) baked in an oven at 190˚C for 15 minutes.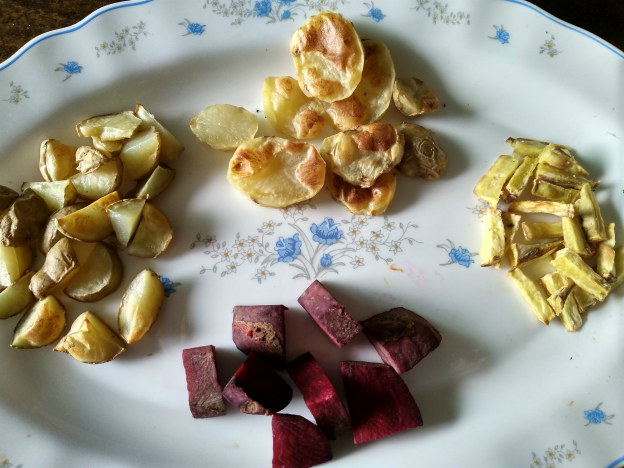 Sprouts: 
Include any one of the following:
Adding sprouts in the salad multiplies its nutritional value many fold.
Home made sprouts of mung, channa etc. Other than Mung sprouts which can be consumed raw, all other sprouts need to be steamed.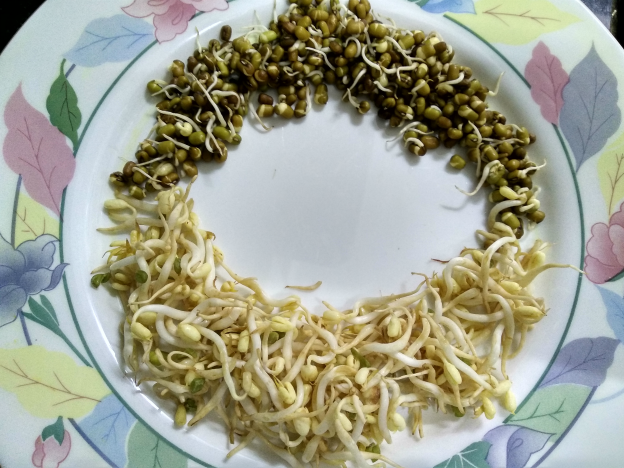 Fruits:
I avoid mixing fruits and vegetables as they have different digestive timings. Fruits digest quickly and should be eaten on its own. If eaten with vegetables, fruits might ferment and cause gas. Only exceptions are Pomegranate and Pineapple which can be added in vegetable salad.
Nuts and seeds:
Include any one of the following:
Roasted Walnuts, almonds, peanuts, pumpkin seeds, watermelon seeds, sunflower seeds are all excellent ingredients to give that crunchiness to your salads and to multiply the nutritional value. Add in moderate quantity.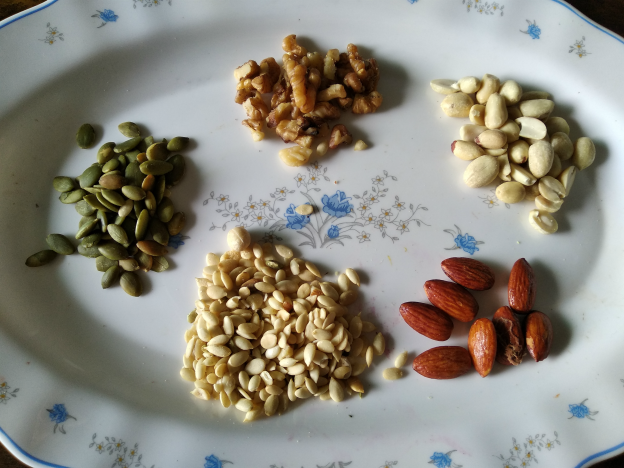 Salad dressing:
There are wide variety of salad dressings available in the market. But they are all loaded with trans fats and preservatives to increase the shelf life which are best avoided. It's a good idea to make our own salad dressing at home.
Here are few recipes for home made oil free salad dressing:
1. Pomegranate & ginger:
In a blender add 2 tablespoon pomegranate seeds, 1tsp ginger grated, 1 tsp chilli flakes, 1 tsp jaggery powder mixed with 2 tablespoon water, 1 tsp lemon juice, black salt / sea salt to taste. Blend everything together.
2. Pineapple & yellow bell pepper:
In a blender add ¼ cup pineapple cut into bits, 2 tablespoon yellow bell pepper shredded, 2 cloves garlic, 1 tsp lemon juice, 1 tsp chilli flakes, 2 tablespoon water, salt. Blend all together.
3. Tomato & mustard:
In a blender add 1 large tomato cut into pieces, 1 small piece red bell pepper, 1 tsp mustard seeds, 1 tsp chilli flakes, 1 tsp lemon juice, 1 tsp jaggery powder, salt to taste. Blend all together.
4. Capsicum & avocado:
In a blender add ½ shredded green capsicum, ¼ ripe avocado sliced, 2 green chillies, 1 tsp minced mint leaves, 2 cloves garlic (optional), 1 tsp minced coriander leaves, salt to taste, 1 tsp lemon juice and 2 tablespoon water. Blend all together.
5. Pumpkin & peanut:
In a blender add 1/3 cup white pumpkin cut into pieces, 2 green chillies, 2 tsp roasted peanuts, 1 tsp fresh coconut, 1 tsp amchur powder OR 1 tsp lemon juice, salt to taste. Blend all together.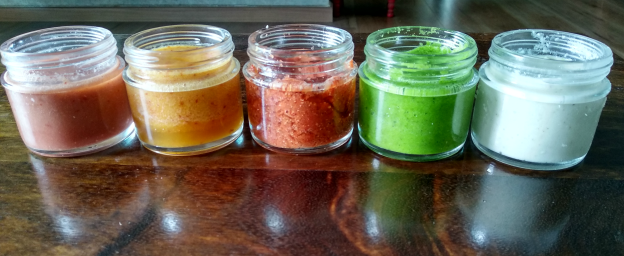 This salad can be your main course if you wish as it is a balanced meal.