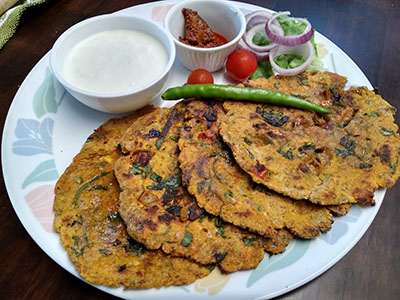 31 Oct

Rajasthani Tikkar Paratha / Gluten free

This Rajasthani Tikkar Paaratha is Gluten free version of usual Tikkar Paratha. Tikkar Paratha is a popular dish from the desert province of Rajasthan.  The uniqueness of this dish is that its added with tomatoes along with onions while kneading the flour.

To make it a gluten free version, I have tweaked the recipe here by substituting my gluten free flour mix instead of wheat flour and added a bit of besan to bring softness to the roti, as corn meal makes it a little dry. Though traditionally it is made  with maize flour mixed with wheat flour,

It's a versatile, wholesome & healthy dish that you can have it either for breakfast or for lunch.  When served with curd and pickle it tastes delicious.


Rajasthani Tikkar Paratha

Recipe type:

Main Course, Breakfast

Ingredients
¼ cup Maize flour—Makkai ka atta (Corn meal NOT corn flour)
¼ cup glutenfree flour mix
¼ cup besan (chickpea flour)
½ tsp chilli powder
½ tsp coriander powder
1 tsp green chilli ginger paste
¼ tsp turmeric powder
1 medium sized onion grated
1 medium sized tomato grated
2 tsp fresh coriander chopped finely
2 tsp fresh spring onion greens chopped finely
Salt to taste
Extra 2 tablespoon each finely chopped tomato and fresh spring onion greens chopped finely
Instructions
Take all the ingredients in a bowl and mix to a soft but stiff dough. You may not require any water. Water content in onion and tomato will be enough to bind the flours. Add a tsp oil if necessary.
Rest it for 10 minutes if possible.
Make 4 balls out f the dough and roll it medium thick by dusting some rice flour. It should not be too thin.
Top with a tsp of tomatoes and greens and lightly roll pressing the vegetables on top of the roti
Gently remove and add it to the hot pan, vegetable side up.
Cook on both sides adding a tsp of oil.