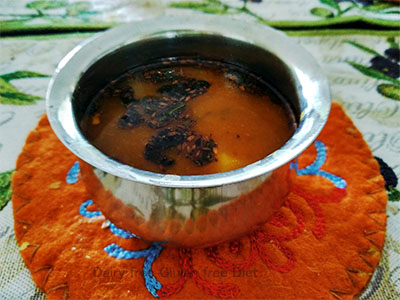 05 Nov

Kandathippili Rasam /Long pepper Rasam

Kandathippili Rasam is one popular traditional & therapeutic rasam from Tamil Nadu that uses Thippili (Indian Long pepper / piper longum)

The mother plant is Thippili (Indian Long pepper / piper longum). Its known as Pimpli in Marathi, Hippali in Kannada, Pipli in Hindi and Pippallu in Telugu. There are 2 varieties of Thippili–Arisi thippili and Kanda thippili (also called Kandanthippili). Arisi thippili is the fruit & Kanda thippili is the root / bark of the plant Piper Longum.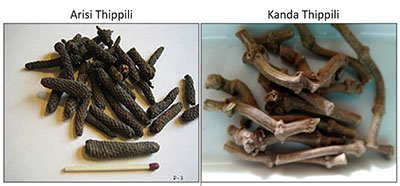 Kandathippili is a storehouse of medicinal properties. It offers the best cure for cough and cold. 
It has now become a practice to run to a doctor or to a pharmacy / drug store for a simple cough and cold when home remedies like this are available at arm's length. As a result, Kandathippili rasam is slowly losing its identity in our cuisine.  In olden days, our grandparents made sure that herbs like these were readily available at home. And they never ran to the doctor for any common ailments. I'm one who likes to avoid chemicals in my body unless it is demanded. So I had to get all these herbs with therapeutic properties during my last visit to South where I had easy access to it.
As usual, every family has its own recipe for making this rasam. However, I share here what was handed down by my grandparents. Firstly Its easy to make and secondly, trust me, it cleanses your system. I had persistent cough for the past few days. I generally avoid medicines. So I decided to make this rasam a couple of days back. Believe me, drinking this rasam twice a day for 2 days, drove away the cough and cold.
Kandathippili Rasam Powder:
1 tablespoon Kandanthippili broken into pieces
2 tablespoon Tur dal
2 dry red chiilies
1 tsp Pepper
1 tsp Cumin seeds
Dry roast the ingredients except Cumin seeds till the dal becomes light brown.
Switch off flame and add the cumin seeds and let it roast in the retained heat.
Powder in a mixer and store it.
This quantity yields around 3 tablespoon powder. You can store it for future use.

Kandathippili Rasam
Ingredients
1 marble sized tamarind soaked in water / ½ tablespoon tamarind paste
2 tsp Kandathippili rasam powder
Asafoetida
Turmeric powder
Salt to taste
Tempering:
1 tsp oil
½ tsp mustard seeds
½ tsp cumin seeds
Few curry leaves
Instructions
Extract the pulp from tamarind and add 1 cup water.
Boil with salt, turmeric powder and hing till the raw smell of the tamarind goes.
Mix the rasam powder in 1 cup of water and add to the rasam.
Bring it to one boil on slow fire.
Heat oil and add the tempering ingredients till they splutter.
Add to the rasam
Notes
Traditionally, rasam is tempered with Ghee. Being dairy free, I avoid ghee by default. However, if you prefer, you can do tempering with ghee.
Adjust the quantity of the rasam powder as per your requirement.
You may also like my other rasam recipes
here
Kollu Rasam
Mysore Rasam
Poricha Rasam