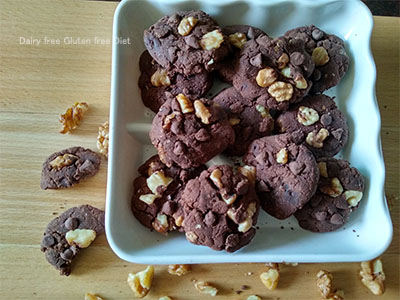 20 Nov

Walnut Brownie Cookies

When your tongue longs for some sweets, this Walnut Brownie cookies is the healthy option. These are gluten free cookies. I wanted to post this on 14th November, children's day as dedication to children. But for some reason, couldn't do so. Anyways, better late than never.

Cookies are favourite with any age. They go well with evening tea. However, most cookies in the market use processed flour. If you are gluten intolerant like me, you not be able to eat them. In the West, there are gluten free cookies available off the shelf. However, you find them rarely in India. But the silver lining is you can bake them at home with ease.

I have already posted a recipe for Gluten free flour mix for baking cookies and cakes. This flour mix using millet flour and some starches, works well for any kind of cookies.

This is perfect for evening tea and for kids' snack box.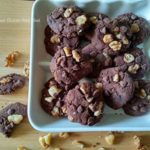 Print Recipe
Walnut Brownie Cookies
This recipe uses standard measuring cups and spoons
Ingredients
3/4

cup

Gluten free flour mix

1/4

cup

cocoa powder (unsweetened)

1/3

cup

jaggery powder

3

tbsp

any nut butter / coconut cream / oil

2

tbsp

chopped walnuts

2

tbsp

chocolate chips / dark chocolate cut into fine piecces

1

tsp

vanilla essence

2

tbsp

coconut milk (optional)
Instructions
Pre heat the oven to 170˚

In a bowl, mix the nut butter / oil / coconut cream and jaggery powder.

Sift GF flour mix and cocoa powder in that.

Add the walnuts. Vanilla essence and make a loose dough that can be gathered. Should resemble a Brownie dough.

If the dough is too dry, add few teaspoons coconut milk.

Line a baking tray with parchment paper.

Make small balls, flatten them in your palms and place on the parchment paper.

Garnish each cookie with 3 or 4 Chocolate chips.

Bake for 15 to 20 minutes (mine got done in 18 mts).

Cookies may look soft when hot but harden once cooled down.
Notes
Sweetness differs from jaggery to jaggery. Adjust the sweet level as per your taste.