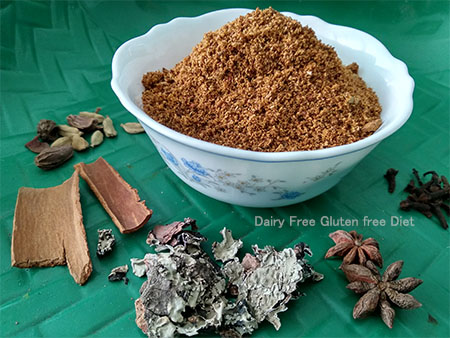 28 Dec

Goda Masala

Goda masala is a special blend of spices from Maharashtra. Though its ingredients vary from house to house, basically it uses a dry coconut (Copra) as base. It is different from garam masala because it is not as hot and spicy. Probably, the copra lends a kind of sweetness to it. I guess, the term God (meaning sweet—pronounced as Go & d) in Marathi has warped to Goda here.

This special masala lends subtle and authentic flavour that is unique to few Maharashtrian dishes such as masale bhaat or vaangi bhaat. When a recipe warrants Goda masala, Goda masala it has to be. No garam masala or any other masala can take its place. This is such an unique masala.

This masala has an overpowering aroma and hence it is better to add in small quantities. While this is available readily in market, as I always say & believe, home made masalas are not only cheaper but have their own special touch to it. The personal touch of love and passion to make it extraordinary. 🙂

The quantity I have given in this recipe yields 160 gm of masala. You can store it in refrigerator for months.

Lastly, I prefer to dry roast the masalas. However, some roast it in little oil. So, it is your call to take.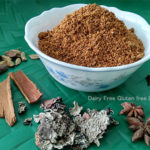 Print Recipe
Goda Masala
This recipe uses the standard measuring cups and spoons
Ingredients
1

cup

coriander seeds

1/4

cup

Copra (Dry Coconut)

5

bay leaves

2

big cardamoms

2

tbsp

sesame seeds

2

tbsp

Dhagad phool (Stone flower / Kal paasi)

2

tsp

Poppy seeds (Khus Khus)

1

tsp

small cardamoms

2

tsp

jeera

1

tsp

pepper

1

tsp

cloves

3

cinnamon sticks (1" size)

2 to 3

Star anise (Chakri phool, Annachi mokku)

3 to 4

Dry red chillies

1

tsp

Asafoetida
Instructions
Roast Coriander, Dry coconut, Sesame seeds and Poppy seeds separately till they five out nice aroma.

You can opt to roast other masalas (except dry red chillies and asafoetida) together because they are in very small quantities.

Finally roast the chillies and asafoetida.

Let the masalas cool and powder in a blender.

Store in airtight bottle in refrigerator.
Notes
If you dont have access to some rare masalas like kalpaasi, star anise, etc, you may omit them as long as you make very small quantities. 
Do not over roast the masalas. 
You can use desiccated coconut if you do not have access to copra.