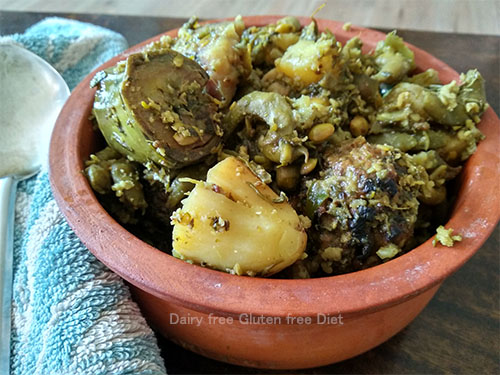 07 Jan

Undhiyu

Winter and no Undhiyu? Impossible.

This is the most loved seasonal dish from Gujarat. It comprises of vegetables that are available primarily during winter. That includes vegetables like Surti Papdi (Indian beans as it is called) that is used along with tender pods, green tuvar, purple yam, green garlic, etc.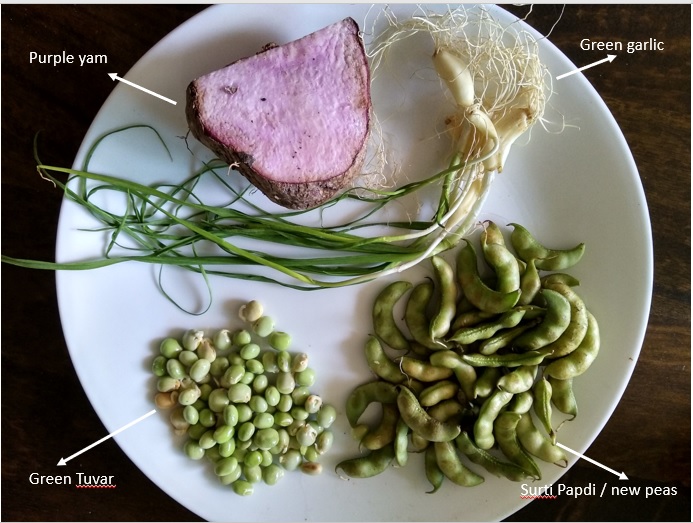 Traditionally, Gujaratis made sure to prepare this dish upside down in earthen pots under the ground. The pots were fired from above. This dish gets its name as a consequence. "Undhu" in Gujarati translates to 'upside down'. They also used lot of oil and very less water.
In present days, we are unable to follow this tradition due to many reasons. We live in an 'instant-everything' society. We avoid oil as much as possible and prefer to cook in steel vessels or pressure cookers to save time. This is a world of mad rush, after all.
As a result, we have to compromise the traditionalism somewhere. But we make sure not to compromise on the taste, quality and nutrition.
Subsequently, this is the nearest to traditional Undhiyu.
The preparation includes 3 parts:
Making Muthias
Preparing the masala
Stuffing & mixing the vegetables with masala
Once this done, it takes few minutes to cook. The finished product is dry. Beauty of this dish is to see individual chunks of root vegetables coated with a thin layer of spice but retaining their shape. And green vegetables retaining their crunchy texture. It just tastes heavenly.
Trust me, this is the most delicious dish I have ever tasted. I often wait for winter just to devour this heavenly dish.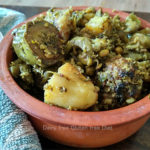 Print Recipe
Undhiyu
You can use any cup for this recipe
Ingredients
For the masala:

1

cup

finely chopped coriander leaves

1

cup

fresh grated coconut

8 to 10

fresh green garlic

6 to 7

green chillies

2" piece ginger

2

tsp

coriander powder

2

tsp

jaggery powder

2

tsp

sesame seeds

1

tsp

red chilli powder

1/2

tsp

turmeric powder

1/2

tsp

cumin powder

Salt to taste

1

tbsp

lemon juice

Vegetables required:

3

cups

Surti Papdi (Indian beans) strings removed and halved

1

cup

flat beans (fava beans / avaraikai / vaal papdi) cut into big chunks

1/2

cup

green tuvar (fresh pigeon peas)

6

small brinjals with 4 criss cross cuts from the top

1/2

cup

potatoes cut into big chunks and slit criss cross from top OR full baby potatoes slit from top

1/2

cup

sweet potatoes cut into big chunks

1/2

cup

purple yam cut into big chunks

1/2

cup

yam cut into big chunks

2 raw bananas cut into 2" chunks with skin and slit from one side

10 to 12 Methi Muthias

For the tempering:

2

tsp

oil

1

tsp

carom seeds (ajwain / omam / ova)

1/2

tsp

asafoetida
Instructions
Grind green chillies, fresh garlic with greens and ginger to a paste in mortar and pestle. Alternately, you can pulse them in a mixer.

Add with all the other ingredients for the masala and mix well. Check the taste and adjust spices accordingly. It should be spicy, tangy and sweet in right proportions.

Divide the masala into 4 parts.

Wash both beans and fresh tuvar and mix one part of masala and keep aside.

Stuff the brinjals, potatoes and banana with the second part.

Mix the third part with sweet potatoes, yam and purple yam cut into big chunks.

Heat oil in a pressure cooker. Add carom seeds and once they splutter add asafoetida.

First add the beans mixed with masala and stir fry for few minutes. You can add 3 tbsp water at this stage.

Next arrange the root vegetables on top and sprinkle half the portion of balance masala.

Finally add the stuffed brinjals & muthias on top and sprinkle the balance masala all over.

Add 1 cup water from the top and the sides.

Cover the cooker and cook for 2 whistles and simmer for 5 minutes.

Once the pressure settles, open and gently mix without breaking the big chunks and stuffed vegetables.
Notes
If you don't have access to some vegetables or greens mentioned, you can skip them and add more of the other vegetables.
The recipe for Muthias is already given.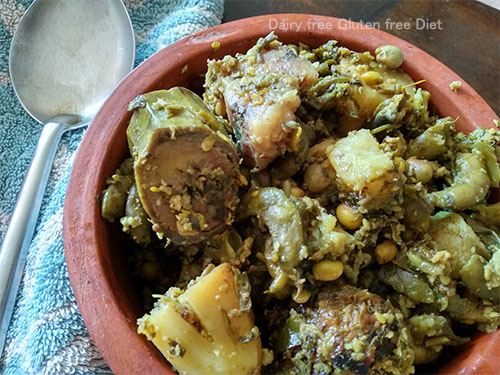 Serve Undhiyu with Puris.