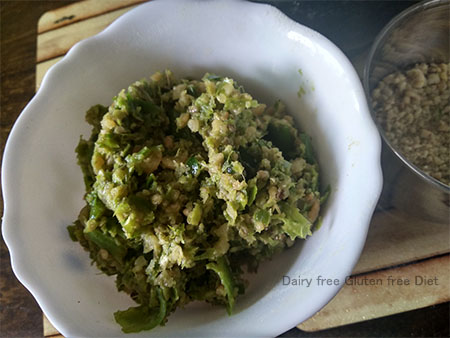 05 Feb

Green Chilli Thecha

As the name suggests, this fiery Thecha or Kharada  is a kind of chatni from the legendary Maharashtrian cuisine. Green Chilli Thecha is very popular in Rural arears of Maharashtra where Bhakri is the staple food of many. But in our home, it is consumed with any millet roti, curd rice, idli and dosa too.

I remember my grandfather, a pious person from rural parts of Tamil Nadu, would crush 2 or 3 green chillies with sea salt and asafoetida in Ammi kal (stone grinder). This was a regular feature every day to go with curd rice. Thecha is somewhat similar. Main difference being this adds few more ingredients to it. Maharashtrians also make in large quantity instead of making it on a daily basis.

It is advisable to make it in stone grinder / mortar and pestle as the texture has to be coarse. However if you have to do it in the mixer, make sure to use the pulse / whip mode in short / quick pulses.

The delectable combination of spice of the green chillies along with crunchy peanuts and flavourful garlic (if using) in this Green chilli Thecha is sure to take you to a different level.

As in every recipe, every Maharashtrian family has their own recipe for this Thecha. Some add garlic, some don't. Some add coriander, some don't and some add coconut and some don't. I preferred to omit the coriander because I felt it makes it taste like our normal green chatni. Also I have not used garlic. I preferred the taste of green chillies to stand out uncorrupted. I wanted to relish it like my grandfather. However, I added the roasted peanuts to make it authentic and crunchy.

Try this Thecha out without fail.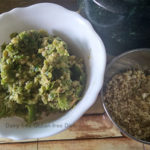 Print Recipe
Green Chilli Thecha
Ingredients
½ cup chopped green chillies (I used combination of spicy and mild varieties)

¼ cup roasted peanuts

1 tablespoon oil

1 tsp cumin seeds

Salt to taste

5 to 6 garlic pods (optional)
Instructions
Cut the chillies in to bits so that it is easier to grind in stone.

Heat oil and add cumin seeds

Once the seeds splutter, add the green chillies and sauté for a good 5 minutes.

Add garlic (if using) and roasted peanuts and sauté further for 2 or 3 minutes.

Crush all in mortar and pestle / stone grinder / pulse in a mixer to a coarse paste.
Notes
You can use fully spicy or fully mild spicy green chillies
You can add garlic if you want
You can powder roasted peanuts coarsely and add it at then end while blending the chillies. 
You can check for more chatnis & masalas here