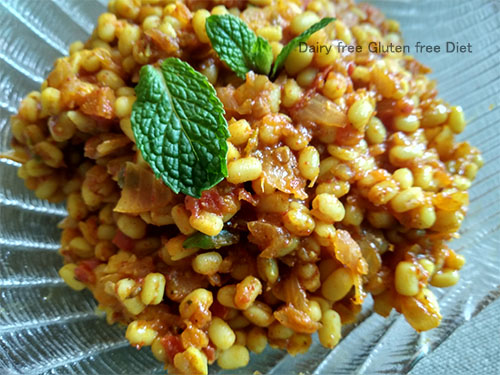 22 Mar

Amritsari Dhuli Dal / Sookhi Urad dal

Amritsari Dhuli Dal is a dry urad dal preparation, that is very popular in Amritsar. It is a traditional main dish in many Punjabi households. It's other names are Dhuli dal in Punjab or Maash dal in Urdu. In general, Punjabi food is famous for its rustic flavor. Though Punjabi cuisine uses more dairy items like paneer, butter or ghee, their dals are a speciality too. Their whole dal preparations like Dal makhni (whole black gram), green mung dal and Amritsari chole are quite popular.

Many Punjabi households use split white urad dal for this recipe. However, I have used whole urad dal, the skinless variety here. Spiced with common ingredients available at home, it's an easy to make delicious dish. You can make in half an hour or less. When you run out of vegetables and still want to dish out the most nutritious food for your family, this is the best bet.

The best part I loved in this dish is, you can make it in the morning and eat it for lunch or have it for dinner. It tastes excellent and becomes more flavourful. It is also a good option for your kid's lunch box.

Try this Amritsari Dhuli Dal for sure. It is very tasty and healthy.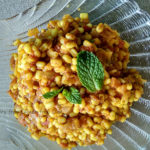 Print Recipe
Amritsari Dhuli Dal / Sookhi Urad dal
Ingredients
½ cup whole white urad dal (skinless)

1 medium onion chopped finely / grated

1 big tomato / 2 medium sized tomato

1 tsp ginger garlic paste

1 green chilli chopped finely / minced finely

1 tsp cumin seeds

Asafoetida

½ tsp chilli powder

½ tsp amchur powder

½ tsp garam masala powder

½ tsp turmeric powder

Salt to taste

1 tsp oil
Instructions
Wash and add water to urad dal just to cover it. Soak for 15 minutes

Drain and add in a pressure cooker.

Add ¼ cup water and just cook till the pressure builds up and open the cooker.

Do not wait for the whistle. If you get a whistle, switch off and release pressure manually and open the cooker.

Each grain should remain separate but cooked at the same time. This dal gets cooked fast.

Heat oil in a skillet & add cumin and asafoetida

Once it is done, add onion and sauté till it become translucent. Do not brown.

Add green chilli, ginger garlic paste and sauté further for few more minutes.

Puree the tomato in a blender without adding water and add the puree.

Mix well and add all the dry masalas and salt.

Let the spices blend. If the mixture is too dry, add ¼ cup water.

Add the Dal and cook on slow fire till the dal absorbs all the flavours of the masala. If necessary add few spoons of water. Idea is that it should not become mushy.

Sauté with light hands to make sure that the Dal remains whole.

Check if the dal is done.

Garnish with coriander / mint (pudina) leaves.
Notes
If you wish, you can boil the dal either directly instead of using the cooker.
You can even steam cook the dal. 
The idea is to keep each grain separately and not mushy. 
This dish can be made with split yellow mung dal too
Serve with Roti, Paratha or Bakhri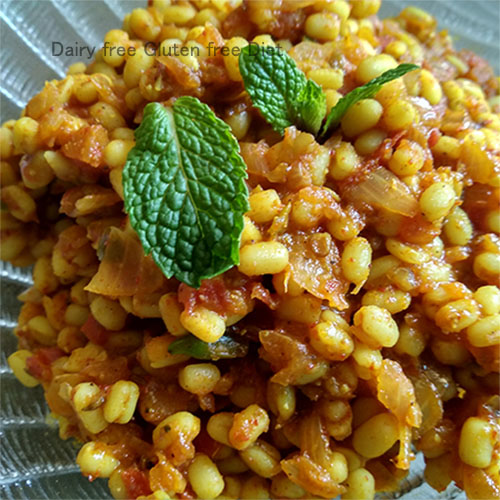 You can find more Punjabi recipes here
You can also find more Dal recipes here