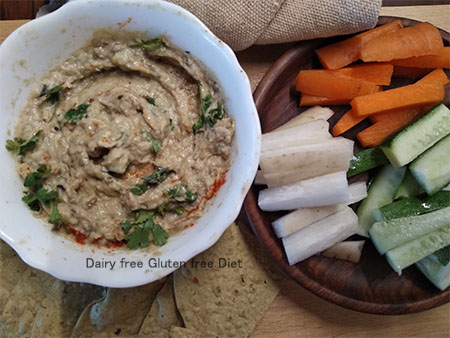 03 Mar

Baba Ganoush / Roasted Eggplant Dip

Baba Ganoush originates from Middle East / Lebanan.  It uses roasted eggplant mashed and mixed with tahini, lemon juice and olive oil. You may deem it is a cousin of our Baingan Bharta with a different seasoning. Just as we eat Bharta with Roti, Lebanese take Baba Ganoush with toasted Pita wedges or Pita chips.

Typically we have to roast the eggplant over the flame of gas stove just as we do for Bharta. Many western countries keep the Eggplant in foil and broil it in an oven. The idea is that after peeling, the pulp is soft and has a smoky taste.

Being a vegan & gluten free dish, Baba Ganoush makes the best starter for any home parties. The best part is, it tastes even better the next day. So you can prepare it much ahead and keep it in the refrigerator.

It also makes the best dinner option for bachelors and singles. You can consume it with raw salad vegetables cut into sticks or toasted gluten free chips. I used our roasted Indian papad as a healthy option.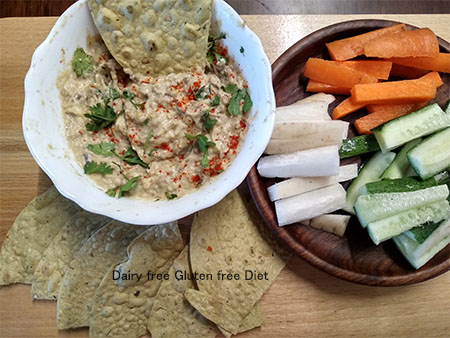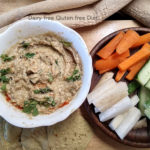 Print Recipe
Baba Ganoush (Roasted Eggplant Dip)
Ingredients
1 medium Eggplant / Bharta Baingan

2 tbsp tahini paste

2 tbsp lemon juice

2 garlic finely chopped

¼ tsp cumin powder

Salt to taste

Fresh chopped coriander
Instructions
Roast the eggplant directly on the gas. ALTERNATELY keep the eggplant on a foil in a baking pan and roast at 375 F / 190 C for 20 mts.

If you are using oven, make sure to keep turning the eggplant for even roasting

Meanwhile add tahini, lime juice, garlic, salt and cumin powder in a bowl and mix well. Set aside.

Cool eggplant, cut open the top.

Scrape out the Pulp. Try to avoid the skin. If one or two pieces get in, its fine.

Mash the pulp well with a fork or back of a spoon and add to the tahini mixture. Try not to mash it too much.

It needs to have some texture. If you are using the blender, just pulse. Do not blend.

Garnish with chopped coriander and a dash of paprika.
Notes
The secret is to remove the excess water from the eggplant after roasting / baking
To repeat, there should be some texture in the dish. Hence avoid grinding. If need be, just pulse for few seconds.