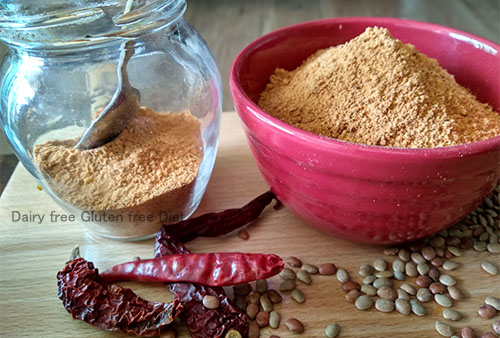 05 Mar

Kollu Paruppu Podi / Horse gram Chatni powder

Kollu Paruppu Podi. You rarely find a South Indian home without Paruppu Podi in its pantry. Paruppu meaning Lentil and Podi meaning Powder, South Indians relish this chatni powder on hot rice with a dash of home made ghee or cold pressed sesame oil. There are days when you don't have vegetables or you don't feel like consuming vegetables. You want to go easy on the stomach. During those days, this humble & ready paruppu podi comes to the rescue. Being high on proteins, you don't miss out on nutrition on such days. Just have it with roasted papad. No veggies day. ?

As in all foods, there are myriad variations of this podi. Different permutation and combination of the lentils, use of garlic, use of different condiments, etc makes every recipe a unique one. The garlic version is a favourite in Andhra cuisine and is known as Kandi podi.
Why Kollu Paruppu Podi?
Horse gram got its name as race horses were fed with it because of its high power. But it is very good for human health as much as it is for animal health. Traditional Ayurvedic cuisine considers horse gram as a food with medicinal qualities. Its dietary properties are many. But the two main benefits for those who are fitness freaks are that it is low in calories and high in proteins & fibre.
I also firmly believe that whole lentils contain more nutrition than the split ones. Hence I try to use them as much as possible in my diet. The result is this Kollu Paruppu Podi with whole lentils & horsegram.
Serve it mixed with hot rice or even with Idli or dosa. This humble and simple podi always takes me back to those good old childhood days. When we used to visit our grandparents during vacation, my grandmother always served this freshly made.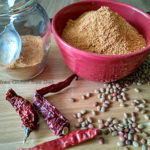 Print Recipe
Kollu Paruppu Podi / Horsegram Chatni podi
You can use any measuring cup / katori here. Make sure to use the same cup / katori for all ingredients.
Servings:
1
medium bottle
Ingredients
2 katori kollu / horsegram / mudira / kulith / hurule

½ katori whole masoor / Turdal / masoor dal

½ katori whole mung / spilit mung / yellow mung

½ katori whole urad / split urad dal

½ katori channa dal / roasted channa dal (chatni dal)

1 katori broken dry red chillies

1 tsp whole black pepper

½ tsp asafoetida

Salt to taste
Instructions
Heat a heavy bottomed skillet / kadai.

Dry roast the horse gram & lentils individually till they become brown and you get a nice aroma.

Dry roast the red chillies, asafoetida and black pepper till chillies become crisp.

Cool and powder everything to a smooth or coarse powder.

Store in an airtight container.
Notes
Adjust the chilli as per your requirement. Since it is always eaten with rice, spice level can be a tad more than normal.
The consistency can be anywhere between coarse to smooth. My family prefers it to be smooth
This powder can be stored outside. Stays good for months. There is no need to refrigerate it.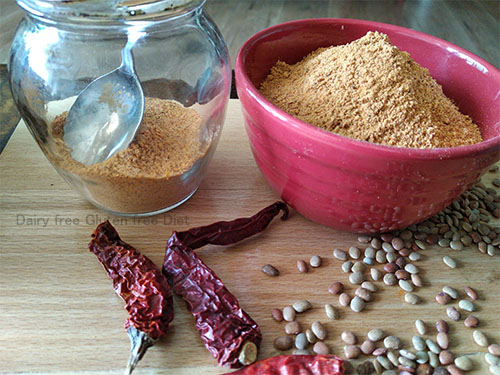 You can find more such Chatni Powder recipes here