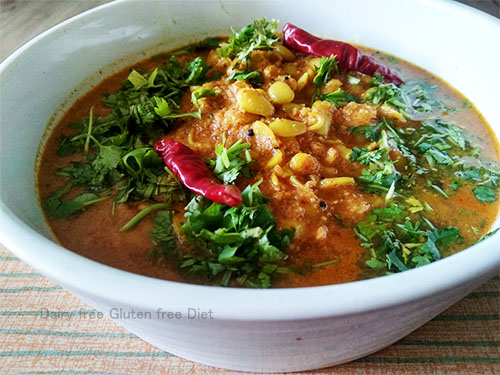 11 Mar

Valache Birde / Field Beans curry

Val / lima beans / field beans / mochai / pithiki pappu is a highly nutritious bean variety. It is generally slightly bitter and so people call it kadve vaal (kadve meaning bitter in Marathi). But on cooking, it acquires a nutty flavor. Valache Birde is a popular dish in Konkan regions of Maharashtra. No festival is complete without this dish.  Gujarati & Parsi cuisines also use this dal widely.

The making of this dish requires a little planning. You have to soak it for 12 hrs and keep it for sprouting for 24 hrs. You then have to remove the skin by soaking the sprouted dal in water for 15 minutes. Skin comes out easily by squeezing & pressing out the inner dal with index finger & thumb.

You may feel its very troublesome. Trust me, it is worth taking all these troubles. Valache Birde is super tasty. The most favourite Maharshtrian Dal in our house.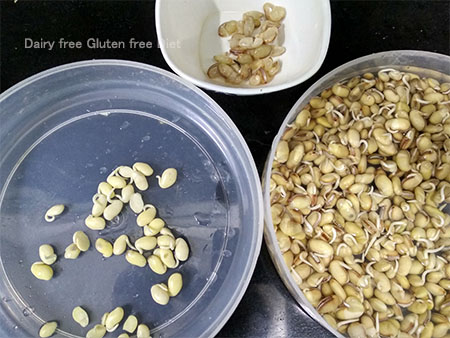 Sprouted Vaal in this Valache Birde is all the more nutritious and is low in calories and fat. It has a rich source of dietary fibres, phosphorous, potassium, vitamin K, vitamin A, vitamin B1 and Iron.
This variety of beans is available in fresh form during winter and dried form on other days. This recipe uses the dried ones. It goes very well with rice / jowar bakhri, or with simple steamed rice and kadhi.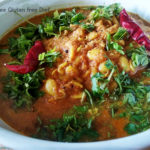 Print Recipe
Valache Birde—Sprouted Field Beans in Coconut Gravy
You can use any measuring cups for this recipe. I have used standard measuring cups. 1 cup = 250 ml
Ingredients
2 cups Vaal (soaked, sprouted and skin removed)

1 onion cut in to big pieces

4 to 5 garlic cloves

1 tsp jeera

½ cup fresh grated coconut

1 tsp mustard seeds

½ tsp asafoetida

1 tsp chilli powder

½ tsp turmeric powder

1 tsp jaggery powder / 1 small piece of jaggery

2 to 3 petals of Tamarind soaked in ½ cup water and squeezed OR 2 to 3 kokum flowers

Salt to taste
Instructions
Grind onion, jeera and garlic to a paste. Remove and keep aside.

In the same blender add coconut and ¼ cup water and grind to a fine paste. Take out and add ¼ cup more water. It should resemble thick coconut milk.

Soak tamarind and extract pulp

Steam cook the beans adding ½ cup water for 15 minutes till they are semi soft. I prefer to steam cook the pulses as steam cooking retains the nutrients most.

Dry roast mustard seeds in a pan till they splutter. (if you want you can add 1 tsp oil).

Add asafoetida and sauté for few seconds.

Add onion and garlic paste & sauté further till onions become pink.

Add chilli powder, turmeric powder and mix

Add steamed beans with water and mix with very light hands. Make sure that the beans do not break.

Boil for few minutes. Since the beans are already steamed, it takes less time to cook.


Add the tamarind water, salt and jaggery.

At this stage, adjust the water according your requirement and boil further for few more minutes till the spices blend well and beans become soft.

Finally add the coconut paste and bring to just one boil.

Check to see if the Vaal is cooked well.

Garnish with fresh coriander and roasted red chilli.
Notes
Adjust the spice level as per your need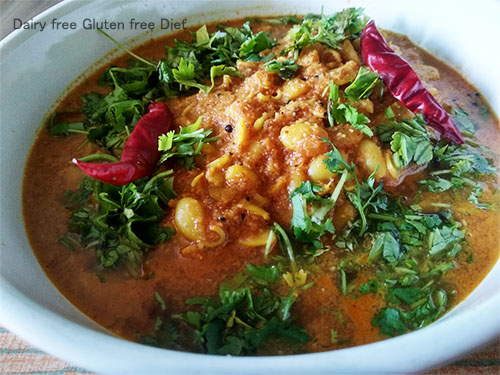 You can find more interesting Maharashtrian recipes here