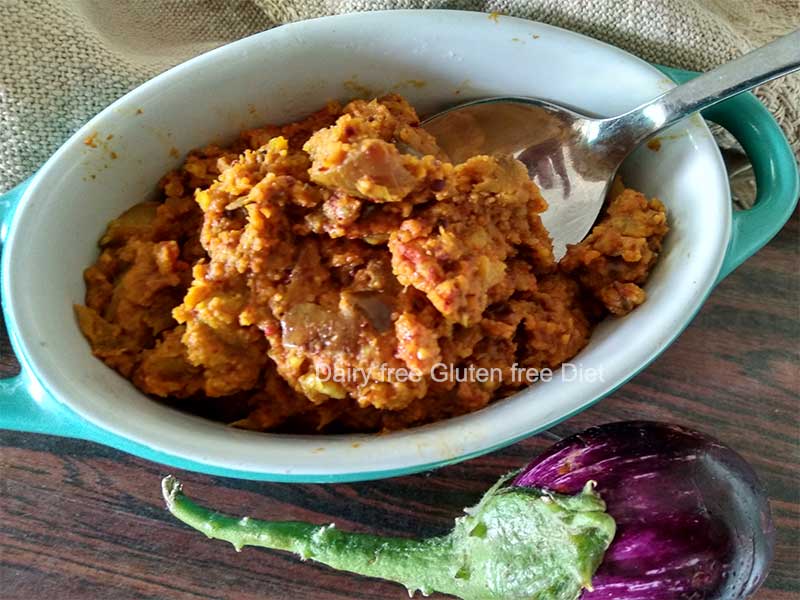 09 Mar

Venkaya Pachadi –Brinjal Chatni

Close on the heels of Baba Ganoush comes this Indian cousin Venkaya Pachadi (Brinjal Chatni) from Andhra Pradesh. Needless to mention that Chatnis are a 'must' in Andhra meal platter. Andhra is also popular for its spicy food. But I have not used as much chilies as the authentic recipe demands.

Traditionally, this recipe uses small green variety of brinjals. However, I have used normal purple variety. As you all know, many varieties of eggplant / brinjal are available in India. You can even use the Bharta variety (cut into small cubes), if you wish.

Brinjal belongs to the night shade species of vegetables and is really a versatile vegetable. Also known as eggplant / aubergine, it comes in a variety of colours and shapes. It is not a favourite vegetables with many. But according to Ayurveda, brinjal has many health benefits.

Secondly, in this recipe, I have sautéed the eggplant. But if you wish, you can even roast them as in Baba Ganoush. I decided to use a different technique since I had already given a recipe with roasted brinjals, .

Lastly, It is a great accompaniment to go with hot and steaming rice.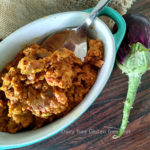 Print Recipe
Venkaya Pachadi--Brinjal Chatni
You can use any measuring cups for this recipe.
Ingredients
1 cup brinjals cut into small cubes & soaked in water

1 tablespoon tamarind paste

½ tsp jaggery powder

1 tsp oil

1 tablespoon channa dal

2 tablespoon urad dal

3 to 4 dry red chillies

1 tsp mustard seeds

½ tsp turmeric powder

Salt to taste
Instructions
Heat half of the oil and roast all the spices (except mustard seeds & turmeric powder) to golden brown.

Powder coarsely and keep aside.

Heat the other half of oil in a heavy bottomed skillet and temper with mustard seeds.

Drain, add the brinjals, add turmeric powder & sauté them till they are half cooked.

Add tamarind paste, ½ cup water, salt and cook further till brinjals are soft and fully cooked.

Add the jaggery powder and mash with the back of the spoon.

The texture should be rough.

Add the powdered spices and mix well.

If you feel it is very coarse, you can pulse the brinjals in the blender along with the powder. But do not grind.
Notes
Adjust the spice level as per your requirement.