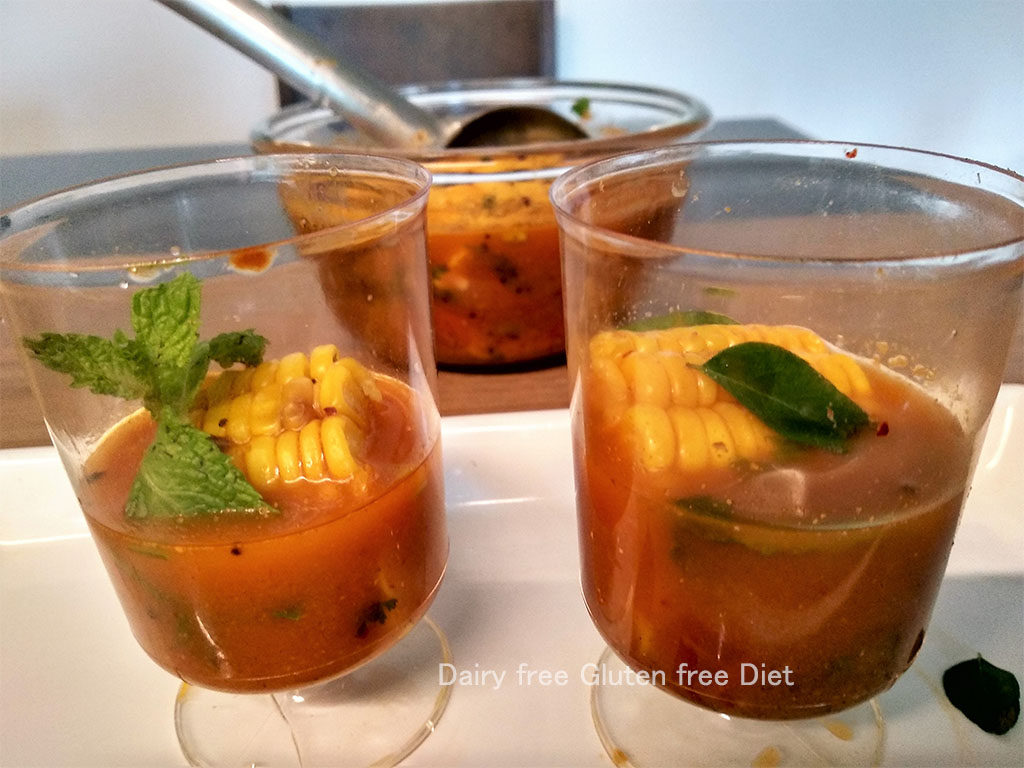 19 Jun

Corn-on-Cob Mysore Rasam

Come monsoon and here in Mumbai, you will get to see fresh corn cobs in abundance in the market. Mumbaikars affectionately call it Bhutta. And Rasam is the most popular dish across the country. And so corn on cob Mysore Rasam it is.

When you walk down the streets of Mumbai, in monsoon or winter, you can find many bhuttewalle (Corn cob sellers). They roast the bhutta in charcoal chula, rub salt, chilli powder and lime. Just one look at that yellow beauty blackened by the heat and dressed with spices and tanginess, your appetite seems to run high. Nothing can beat the taste of that garam corn on cob.

I happened to pick up couple of fresh corn on cob few days back. I wanted to make a diverse dish pairing it with any favourite dish of our house. However, it dawned on me that Rasam is the most favourite item in our house too. Rasam & Corn? Can South meet West / North? How will a combination of both work? I wanted to explore.

Thus was born this dish.

Corn being sweet on its own, I decided to make the Rasam a bit spicy to balance it out. As a result, I made Mysore Rasam.

Serve this on individual glasses or bowls. You can drink the Rasam and eat the softened sweet corn loaded with the masala of the Rasam. It tastes divine.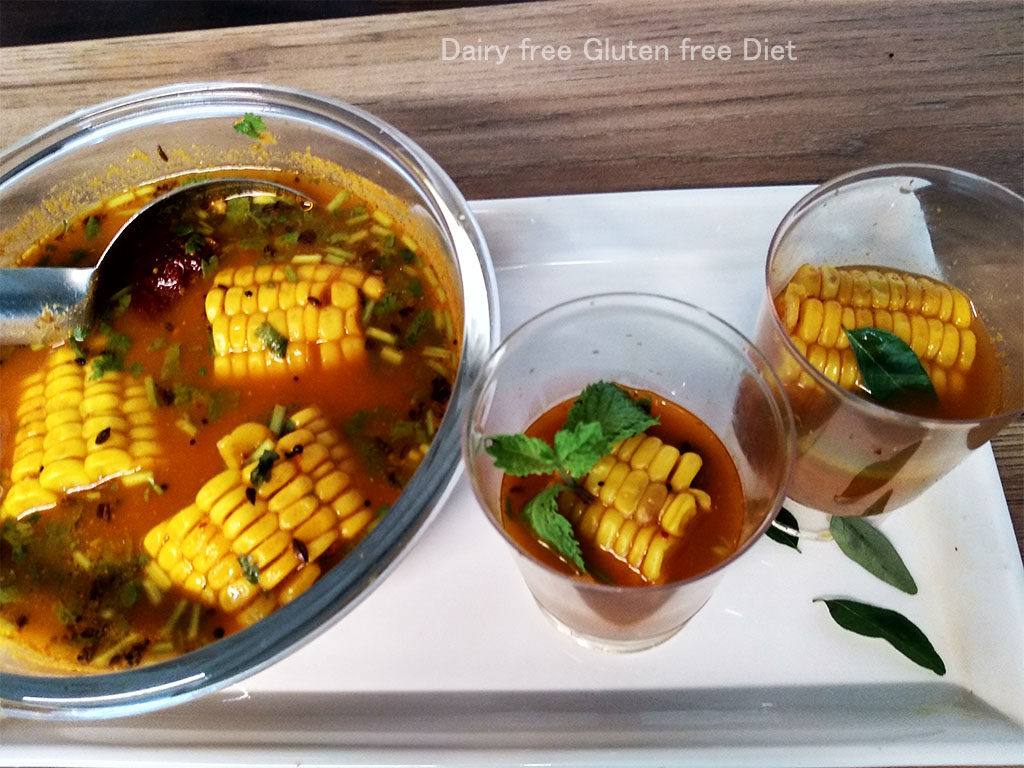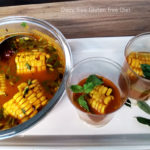 Print Recipe
Corn-on-Cob Mysore Rasam
Ingredients
1 fresh corn on the cob

_____________

For the Rasam:

1 medium size tomato cut into small bits

1 gooseberry size tamarind

1 tsp oil

2 tbsp coriander seeds

1 tsp channa dal

1 tsp tur dal

1 tsp pepper

½ tsp cumin seeds

2 tbsp desiccated coconut / fresh grated coconut

3 to 4 dry red chillies

½ tsp turmeric powder

Salt to taste

Asafoetida to taste

_______________

For tempering:

1 tsp oil

1 tsp mustard seeds

¼ tsp fenugreek seeds (methi seeds)

Curry leaves

1 broken red chilli
Instructions
Boil the whole corn in a pressure cooker.

When cool, cut into 1" size pieces.

Soak tamarind in hot water and squeeze the water.

Roast all the dry ingredients for the rasam in 1 tsp of oil till they are browned.

Finally add the coconut and roast for few minutes.

Grind to a fine paste adding water.

Take 3 cups water in a vessel.

Add the tamarind water, salt, tomatoes, turmeric powder and asafoetida and boil for few minutes.

Add the boiled corn pieces halfway through and continue to boil.

Once the raw smell of tamarind goes, add masala paste.

Add 1 cup or more water. The consistency should be watery.

Boil on low flame for few more minutes. Let the masalas blend with the corn.

Heat oil for the tempering and roast the ingredients.

Garnish with fresh coriander leaves. Serve hot in individual cups / bowls / katoris topped with corn.
Notes
You can use ghee for tempering if you wish.
Adjust the spice levels as per your desire.
You can add a bit of jaggery if you wish.
I did not use boiled tur dal since I wanted a thin rasam for the corn to soak. 
You can also cut the corn into 1" pieces and boil in pressure cooker instead of pressure cooking the whole corn.  
You may also like my other Rasam Recipes: