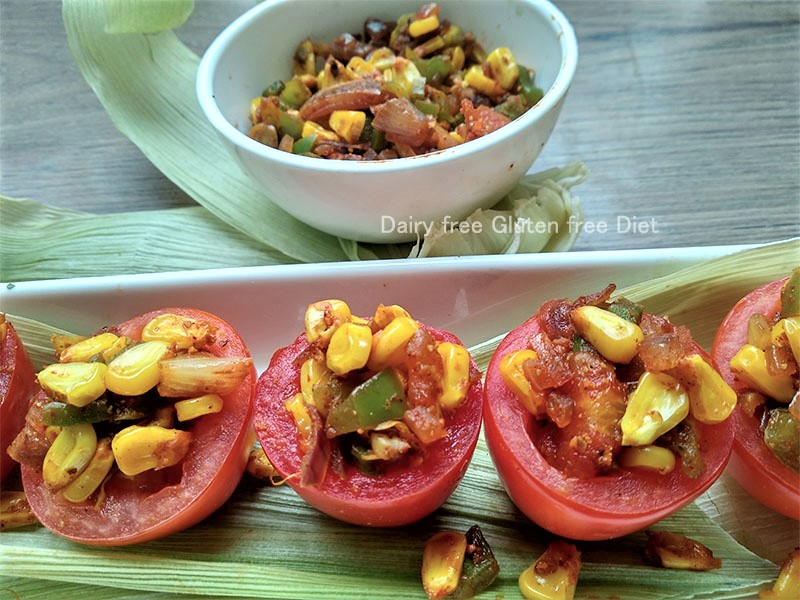 28 Jun

Corn stuffed Tomato Cups

Its raining corn here in Mumbai. ? And tomatoes are available in plenty. As a result, here is this healthy recipe corn stuffed in tomato cups. 

Is corn a vegetable? I'm afraid, if it can be called a vegetable. Be it vegetable or grain or fruit, its versatility in nature is unquestionable. It lends itself to soup, salad, dry vegetable, gravy vegetables, tikki, roasted, toasted…you name it and its there. Although it contains more carbohydrates, it is also rich in fibres, vitamins and minerals. Additionally, the good news for weight watchers is it contains very little fat.

Secondly, coming to tomatoes, I have spoken a lot about importance of including brightly colored vegetables in salads in my earlier posts Simply Salad and Rainbow salad. Added to that, I would like to stress here how vegetables in the "red" family have particular nutritional benefit. Tomato is one such vegetable. Time and again studies have shown how red tomatoes support heart health.

Is this a raw salad? Let me answer this. There are very few vegetables which you can consume raw. Tomato is one such for sure, though you may say Tomato is a fruit and not a vegetable. But we cannot add it in fruit salad, can we? ? As a famous quote goes, "Knowledge is knowing that a tomato is a fruit; wisdom is not putting it in a fruit salad."

Now pops another question. Can corn be eaten raw? Many say that if your body can accept, yes, its safe to eat it raw.  However, I personally prefer to steam or cook them prior to adding in a salad. I had digestive issues when I consumed them raw a couple of times. Hence, in this recipe, I have used cooked corn.

Please note that I have not used oil in this recipe.

Finally, it serves multi purpose. Healthy #salad, #starter and #snack.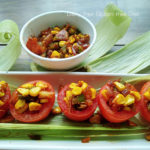 Print Recipe
Corn stuffed Tomato Cups
Ingredients
3 or 4 medium sized ripe, red tomatoes

½ cup boiled sweet corn

1 small onion finely chopped

1 mild green chilli chopped

3 tbsp finely chopped green capsicum

¼ tsp red chilli flakes

Salt to taste

Juice of half a lime
Instructions
Cut the tomatoes horizontally, remove pulp and save them.

You may have to slightly chop off the bottom of tomato to make it stand upright.

Rub the inside of the tomatoes slightly with salt.

Boil the corn and set aside.

Heat a pan and add the onion and sauté for few minutes. Do not make it red.

Add the capsicum and the scooped-out pulp and sauté further.

Now add the corn, salt, chilli flakes and mix everything well.

Switch off, add lime juice and cool the mixture.

Stuff them on the tomatoes. Serve chilled.
Notes
The best way to serve is to keep the corn mixture and few tomatoes in reserve.
Stuff them as per the demand then and there and serve. You will not waste food this way.
Choose red, ripe and firm tomatoes for best results.
I have used fresh corn here. You can use canned ones if you wish.