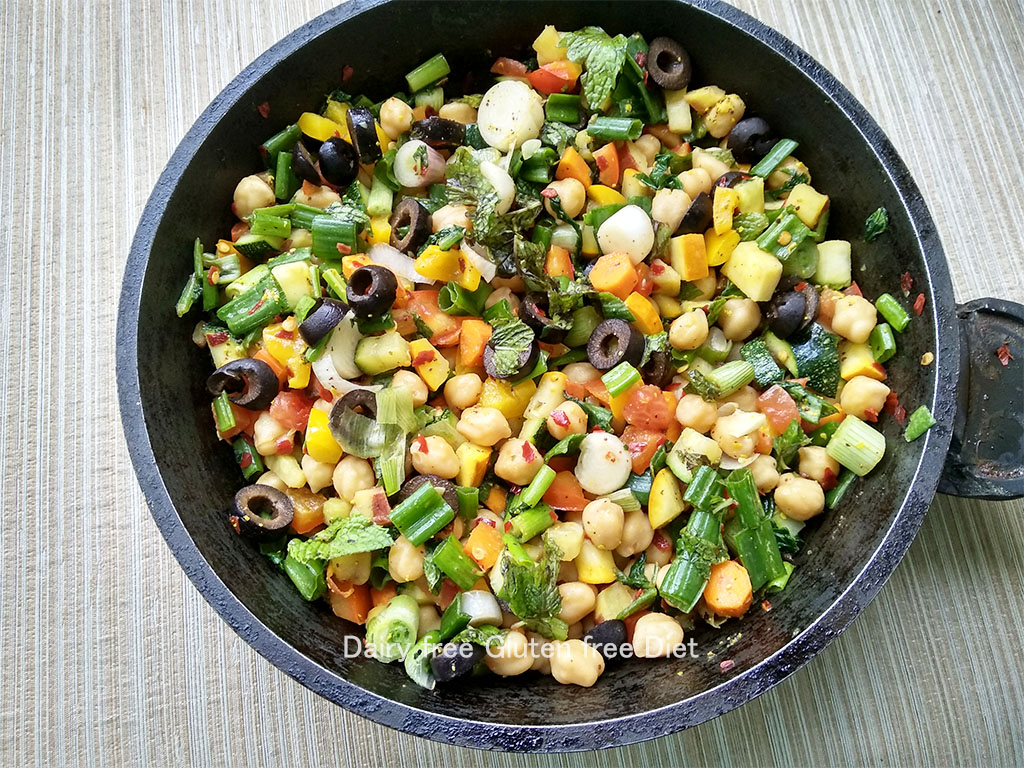 23 Jun

Healthy Snack for all–Rainbow Salad

Fresh vegetables are gifts of Nature. They are naturally coloured and great source of all nutrients. A fresh vegetable salad serves both as healthy snack & lunch for all. If you follow dairy free & gluten free diet system, this rainbow salad is a great healthy lunch or snack option to add nutrients you need. One sure way to make food attractive is to make it colourful. The big, bold and fresh colours are sure to give a thrust to your appetite. In short, this beautiful rainbow salad is a simple and delicious way to add to your wellness.
Why is salad healthy snack option?
Firstly, diversity in food is important for overall health for all. Very often we find ourselves cooking the same food or vegetables. Is there a way to break this monotony? Answer is raw uncooked vegetables in the form of a fresh helathy salad.
Secondly, consuming raw vegetables every day in the form of salad is very vital. Because it increases our gut health. The enzymes present in the raw vegetables aid in digestion.
You may wonder where is blue in this salad? The term rainbow stands for different colours and not literally rainbow colous. ?
Red bell peppers and tomatoes, orange carrots, green peppers, zucchini & spinach, white spring onions with their green leaves, yellow bell pepper and zucchini & black olives make this an attractive platter. I didn't have purple cabbage. Else would've added them. That would've accomplished the motive of rainbow colours. ☹ Pl add them when you make it.
But I added few boiled chole to add some fullness and bounce to the dish. I also added some mustard paste and thick peanut curd on top as dressing. However, you can do without them, if you prefer.
Feel free to use any other vegetables, pulses, legumes or millet of your choice to add colours. Innovate and let me know how you felt.
Cut the vegetables in any shape as you desire.
You can check my previous posts on healthy salads