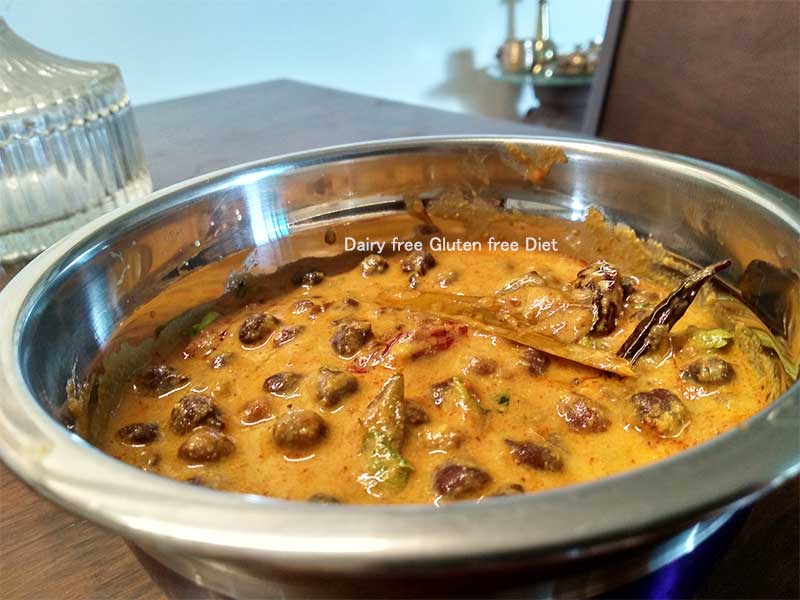 13 Jun

Jaisalmeri Chana

Can you name a prominent ingredient in Rajasthani cuisine? Yes. It is Besan. No Rajasthani dish is complete without besan. Chane Jaisalmeri or Jaisalmeri Chana is no exception. It is a simple & traditional recipe that uses brown channa, besan and curd. What a combination! All three protein-rich ingredients! ?

Why do Rajasthani dishes use besan most? There's a reason for it. Rajasthan being a desert, green vegetables are a rare commodity. So the people of Rajasthan have to find an alternate source of nutrition. Besan is a great source for high protein, iron and fibre content. Added to it, it is remarkably versatile.  That makes it a great ingredient for savoury dishes as well as sweets.

Next to besan, pulses also play a prominent role in Rajasthani cuisine. Mainly because, apart from their nutrient content, they give a feeling of fullness. Pulses are a great source of proteins too. They make any dish simple but nutritious. That explains why Rajasthani cuisine is known for its simplicity.

As a consequence, this mouth-watering, simple and delicious dish is a great option for lunch as well as dinner. When you consume it with roti or rice, it becomes a sumptuous & hearty meal.

Traditional recipe for Jaisalmeri Chana uses a special chilli called Mathania chilli, quite a bit of ghee and dairy curd. Due to constraints, I had to deviate slightly here. Firstly, as I do not possess Mathania chilli, I have used regular chilli / chilli powder. Secondly I have used minimum oil just for tempering at the end. ? Thirdly, I have used peanut curd in the place of dairy curd.

One more uniqueness of this recipe is its sathwik nature. This does not use onion or garlic. So, you can jolly well say this is dairy free, gluten free and onion-garlic free recipe.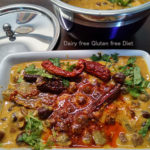 Print Recipe
Jaisalmeri Chana
Ingredients
1 cup soaked overnight and boiled brown channa

3 tsp besan / chickpea flour / kadalai mavu

1 cup peanut curd

1 tsp chilli powder

½ tsp turmeric powder

1 tsp coriander powder

¼ tsp cumin seeds powder

½ tsp amchur powder (optional)

½ tsp garam masala powder (optional)

2 cloves

1" piece cinnamon

1 tsp cumin seeds

1 bay leaf

******************

Final tempering:

1 tsp oil

1 broken dry red chilli

½ tsp chilli powder

½ tsp asafoetida powder
Instructions
Soak channa overnight / for 8 hours. Pressure cook with enough water and salt for 3 whistles / till the channa gets cooked.

Drain and keep the water.

Take ¼ cup of boiled channa and mash coarsely with a masher. This is just to add body to the gravy.

Beat the curd with besan and all the masalas and just enough salt for the curd. Make sure its lump free.

When it is hot enough, add the cumin seeds, bay leaf, cloves and cinnamon and dry roast them till they become aromatic.

Add the curd mixture and sauté on a very low flame.

Add water and mashed channa and mix well.

Add the balance whole channa and check for the consistency. It should not be very thick not thin like a kadhi.

Add the balance water from the boiled channa if required.

Boil on a slow flame for a few minutes and switch off.

Heat a tsp of oil, add asafoetida and red chilli. Once it is done, switch off and add red chilli powder. Mix well and pour over the chana.
Notes
You can use ghee for tempering and roasting the dry masalas.
Peanut curd, generally is very thick. Hence 3 tsp besan was enough. If your curd is no so thick, you may require more besan.
If you prefer a tangy taste, add amchur powder.