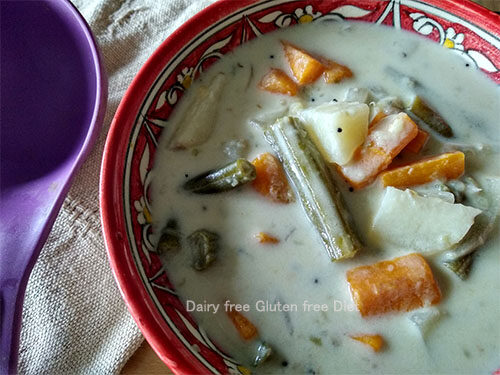 17 Jun

Tirunelveli Sodhi Kuzhambhu

Tirunelveli Sodhi Kuzhambhu is a speciality of Tirunelveli in Tamil Nadu. It's pet name is "Mappillai Sodhi". "Mappillai" in tamizh means bridegroom. This dish finds the most prominent place in the menu when the groom visits inlaw's house for the first time after marriage. Also Sodhi saapadu is a 'must' in all Tirunelveli marriages. It is the last day lunch of 2 or 3 day marriage, which is served on behalf of the groom's side to the bride's side and the guests. Perhaps as a return gift from the groom's side? ?

It is a classic vegan recipe since it uses Coconut milk as main ingredient. Added with few selected vegetables cooked in coconut milk. It may raise the question, oh it's just a stew of Kerala? No. What makes it different is the use of yellow mung dal. The addition of lentils and drumstick makes sodhi an uplifting dish different from Kerala stew. Also a dash of lime added once the sodhi is cooled gives an exotic palate to the dish. Initially, I was apprehensive about adding lime. I couldn't accept that lime and coconut milk can go together. Also I have heard that many prefer the sodhi without the lime. But believe me, that final dash of lime gives a whole new twist to the dish. It was unbelievable. Do not miss it. ?
What goes to make Tirunelveli Sodhi Kuzhambu?
Firstly, traditionally, Sodhi kuzhambu uses only 4 vegetables. Potato, carrot, French beans and drumsticks. Though down the line many have innovated by adding other vegetables like peas and brinjal. So, you are free to exercise your options.
Secondly, many do not use garlic. But I felt, garlic adds an unusual aroma to the dish. Otherwise, its like a plain stew. Choice is yours anyways.
Thirdly, traditional recipe demands to cook the vegetables in thin coconut milk. However, I always prefer to steam cook my vegetables. Not only is it time and fuel saving but retains its nutritive value as well. Again, it is entirely your choice how you cook your vegetables.
Fourthly, in Tirunelveli, they always serve Sodhi with ginger pachadi. The idea behind is, since lot of coconut milk might be heavy on the stomach, ginger aids in digestion. I have already provided a recipe for Andhra style ginger pachadi. You can check.
Lastly, traditional Tirunelveli people extract coconut milk at home. Not once but thrice. This recipe uses thinner most, medium thin and thick coconut milks. Some of you might be hard up with time to go through that exhaustive and time-consuming exercise of making coconut milk at home. Particularly when it is freely available in the market currently. Hence it increases your choices. However, I give below both the options.
If you are extracting coconut milk at home:
Grate 1 large coconut.
Add 1 cup warm water and grind in a mixer. Pass through a sieve and remove the first thick milk. Yields upto ¾ cup of thick milk depending on the size of coconut.
Add 1 cup water to the residue and grind again. Extract the medium milk.
Add 1 cup more water to the residue and repeat the process. Extract the last, thin milk.
If you are using store bought coconut milk:
Divide 1½ cups of coconut milk into 3 parts.
Keep the first half cup thick milk.
Add ½ cup water to the second half for a medium thick milk.
Add ¾ cup water to the third half for a thinner milk.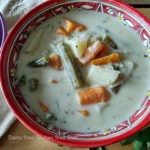 Print Recipe
Tirunelveli Sodhi Kuzhambhu
I have used standard measuring cups in this recipe. 1 cup=250 ml
Ingredients
½ to ¾ cup thick coconut milk

¾ to 1 cup medium coconut milk

1 to 1¼ cup thin coconut milk

1/3 cup boiled and mashed yellow mung dal

1 cup diced potatoes

½ cup diced carrots

¼ cup diced French beans

1 drumstick cut into 3" pieces

2 cloves garlic finely chopped

10 shallots (Sambhar onions) OR 1 medium sized onion

5 green chillies

1½ "ginger piece

1 tsp coconut oil

1 tsp mustard seeds

Juice of half a lime
Instructions
Cut the vegetables (except drumsticks) into fairly medium sized cubes. Cut drumstikcs to 3" long pieces

Steam cook the vegetables / pressure cook for just one whistle and keep aside. Do not overcook. Preferably half boiled.

Cook mung dal as per convenience, mash well and keep aside. [¼ cup or more (as per desire)].

Grind ginger and green chillies to a coarse paste adding ¼ cup water.

Heat oil in a pan.

Add mustard seeds. Once they splutter, add garlic.

Sauté for few minutes, add onion and sauté further.

When the onion turns pink add the ground ginger green chilli paste. Mix well.

Add the mashed dal and salt. Mix well.

Add the third thin coconut milk, cover and boil for 5 to 6 minutes.

Then add the second milk and the vegetables.

Cover and cook on a low flame till everything blends and becomes slightly thick. Around 7 to 8 minutes.

Finally add the thick milk and when it starts bubbling, switch off the flame.

Once it cools down completely, add lime juice.
Notes
Do not boil too much after adding the thick coconut milk.
Make sure to add the lime juice after it cools down fully. Else it might curdle. 
Serve sodhi with rice, potato roast and ginger pachadi. Sodhi goes well with aappam and idiyappam too.