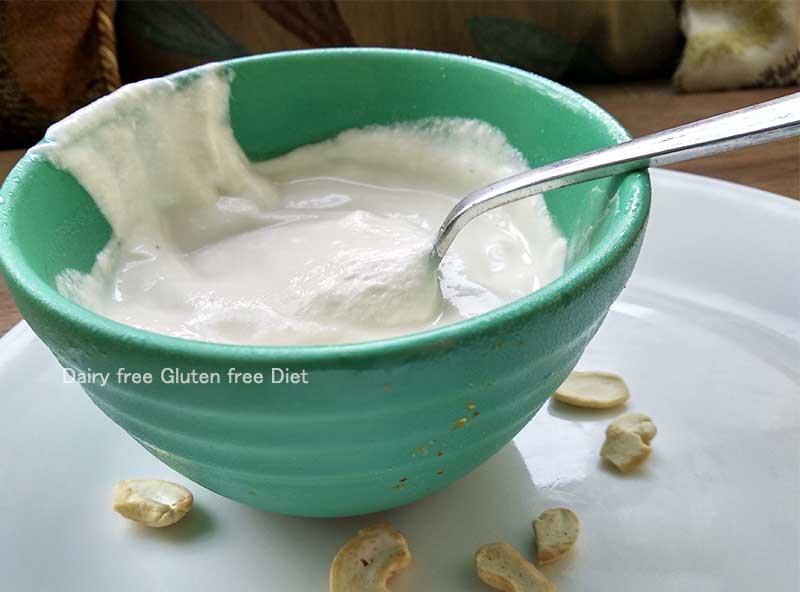 21 Jul

Cashew Yogurt / Homemade Vegan Curd

This Cashew Yogurt is a breeze to make. Its creamy, tangy and delicious with a slight sweet tinge. You do not need to be a Vegan to consume this Cashew Yogurt. It is for all.

I have grown up taking curd in my diet every day, until I had to go dairy free. When you are asked to go dairy free for multiple reasons, you find it hard to give them up because they make you addictive. You have a varied non dairy yogurt /curd available in the West. Whereas in India, it has still not caught up. Hence we are forced to make these curds / yogurts at home. But thankfully, it is not a rocket science. You can easily make them at home. They are not only cheaper but delicious too.

I have already posted 2 recipes for Peanut curd. I have been receiving messages that Peanut Allergy has become the most common among allergies. Many are not able to consume it. I did try to make curd with almond milk / coconut milk but never succeeded. They just didn't set. And I do not take Soya products. So, Soya milk was also ruled out. Hence I decided to make this Cashew Yogurt.
This is a very simple recipe
All you need is Cashew nuts and starter curd. To set this curd, you need to have a previous vegan curd. If you are a non vegan but yet want to try this, you can use regular dairy curd for setting.
Ingredients:
½ cup cashew nuts
½ cup + 2 tbsp water
1 tbsp lime juice
1 tbsp starter curd
Directions:
Blend the cashew with ½ cup water in a blender to a very smooth paste.
If you feel the paste is too thick, you can add 2 or 3 tbsp of water.
Place it in a bowl and slightly warm. Do not heat / boil. You can keep in double boiler for warming. or microwave for 30 seconds.
Add the lime juice and starter curd and place in a warm place.
It sets in 8 to 12 hrs / overnight.
Hope you enjoy  this delicious Yogurt / curd