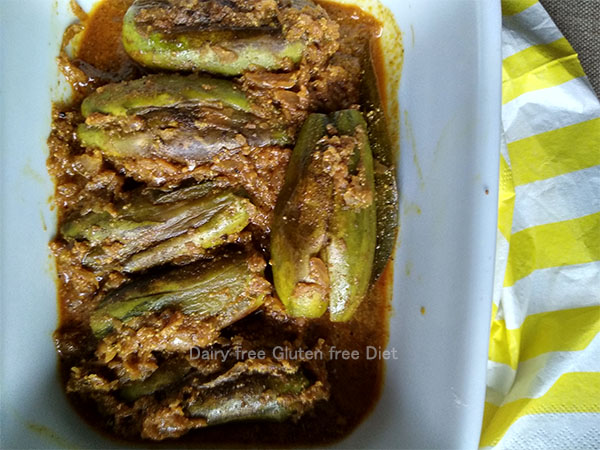 10 Jul

Doi Potol / Pointed Gourd in Curd

Doi Potol is a popular Bengali dish. As the name suggests it uses dahi (curd / yoghurt). By default, this recipe uses peanut / groundnut curd. This is one Bengali Vegetarian dish that is a great hit in our house. There is a prevalent view that Bengali cuisine has more non vegetarian dishes than vegetarian counterparts.  Despite this, their vegetarian fare too is quite popular.

Pointed Gourd is a perennial corp that is cultivated in Eastern and North eastern parts of India and so is available throughout the year. Hence you can find this the most often used vegetable in Bengali Cuisine. Again Khus Khus is one more ingredient which plays an important role in Bengali cuisine. It is also used predominantly in most Bengali recipes.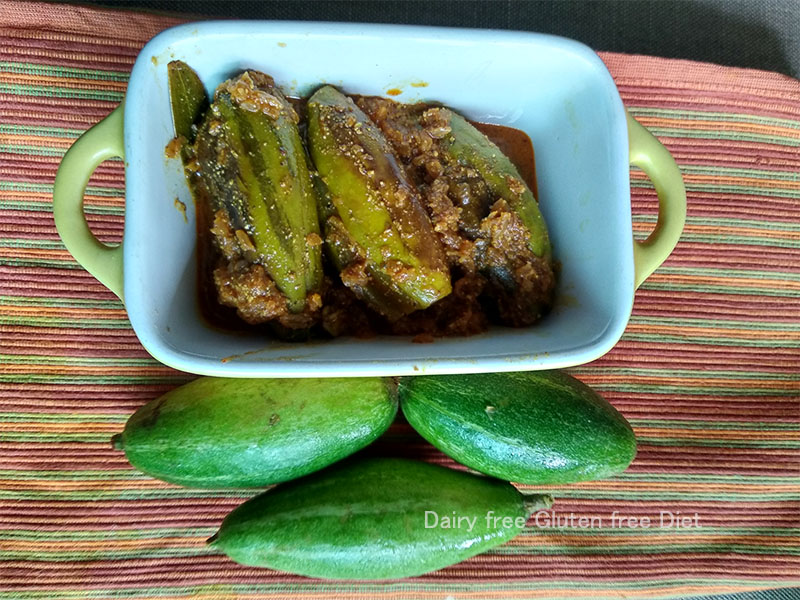 Doi Potol is a simple and easy to make dish. At the same time very delicious. You can make it as spicy as you desire. The curd in the gravy adds a cooling effect to the dish and balances the spiciness. It lends an unique palate to the dish.
Finally, this dish is semi dry dish with khus khus paste adding to the richness, jaggery adding to the sweetness and the curd adding to the tartness. All these make this a flavourful dish.  You can easily pair it with roti or rice.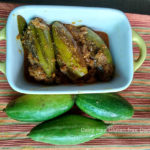 Print Recipe
Doi Potol
Ingredients
8 to 9 pointed gourds (parwal)

1/2 cup onion paste

2 cloves

2 cardamoms

1

bay leaves (tej patta)

1 tbsp oil

1 cup beaten peanut curd

1 tsp jaggery powder / 1 small piece of jaggery

2 tsp KhusKhus paste

1 tsp ginger garlic paste

1 tsp red chilli powder

1 tsp coriander powder

1/2 tsp cumin seeds powder

½ tsp garam masala powder

salt to taste
Instructions
Scrape the skin of potol/parwal and make 3 or 4 slits on the sides without breaking them.

Marinate them with some salt and turmeric powder for 10 minutes

In a heavy bottomed pan, add 1 tablespoon oil

Shallow fry the parwal till they become brown. Drain and
keep aside. 

In the same pan roast the bayleaf, cloves and cardamom

Add the onion paste and fry for 2 more minutes.

While onion is frying, mix chilli, coriander, cumin, garam masala powders, enough salt, ginger garlic paste and khus khus paste (if using) in a small bowl with ¼ cup water to make a paste

Add the paste to the onion and fry for few more minutes.

Add the parwal and mix well till the masala coats parwal

Add ½ cup water and cook for few minutes. Adjust the seasoning.

Mix the curd and jaggery, beat well and add to the vegetables.

Cook further on a slow flame, till potol becomes soft and coated well with the gravy