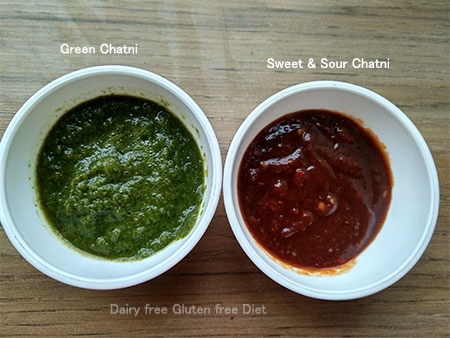 01 Jul

Sweet Chatni & Green chatni
Sweet Chatni
This sweet chutney always accompanies array of chaat items like samosa, etc.  it will be little runny and honey like in consistency. I always make this chatni with dates. But many do use Jaggery for sweet. It does contain tamarind too for sourness. Normally known as Sweet and sour chatni, this forms an integral part of Chaat cuisine.
It tastes good with any chaat item.
Ingredients:
1 gooseberry size tamarind
10 to 12 deseeded dates
5 Dry red chillies
Salt to taste
½ tsp cumin powder
How to make:
Soak tamarind dates and red chillies in water for 30 minutes.
Grind to a fine paste adding water.
Pour in a pan add salt and cumin powder and boil to a sauce consistency.
You can substitute Dates with jaggery.
The sourness of tamarind and sweetness of Dates vary. So, adjust accordingly. The key is that the sweetness, sourness and spice should be well balanced.
Green Chatni
Grind handful of coriander with stem, few mint leaves, 2 green chillies in a blender. Add salt and lime juice.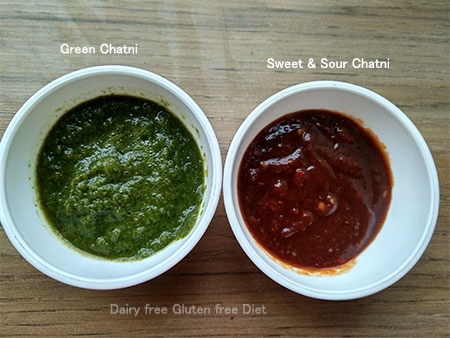 You can check for more Chatni recipes here