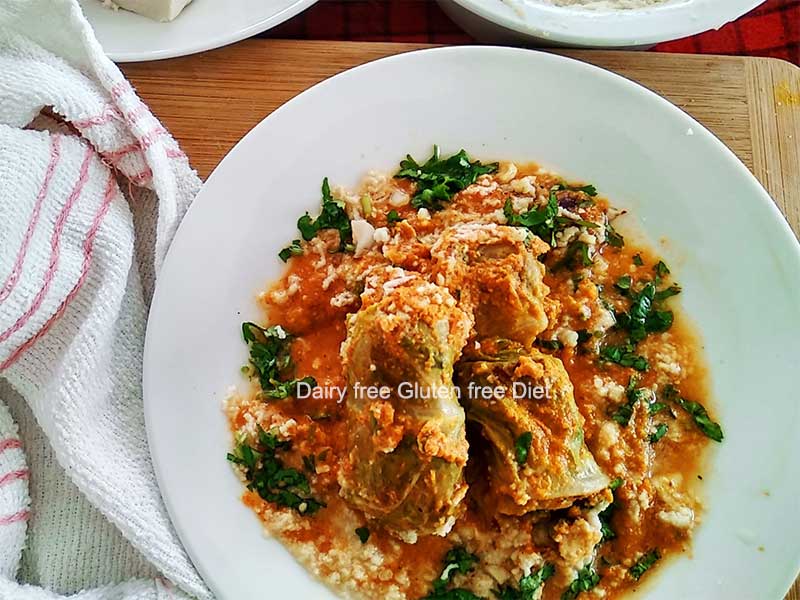 30 Aug

Cabbage Rolls Curry | Indian Style

Mixed vegetables, stuffed in Cabbage leaves, rolled and toasted on a tawa and cooked in tomato gravy is Cabbage Rolls Curry for you. Stuffed Cabbage rolls are an East European Classic. Stuffing the cabbage leaves with rice or meat, dunking in tomato sauce and baking them in an oven is the popular European Version. Inspired by this, I have customized to suit Indian cuisine. It's a delicious dish that goes well with Roti or Naan.

Talking about Cabbage, some shun this vegetable for the smell it releases while boiling. However, the tip is to add a small piece of ginger while it boils. It removes the undesired smell. Despite its health benefits it doesn't seem to get the attention it deserves. ? It is packed with nutrients and is the best source of Vitamin C. When you have a blocked nose, boil some cabbage leaves in hot water and take the steam. It is quite effective. Interestingly Chinese dishes use more of shredded cabbage in their recipes.

This is one vegetable which is very versatile. You can add them raw in salads; make a Thoran or Kootu South Indian style; team it with Alu and make a dry Alu Gobi sabzi North Indian style or make a soup and drink hot. Cabbage is a cruciferous vegetable. Research over the past 30 years has consistently shown that consuming cruciferous vegetables is associated with a lower risk of cancer.
Making Cabbage Rolls Curry
It's a little elaborate recipe, but delicious and fit for a home party or potluck. Elaborate since it is done in 3 stages. First sautéing the vegetables. Secondly, filling inside the cabbage leaves, rolling and sautéing. Thirdly, the gravy. But the final outcome is worth the pains taken.
It tastes good when you add Paneer. But as a dairy free site, I have not added it. However, nut based Vegan Cheese being similar to paneer as in it does not melt like dairy cheese, I added 2 tbsp in the filling. You can also use Pumpkin seeds Cheese if you are allergic to nuts. If you wish to add Paneer you are most welcome or you can skip both vegan cheese and paneer. It tastes equally good. But do NOT add dairy cheese.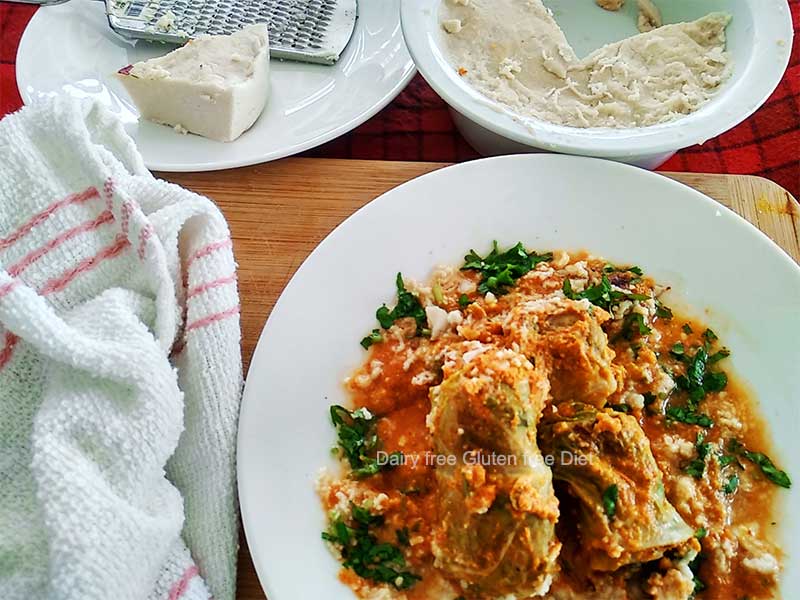 The vegetables for this recipe need to be either grated fine or chopped very fine. I used my chopper for this. They should not be overcooked and should remain crunchy. Onion is also optional. You can make this a Satwik dish. Cashew in the gravy and nuts in the filling add to the richness of this dish.
Make this restaurant style exotic Cabbage Rolls Curry on any special day or on a lazy Sunday for lunch to go with Roti or Naan.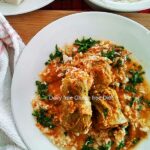 Print Recipe
Cabbage Roll Curry | Indian Style
Mixed vegetables, rolled in steamed Cabbage leaves, toasted on a tawa and served in tomato gravy is Cabbage Roll curry for you. It's a delicious dish that goes well with Roti or Naan.
Ingredients
For the Cabbage Rolls and Filling

5 to 6 whole cabbage leaves

1½ cups mixed vegetables chopped fine

(carrots, cabbage, cauliflower, french beans)

1 tsp green chilli ginger paste

1 tsp chilli powder

2 tsp coriander seeds powder

1 tsp garam masala powder

1 tbsp mixed nuts chopped fine

(cashew, almond, pista)

salt to taste

2 tsp oil

¼ cup finely chopped coriander

2 tbsp vegan cheese (optional)

(Paneer if you are non vegan)

For the Gravy:

1 tsp fennel seeds

(Saunf, Sombu))

⅓ cup onion paste

1 tsp green chilli ginger paste

1 tsp chilli powder

1 tsp coriander powder

1 tsp garam masala powder

(optional)

salt to taste

3 medium tomatoes

7 to 8 whole cashew

1 tsp oil
Instructions
Filling:

Heat a pan with I tsp oil.

Add green chilli ginger paste and sauté.

Then add the chopped vegetables and sauté.

Add chilli, dhania, turmeric powders, mixed nuts and salt and sauté further. Do not overcook.

Add grated cheese / paneer and coriander leaves and set aside to cool.

Rolls:

Cut the cabbage close to the stem at the head.

Gently remove each leaf from outside.

Boil water in a pan. Add the leaves. Close the pan and boil for few minutes till the
leaves become soft.

Drain from hot water and set aside to cool.

Take a leaf and trim the thick part close to the leaf.

Take 2 tbsp of the filling, keep it slightly below the centre.

Fold from down and then from sides and start rolling tightly to make sure that the
rolls do not open. Repeat with all leaves.

Keep them on a plate with the ends down.

Heat a cast iron / heavy bottomed skillet / Tawa

Keep the rolls and toast them on both sides till they become brown. No need for oil.

You can either cut them into halves or keep them full. It's your choice.

Gravy:

Either grate the onion or make a paste.

Blend the tomatoes and cashew to a thick liquid.

Heat oil and add fennel seeds.

Once it is done, add green chilli ginger paste and sauté.

Then add onion paste and sauté farther.

Mix the dry spices in ¼ cup water and add. Sauté for few more minutes.

Finally add the tomato cashew paste, salt and enough water to make a thick gravy.

Cover and cook on a low flame for about 5 minutes.

Adjust the consistency as per your preference.

Just before serving, keep the papad rolls on the gravy and cook on a low flame for
just 2 or 3 minutes.

Serve individual roll with the gravy on top

Garnish with coriander leaves and cheese.
Notes
You can use paneer with the vegetables.
Adjust the spice level as per your taste