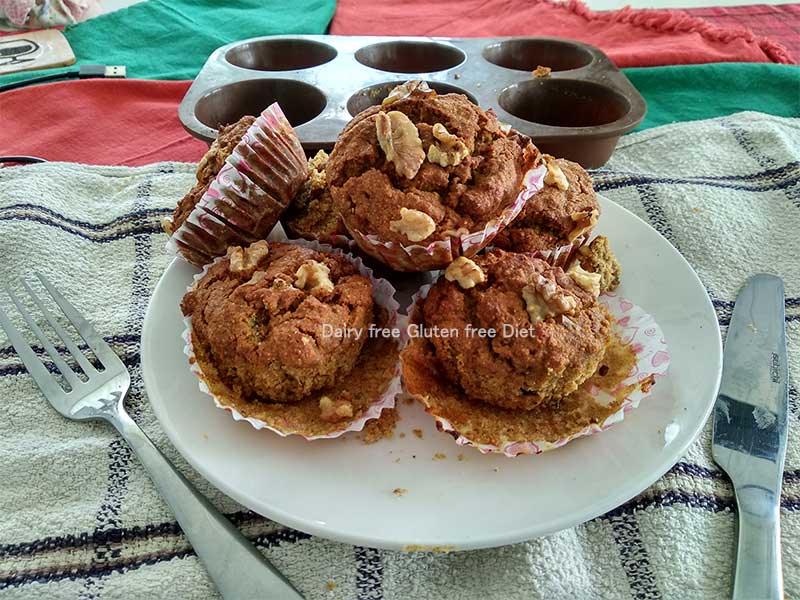 12 Aug

Date and Walnut Muffins / Cake

This is a Vegan and Gluten free Date and Walnut muffins. Very simple and easy to make, delicious and crumbly muffins. Healthy as it contains no butter or refined sugar.

Talking about muffins, one wonders if cup cake and muffins are same. Well, they do differ. Muffins are little drier, not too sweet, dense and believed to be more healthier. A muffin can be a savoury version too and many a times people prefer it for breakfast. Whereas, cupcakes are mini cakes. They are dessert items. Cupcakes in general, are not preferred for breakfast. They do require frosting.  Cupcake batter is more smoother than muffins and requires more beating.

I have made this muffins with the gluten free flour mix that I make at home myself with easily available flours and use it for all my baked recipes. The post on gluten free flour mix  explains the nature of this flour mix, how it is different from normal plain flour used for baking, etc. I have made many cakes and cookies with this flour mix successfully. You can check them in my Baked session. I have already posted a recipe for Date and Walnut Cake in the earlier days when I started the blog. However, I wanted to include step by step video and in the process, ended up baking part of the batter as muffins. This is slightly revised version. Since the muffins turned out well, I am sharing it as a separate post.

That said, I had only a six-hole muffins tray and a lot more batter left. Hence I poured the left-over batter in a cake tin and baked it along with the muffins. The cake and the muffins had the same crumbly texture.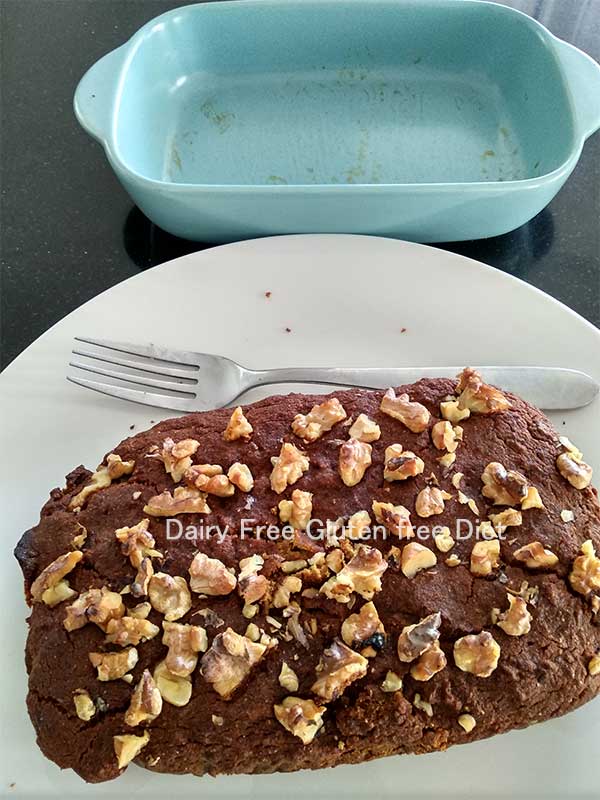 Why dates and Walnuts?
Dates are high in several important minerals including potassium, manganese, magnesium and copper. They also provide significant amounts of calcium, iron, vitamin K and B vitamins, including vitamin B-6 and folate. It's also a good source of energy, sugar, and fibre. Consumed in moderation (2-3 a day), dates keep you healthy.
Walnuts contain a number of neuroprotective compounds, including vitamin E and are loaded with antioxidants, which help protect our body from cellular damage, heart disease, cancer, and premature aging. Research shows walnut consumption may support brain health, in young adults. They are also rich in omega-3 fatty acids, which is extremely good for our body. A healthy serving size is about 1 to 2 walnuts, per day.
If you are fine with gluten, you can even make this cake with whole wheat flour. Just take 1¼ cup whole wheat flour. I wouldn't advocate refined flour (maida / plain flour) though.
Enjoy this healthy Date and Walnut muffins & cake. You will find that this muffins / cake tastes better a day after.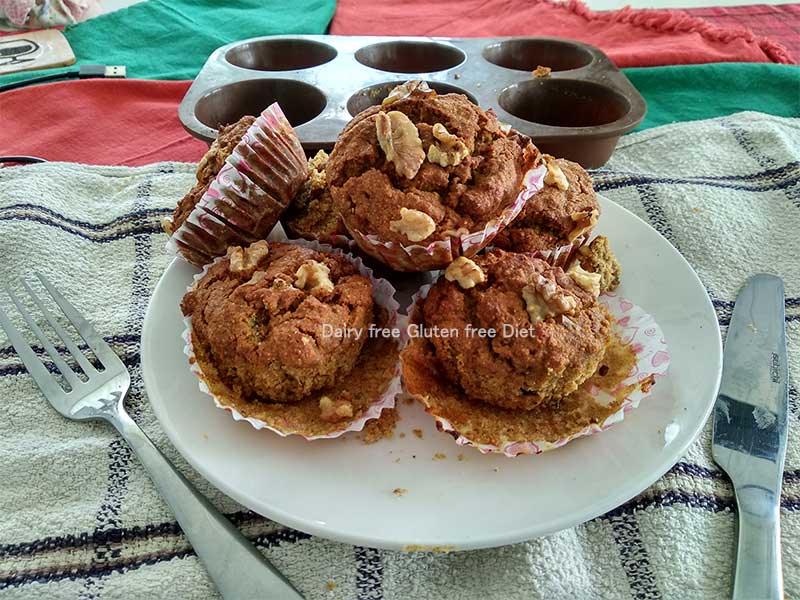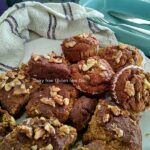 Print Recipe
Date and Walnut Muffins / Cake
Made with the home made gluten free flour mix, this date and walnut muffins & cake is healthy and delicious .
Ingredients
1¼ cup gluten free flour mix

15 Dates deseeded

½ cup cane sugar (powdered jaggery)

¾ cup non dairy milk (I used cashew milk)

¼ cup any oil

1 tsp baking powder

1 tsp baking soda

vanilla essence

¼ cup chopped walnuts
Instructions
Pre heat the oven to 180˚

Soak dates in ¼ cup warm water mixed with milk and jaggery powder for 15 minutes.

Remove the dates and make a coarse paste.

Mix with balance milk and add oil and vanilla essence.

Sieve flours with Baking soda and Baking powder.

Add half of chopped walnuts with the flour mixture.

Mix wet and dry mixtures lightly using cut and fold method.

The thickness of the batter depends on the quality of dates. If the batter is too thick, you can add some water to bring it to cake consistency.

Line a muffin tray with muffin liners and pour the batter in each hole. If your muffin tray has 12 holes, pour in all holes.

Or pour the balance in a medium baking dish lined with parchment paper.

Garnish muffins and cake with balance chopped walnuts

Bake in a preheated oven at 180˚ for 35 to 40 minutes.

Check with a skewer. If it comes out clean, the cake is done. Else, keep for few more minutes.

Remove on a wire rack and cool.
Notes
You can use jaggery powder instead of cane sugar.
The sweetness depends on the Dates. Adjust cane sugar / jaggery level accordingly. 
Temperature differs from oven to oven. Adjust baking time accordingly. 
You can bake the whole batter as a cake or as muffins.