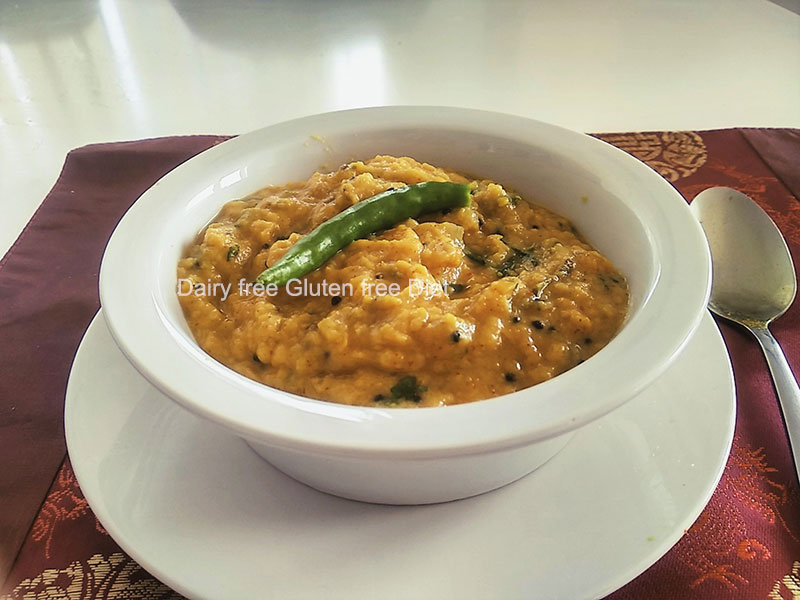 26 Aug

Maharashtrian Pitla / Gram Flour Curry

Pitla is a popular comfort food from Maharashtra. When you run out of vegetable stock, this Maharashtrian Pitla comes to your rescue. It does not require vegetables. Yet it tastes so delicious and above all easy to make.

Interestingly, South Indian cuisine also has a dish called Pitla. But this has zero semblance to Maharashtrian Pitla. South Indian Pitla is almost like a thick sambhar with specific vegetables and freshy ground masala. Whereas Maharashtrian Pitla is a spicy besan curry. When I first ordered Pitla way back in 70's in a famous restaurant at Pune that serves delicious, authentic Maharashtrian food, I was surprised to see what was kept before me as Pitla. ? Being a South Indian, I was expecting other Pitla !!

It is so flexible that you can adjust the consistency to your preference. If you want to consume it with Bhakri, you can make it a little thicker. If you want to consume it with rice, make it little more thinner, but not runny. The very dry version is the popular street food Zunka. You can see Zunka Bhakri being sold at all street side food stalls in Maharashtra / Mumbai city during lunch hours and what is surprising is all stalls selling Zunka Bhakri would be full and crowded. It is so popular with masses. Affordable price and healthy.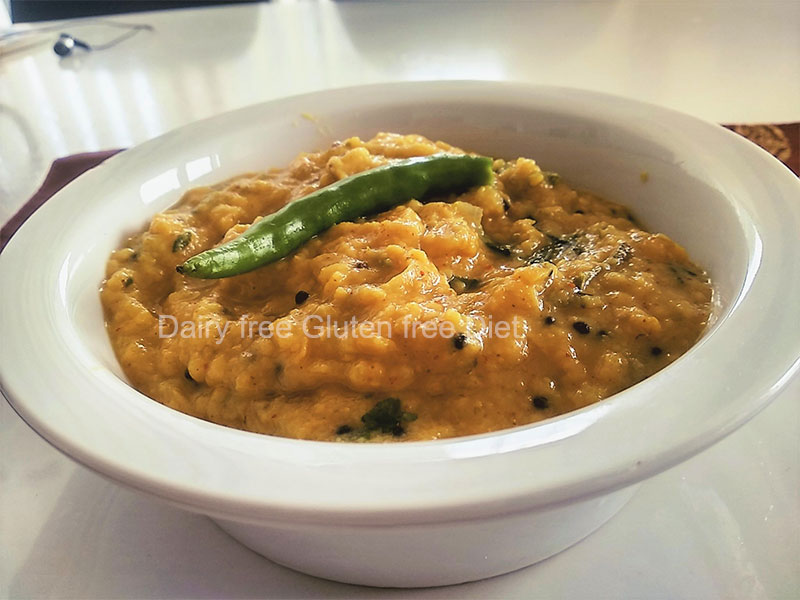 This versatile Pitla goes well with rice and Bhakri. The most popular Bhakri that goes with Pitla is Jowar Bhakri. But I made brown Rice flour Bhakri today to go with Pitla. Will post the recipe for Brown rice flour Bhakri soon.
Besan or Gram flour as we call it, is popularly known in West as Garbanzo bean flour or chickpea flour. High in protein, it has many nutritional values. When you consume food items from Besan, you feel full for a longer time because of certain slowly digested starch in besan. Hence the downside is it is a little heavy to digest. However, our Indian cooking has secrets to counter this. That is to use Asafoetida / Hing / Perungayam that aids in digestion and prevents gas formation. So whenever you make a dish with large amount of Besan, make it a point to add enough Asafoetida.
Serve lots of fresh green vegetable salad with Pitla and Bhakri to make it a wholesome food.
You can also check for my posts on more Maharashtrian recipes here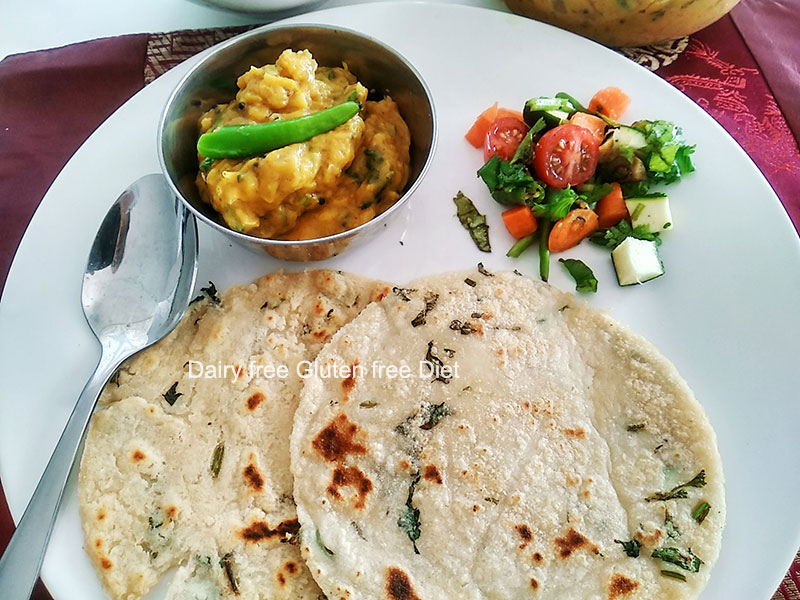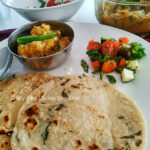 Print Recipe
Maharashtrian Pitla / Gram flour curry
Pitla is a popular comfort food from Maharashtra. There are times when we run out of vegetable stock and this Pitla comes to our rescue. It does not require vegetables. Yet it tastes so delicious and above all easy to make.
I have used standard measuring cup here. 1 cup=250 ml
Ingredients
½ cup besan

1 cup finely chopped onion

3 green chillies

3 cloves garlic

1" piece ginger

1 tsp cumin seeds

2 tsp oil

1 tsp mustard seeds

asafoetida

½ tsp turmeric powder

1 tsp chilli powder

2 cups water

salt to taste
Instructions
Sieve besan, add the chilli powder and turmeric powder and mix.

Add 1½ cup water slowly and whisk till smooth.

Pulse cumin seeds, green chilli, ginger and 2 garlic cloves to a coarse paste. Crush one garlic and keep aside for tempering.

Add mustard seeds and once they splutter add asafoetida.

Add onion and sauté till onion turns pinkish.

Add the ground paste and sauté for a minute.

Add the remaining ½ cup water, salt and boil.

Once it starts boiling, reduce flame, add the Chickpea flour liquid slowly while stirring all the time to make sure there are no lumps.

Keep stirring as the mixture thickens.

Cover and cook on low flame for 10 minutes. You can add more water if you feel it is necessary.

Add coriander leaves and mix well.

Adjust consistency as per your preference.