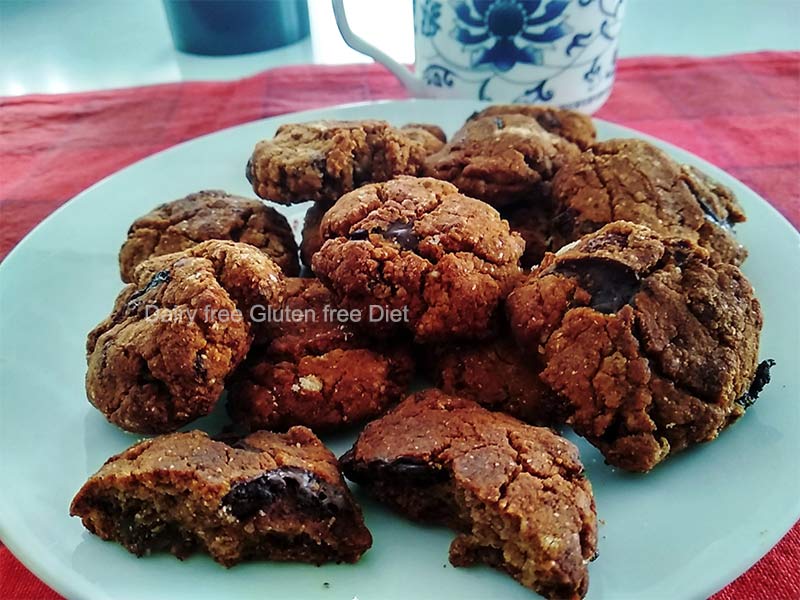 15 Aug

Raisin and Chocolate Chip Cookies

These Raisin and Chocolate chip cookies do not use any added sugar. The natural sweetness in the raisins go to make the sweet part of the cookies.

I was surprised to learn that cookies originated as test for cakes. A small amount of cake batter that was baked to test the oven temperature emerged as cookies. ?

England & Australia call Cookies as Biscuits and Italy calls it Biscotti. In my understanding cookies that are crisp and more sweeter are biscuits. A cookie is more chewier with crisp outside and softer inside. Biscuits are mostly made in factories whereas you can get fresh baked cookies from bakeries and coffee houses. Even the multinational bigwig like Starbucks sell freshly baked cookies.

There are many assortments of cookies available in the market. But when you go gluten free and dairy free the options diminish. No worries. Cookies are best home made. They are easy to make and taste best customised to your palate. Most cookie recipes call for all-purpose or pastry flour.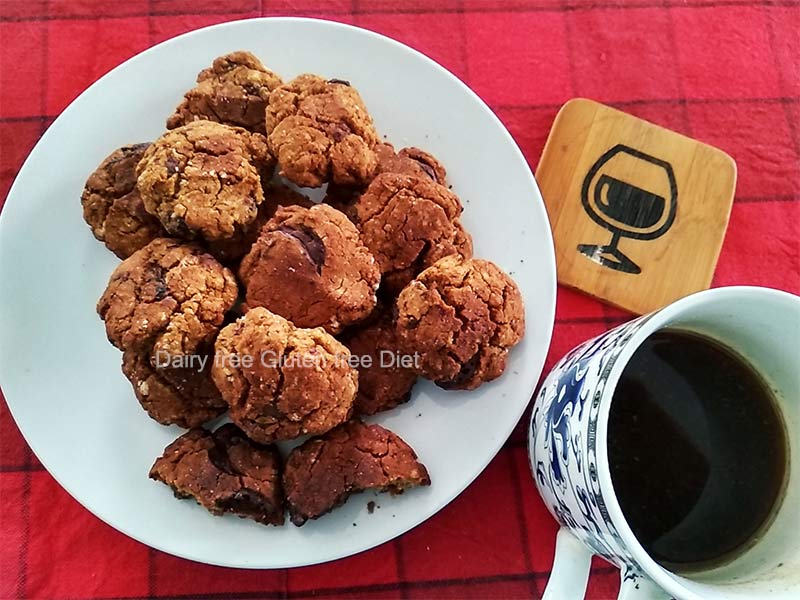 Here's a list of what I have used to make these dairy free, gluten free, refined sugar free Raisin and Chocolate chip cookies.
For the flour mix, I have used Jowar (Sorghum) flour, added healthy brown rice flour for the starch content and a little of almond flour for the softness.
To make almond flour, you can powder 8 to 10 almonds in a mixer.
If you do not have Brown Rice flour, you can add normal rice flour.
I have used Flax seeds to replace egg. 1 tbsp of flax seeds powder mixed with 3 tbsp of warm water gives you a gooey mixture that replaces one egg. I have
successfully used this in all my baked recipes that call for egg.
I prefer less sweet in cookies and so I have not added any extra sugar. However, if you prefer it sweeter, add some extra jaggery powder / cane sugar.
The chocolate chips that I have added are sugar free dark chocolate chips that are slightly bittersweet. Again, it's a personal preference and if you do not desire it, you can skip. Instead you can add more Raisins or walnuts. They add some extra punch to the recipe.
I have used parchment paper to line the baking tray. However, if you do not have it, you can just grease the baking tray and arrange the cookies on them.
These cookies are soft on the inside. If you want more crispier ones, after baking them on one side, flip them and bake for another 5 to 8 minutes.
I have a few Cookies recipes post here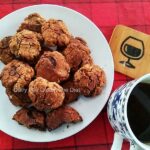 Print Recipe
Raisin Chocolate Chip Cookies
These cookies do not use any added sugar. the natural sweetness from the raisins go to make these a healthy cookies. Added to that, its gluten free. 🙂
Servings:
30
medium cookies
Ingredients
1 cup Jowar (Sorghum) flour

½ cup brown rice flour

¼ cup almond flour

1 tsp Baking soda

½ cup Chocolate chips

½ cup black raisins

1 tbsp Flax seeds powder

¼ cup any oil of your preference
Instructions
Sieve the flours with baking powder.

Soak the Flax seeds powder in 3 tbsp warm water for 15 minutes.

Soak the raisins in ½ cup warm water, grind to a coarse paste and remove in a bowl.

Add flax seeds mixture and oil to ground raisins.

Add flour mixture to the wet mixture with chocolate chips.

Mix together to form a soft dough

Take small balls, flatten them and arrange on a baking tray lined with parchment paper.

Bake for 10 to 12 minutes.

Cool on wire rack and store them.
Notes
Baking time varies from oven to oven. Adjust accordingly. If the toothpick inserted comes out clean, its done.