13 Aug

Sindhi Kadhi / Mixed Vegetable Kadhi

One of the popular dishes of Sindhi cuisine is Sindhi Kadhi. In India, normally, Kadhi is a preparation with curd / yogurt. But this Sindhi Kadhi is without curd. That is the speciality of this Kadhi. It uses mainly chickpea flour as its base along with seasonal vegetables. This is a 'must do' dish on festive occasions. But I know many Sindhi families who make it without fail on Sundays. Ever since we learnt it, it has been a hot favourite dish in our house to devour on a lazy Sunday afternoon followed by a rejuvenating nap.

As in all recipes, every Sindhi family has its own version. Some people use tomatoes, while some people don't. Some use tamarind while some use Kokam. Hence suit your convenience.

Before Independence, the State of Sindh was under Bombay Presidency. Due to its proximity with Gujarat, Rajasthan and the then Bombay, it shared similar culinary traditions.  Today Sindhi cuisine has become popular world over.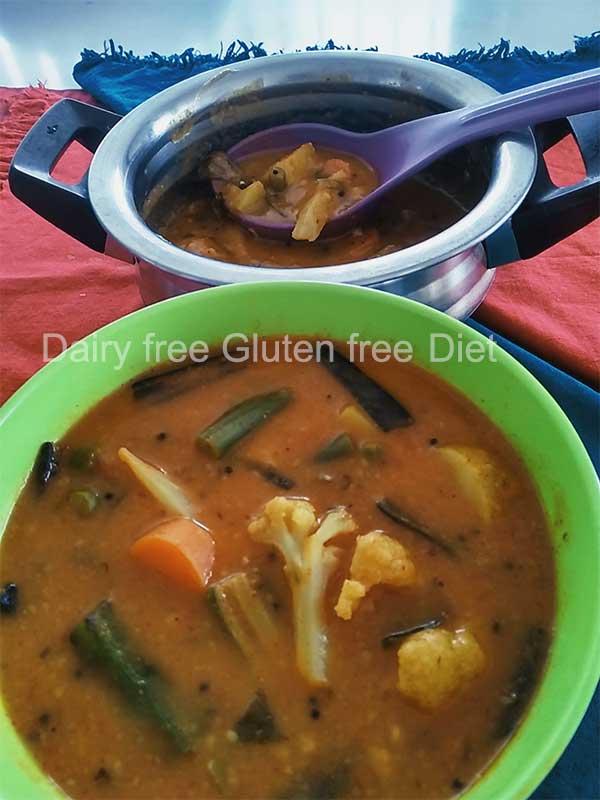 Secondly, this Kadhi has lots of vegetables in it. Main vegetable being drumstick, Ladies finger and cluster beans (gavar / kothavarankai). But interestingly, if you do not have access to any of these, you can skip. Today I didn't have both drumsticks and cluster beans. So I added French beans and carrot. ? Other than this you can add any vegetables of your choice.
Traditional Sindhi Kadhi uses quite a bit of oil. You need to roast the chickpea flour in oil till gives a nutty aroma. The key for this recipe lies in roasting the gram flour until it loses raw flavour and changes its colour. However, I have used minimal oil without which this dish will not taste good. But, oil or no oil, I must admit that this is a very comforting food. Simple and easy to make. Since it has many vegetables, it is great as a one pot dish if you want to have a grain free meal.
This Sindhi kadhi is tangy, spicy and hot and the best bet to serve with rice. You can even drink it just as a soup.
You can check for my other Sindhi recipes here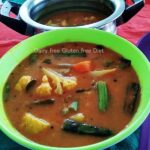 Print Recipe
Sindhi Kadhi
A Kadhi with a difference. Unlike normal Kadhis, it does not use curd / yogurt. Made with chickpea flour as gravy and added with lots of vegetables, it's a very delicious soul food.
Ingredients
¼ cup gram flour

(besan, chickpea flour, kadalai maavu)

6 to 7 Ladies finger slit into finger size

¼ cup french beans cut into finger size

½ cup potato diced into big cubes

¼ cup cauliflower florets

¼ cup carrots diced into big pieces

1 medium size ripe tomato grated

1 tbsp tamarind paste

salt to taste

1 tsp oil for roasting ladies finger

----------------

For Tempering:

2 tsp oil

½

tsp

methi seeds

1

tsp

mustard seeds

1

tsp

cumin seeds

¼

tsp

asafoetida

3 to 4 green chillies chopped

1" piece ginger minced

few curry leaves

1 tsp chilli powder

½ tsp turmeric powder
Instructions
Heat 1 tsp oil and sauté the Ladies finger till they become brown.

Heat the oil for tempering and add the mustard seeds, cumin seeds and methi seeds.

When the mustard seeds splutter, add the asafoetida, chopped green chillies, ginger and curry leaves.

Add the chickpea flour and roast till the flour becomes golden brown.

Reduce flame and add 2 cups water slowly and stirring continuously to avoid lumps and
making sure it does not burn.

Add the grated tomato and the vegetables except the Ladies finger.

Add red chilli powder, turmeric powder and salt. Add more water if required.

Cover and cook till the vegetables are done.

Add tamarind paste mixed in ½ cup water and the sautéed Ladies finger & boil for few more minutes.

Adjust the consistency of the Kadhi as per your taste. It should be medium thick. Not
watery or runny.

Serve hot with Rice / pulav.
Notes
You can add any other vegetables of your choice--Brinjal, Tinda, Arbi, cauliflower, Radish, Yam, Lotus stem, etc
Make sure to cut them into big pieces.
Roast the gram flour and keep stirring so that it dies not burn. 
Check your tamarind paste for tanginess and adjust accordingly.