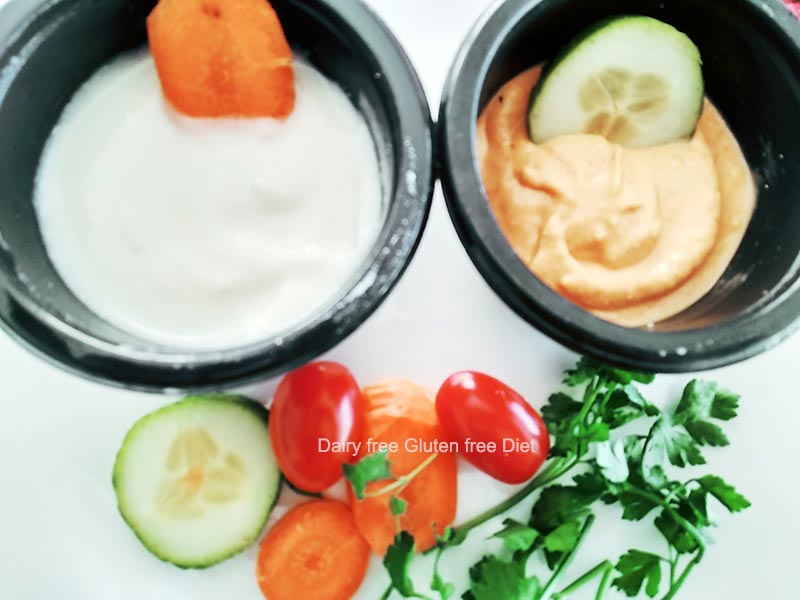 20 Sep

Oil free Vegan Mayonnaise 2 ways

This Homemade Oil free Vegan Mayonnaise is the answer to those health-conscious ones who love Mayo.

Mayonnaise affectionately called Mayo is a dressing used on sandwiches salads, etc. Traditional Mayo is an emulsion of basic ingredients such as oil, egg yolk and lemon juice or vinegar.  These give a creamy dressing when emulsified together. The colour varies from pure white to pale yellow. Mayonnaise is used commonly around the world and is also a base for many other chilled sauces and salad dressings.

Ever since veganism started gaining popularity, vegan mayo too made their entries in the market. But 90% of them use oil heavily. Obviously the health-conscious stay away from these stuff. But that does not mean we need to stay away eternally. This homemade Oil free Vegan Mayonnaise is a boon to all such people. But keep in mind that original cannot be replicated. Just as Vegan cheese does not melt like dairy cheese, oil free mayo has its own taste. But it is the closest to emulsified mayo and unquestionably the best healthy option available.

Making Mayo at home is quite simple. Be it with or without oil. It involves no cooking. Just blending few ingredients does the trick.

I'm including 2 recipes for this mayo. One with cashew and one without it. Mainly because there are many emerging these days who are allergic to any kind of Nuts. Use of cashew gives a creamy mayo, no doubt. But if it should be avoided for health reasons, there is no 2 way. For the sake of such people, I have prepared these mayo.

The basic ingredients in these recipes are boiled and mashed vegetables / soaked cashew, lemon juice and water. You can play around with extras like mustard powder, onion powder, garlic powder, etc, as per your preference. You can add your own seasonings. Just let your creativity take over. I avoid apple cider vinegar. Hence I have used just plain lime juice.

In the first recipe with Cauliflower, we need some kind of thickener. Hence I have used rice flower to give that bright white colour. You may use tapioca starch or arrowroot flour or boiled & mashed potatoes. These help in bringing out the colour too. In this, to balance the tanginess of the lime, I have used small quantity light brown cane sugar.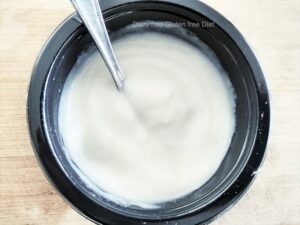 Since second recipe uses sweet potatoes with cashew, I have avoided the use of cane sugar, but added two garlic pods. and red paprika powder. However, you can skip garlic if you do not like it. I loved this mayo with a little natural sweetness, paprika's spiciness and cashew's creaminess. It tasted great with carrot and cucumber slices.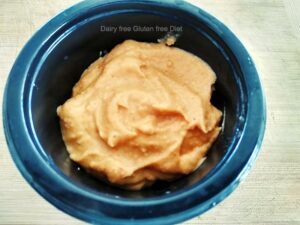 Try both and let me know.
This can be used as a dip for your crackers, raw vegetable slices, gluten free breads, baked French fries, scones, Russian salad or any other way you feel fit. You can look at healthy Flax seed crackers recipe that I posted a year ago. Since these Mayo use water, they do not stay for long like its counterpart using oil. Hence prepare in small quantities, store in refrigerator and use within a week.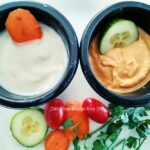 Print Recipe
Oil free Vegan Mayonnaise 2 ways | Homemade
This is great recipe for all those health conscious out there who love Mayo.
Ingredients
Cauliflower Mayo

⅓ cup cauliflower boiled

2 tsp rice flour

(tapioca flour / arrowroot flour / boiled and mashed potato)

½ tsp lemon juice

(you can add 1 tsp if you prefer more tangy)

Sea salt / rock salt to taste

½ tsp yellow mustard

(Rai ka dal)

¼ tsp cane sugar / brown sugar

(any sweetener of your choice)

¼ cup water

Cashew Sweet potato Mayo

¼ cup cashew

(soaked for 10 minutes and drained)

¼ cup boiled and mashed sweet potato

1 tsp lime juice

¼ tsp chilli powder / red paprika powder

Sea salt / rock salt to taste

2 garlic cloves / ½ tsp garlic powder

(optional)

¼ cup water
Instructions
Blend all ingredients for each recipe adding water slowly.

You may or may not require entire water

Bring it to mayonnaise consistency

Store in a glass jar. Stays good for upto 4 days in refrigerator. Make small quantities.
Notes
Please feel free to add extras to your preference.
When you blend, do not add water at first. Blend the ingredients well and then start adding water slowly. You will get creamy mayo this way.