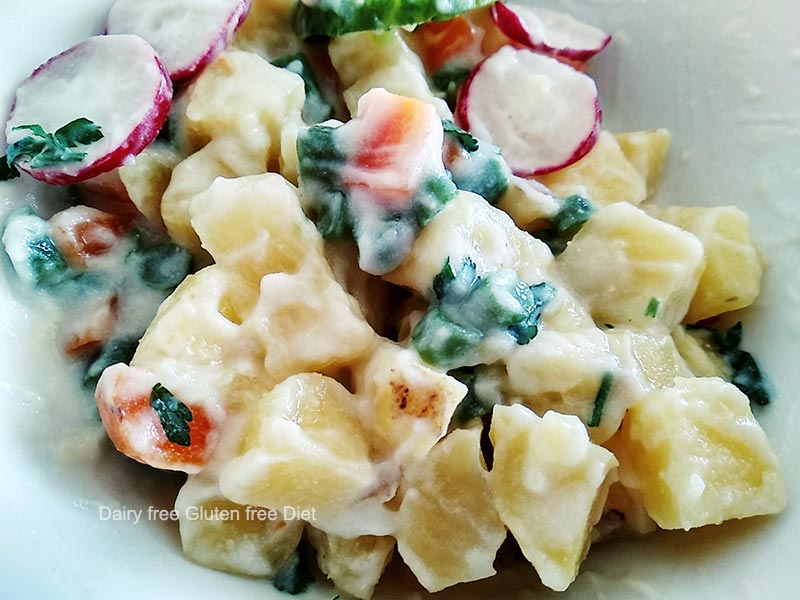 22 Sep

Russian Salad | Indian vegetarian recipe

True to its nomenclature, Russian Salad is a popular Salad from Russia that is traditionally served on any holiday, parties, special days and unfailingly on New Year Eve. The local variations became popular in Eastern European Countries. That later slowly spread across the globe for its simple and delicious palate.

It was Lucien Olivier, a popular chef in Moscow who originally invented this salad. Hence the original Olivier Salad later became Russian Salad. Intriguingly, Lucien Olivier did not reveal his signature recipe. He guarded it till his death. That is probably the reason why Russian Salad has taken its own avatar in many different countries across the globe. The current salad has mixture of ingredients that he may not have used himself. In Spain, for instance, they call it Ensalada Rusa.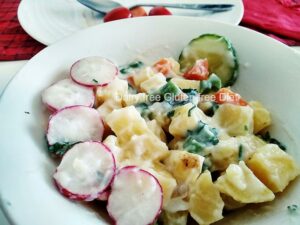 This Russian salad is the Indian Vegetarian version
The original Russian Salad contained meat and was a complete meal. Brined dill pickle is also one main ingredient in the authentic and traditional recipe.
The word 'salad' brings to a common man's mind a medley of raw vegetables with a dressing of lime, pepper and salt. But curiously, Russian Salad has parboiled vegetables and not raw. As is my general practice, I steam cooked the vegetables instead of parboiling them. The main thing to remember is NOT to overcook the vegetables. They should be just done. The dressing is invariably mayonnaise. It is the static factor. Potato is the main vegetable in this Salad. Other vegetables mainly are carrot, peas, French beans, etc. Since i did not have peas, I had to skip it. However, please do add if you have them.
The easiest salad that I have ever made is this one. No frills needed. The oil free vegetarian mayo that I made recently, came in handy. It was quite filling probably because of the mayo and potato, that it fulfilled my lunch. Almost all recipes of the Indian version has pineapple in it. I generally do not mix fruits in vegetable salad. I have explained this in my earlier salad recipe. As an exception, Pineapple and Pomegranate are the only fruits I add in any salad. Hence I added pineapple without any guilt. I loved the tangy, sweet taste of it in the salad.
Please try this salad and have it without any guilt. This is a healthy, delicious and above all tasty salad, more so if you love mayo.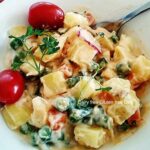 Print Recipe
Russian Salad | Indian vegetarian recipe
This is the Indian vegetarian version of Russian salad using oil free vegan mayo.
Ingredients
1 cup diced and cubed potato

½ cup carrot diced into medium cubes

½ cup french beans cut into small pieces

salt to taste

½ cup mayonnaise

(oil free vegan recipe)

pepper powder

(optional)
Instructions
First, steam cook or parboil the potatoes for a short period till they are just done

Do the same with other vegetables one by one

Do not parboil / cook all together since they have different cook time

Remove in a bowl and let cool to room temperature

Add pineapple and adjust the salt and pepper

Finally add mayo and make sure each and every piece of vegetable is coated with the mayo

Top with parsley and serve
Notes
You can add normal mayo if you prefer
This salad does not require to be chilled
Add more vegetables of your choice if you prefer.