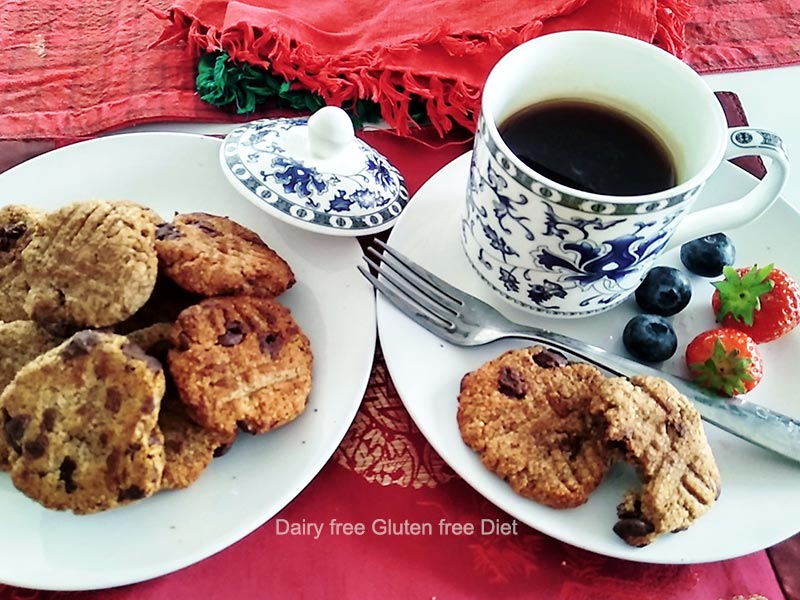 19 Oct

Almond Flour Cookies | chocolate chips

These Almond flour Cookies make the perfect afternoon indulgence during winter. Just what you need with a hot cup of your tea / coffee. I love cookies. My afternoon tea is always accompanied by cookies. But i prefer to bake them at home. Because most store bought cookies have processed flours. Trust me, cookies are the easiest to make. It is not a rocket science.

I was surprised to learn that cookies originated as test for cakes. A small amount of cake batter that was baked to test the oven temperature emerged as cookies. ? I prefer cookies to biscuits. So, what is the difference? There is a general mix-up between Biscuits and Cookies. I have explained the difference in my earlier post on Raisin and Chocolate chip cookies. 

There is a general belief that Almonds are high in fat. But they say, despite that, almonds promote weight loss and are as close to perfect as a food can get.

Few days back I had posted a recipe for homemade Almond butter. And I had also promised to post few recipes using that. Here you have these cookies that use homemade healthy almond butter as promised. To reduce the amount of sugar, I have used bananas in this recipe. They also contribute softness for these cookies. I have also used Chocolate chips which add to the sweetness and softness. These cookies are crisp on the outside and soft and chewy on the inside. These Almond Flour cookies are healthy for all ages. They make a healthy snack for kids with a cup of Nut milk and for elders with hot cup of evening tea.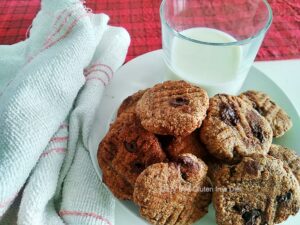 Though I have added Chocolate chips, you can skip it if you do not like them and instead can add raisins, walnuts, hazelnuts, peanuts, etc. The options are plenty.
Try these healthy, soft and chewy, easy to make and delicious cookies. Perfect for kids' snack box too.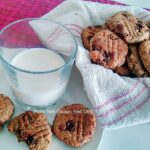 Print Recipe
Almond flour cookies | Vegan Chocolate Chips
These Almond flour Cookies make the perfect afternoon indulgence during winter. Just what you need with a hot cup of your tea / coffee.
Ingredients
1¼ cup almond flour

½ tsp baking powder

⅛ tsp salt

½ tsp cinnamon powder

1 tsp ginger powder

⅓ cup vegan chocolate chips

(or black raisins)

⅓ cup mashed banana

¼ cup cane sugar

(naattu sakkarai)

4 tbsp almond butter

(homemade)

2 tbsp Flax seed meal
Instructions
Mash the banana in a bowl with a fork. Add flax seed meal, almond butter and sugar.

Beat well and keep it aside for 15 minutes.

Mix almond flour, baking powder, salt, cinnamon and ginger powders and chocolate
chips / raisins.

Add dry mixture to wet mixture to form a dough.

Scoop out a tbsp of the dough in a baking dish lined with parchment paper.

Press gently with fingers or with greased flat bottom of a cup.

Continue with rest of the dough.

Bake for 8 to 10 minutes or until browned.

Flip and bake for another 3 minutes.
Notes
If you do not have almond butter, you can use any butter or just plain oil. 
You can substitute Chocolate chips with black raisins