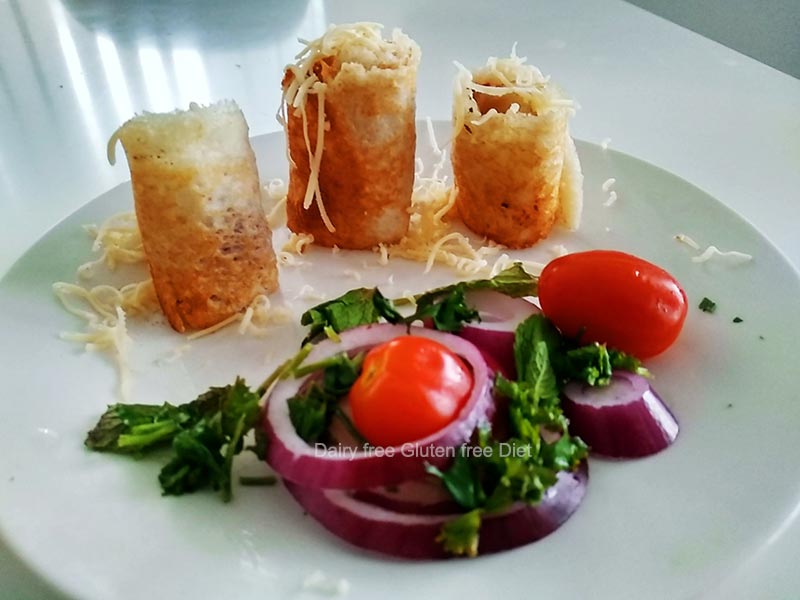 16 Oct

Jini Dosa | Mumbai Street Food

Jini Dosa is a popular street food from Mumbai. What makes it different from Masala Dosa is the stuffing and the way it is presented.

Being a street food of Mumbai, it obviously uses Pav Bhaji masala. Added to it, it takes Chinese Avatar by the use of Schezwan sauce. And finally the addition of Cheese. The ultimate outcome is a blend of Indian, Western and Chinese food. Interesting innovation indeed.

I don't know why this Dosa is named Jini. Tried to do some research on the name but failed. So I concluded that like the Genie from Aladdin's lamp, this dosa has a magical taste and hence got its name. Consisting of vegetables, Schezwan sauce and loads of cheese, this sapid dish is an entire meal for one by itself. You can have it as an evening snack or for the early dinner or perhaps for morning breakfast too.

The authentic recipe uses Schezwan sauce. But I for one, avoid Soya products and Vinegar. Hence I made my own sauce omitting these two ingredients. I was not sure if you can strictly call it Schezwan since the main ingredients were missing. Hence I decided to name it chilli garlic sauce. However, if you are open to using Schezwan sauce, you are free to go ahead. It is freely available in the market.
Homemade chilli garlic sauce:
10 dry red chillies (Kashmiri / Byadgi or any variety of your choice)
10 pods garlic
2 tbsp chopped ginger
½ cup finely chopped tomatoes
1 tbsp jaggery powder
Salt to taste
Soak red chilli, garlic and ginger in hot water for 30 minutes.
Grind to a paste with chopped tomatoes
Boil adding salt and jaggery till it thickens to a sauce a consistency.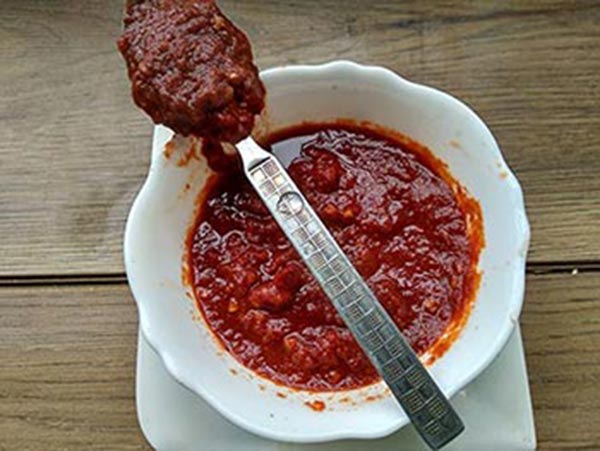 Some tips for making & serving Jini Dosa:
1. For some reason, this dosa is cut into strips and served in standing form. The professionals cut the dosa with the filling, with the help of  pizza cutter or sharp spatula, while it is still cooking on the tawa and roll each strip separately. But to be frank, I struggled with that process. The scorching heat of the tawa was too much for me. I realised, you can also roll the entire Dosa, remove it on a plate and cut it. That suited me. Rolling the entire dosa and cutting outside was cool.
2. True to the concept of this site, I avoided butter and processed cheese. I didn't have to use oil since my Tawa was cast iron.  Added my own homemade diary free cheese. However, you are free to use store bought regular cheese and butter.
3. My regular dosa batter gives me crisp dosas. So I used the same batter for making this dosa.
4. As for stuffing, you can add them dry one by one on the dosa. Professional street vendors keep the sauce in the centre, add the veggies, mix them with loads of butter as in Pav bhaji and then spread them while they are wet. It makes rolling easy. Its your choice to follow any method that suits you.
5. Lastly, you can either sprinkle the cheese on top of the veggies or add it on top after rolling. Nevertheless, if you do not want to add cheese, you can skip it entirely.
You can serve this dosa with coconut chutney and sambhar. I preferred plain salad to go with it.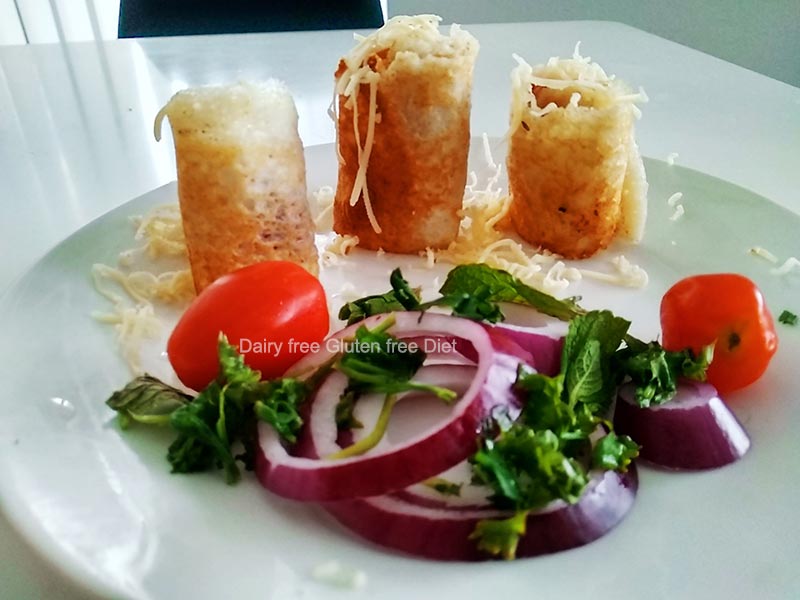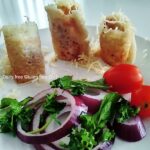 Print Recipe
Jini Dosa | Mumbai street food
Jini Dosa is a poular street food from Mumbai. It is an innovative blend of Indian, Western and Chinese food.
Ingredients
1 cup dosa batter

¼ cup each finely chopped cabbage, onion and capsicum

¼ cup Schezwan sauce / chilli garlic sauce

(recipe for chilli garlic sauce given above)

salt to taste

1 tsp Pav bhaji Masala / garam masala

¼ cup shredded vegan cheese

(processed dairy cheese for non-vegans)

oil for making dosa (optional)
Instructions
Check the dosa batter consistency. It should be right enough to make crisp dosa.

Pour the batter and make a thin dosa. Keep the flame low.

While the dosa is cooking, first spread the chilli garlic sauce (recipe given in the narration)

Next add a tbsp of all the vegetables one by one and spread.

Sprinkle pav bhaji masala and salt (if needed) and mix well.

Alternately, you can mix vegetables with the sauce and pav bhaji masala and spread it on the dosa.

Top with the grated cheese.

Rolling the dosa

Method 1:

Cut the dosa while in the tawa to 3 or 4 strips. Roll each strip gently and remove from the Tawa and serve them in a standing position.

Method 2:

Slowly roll the dosa and remove in a plate. Cut into 3 parts and serve them in a standing position.