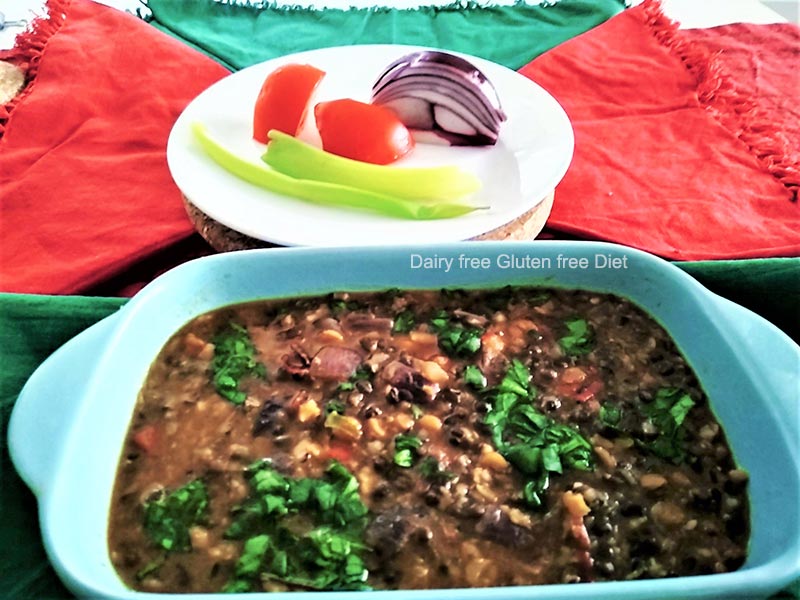 01 Oct

Langar wali dal | Maa Cholleyan di Dal

Langar wali dal is the speciality of Gurudwaras in Punjab. Langar refers to community kitchen in a Gurdwara where  they serve a fully vegetarian, simple, nutritious and nourishing free meals to all the visitors, without distinction of religion, caste, gender, economic status or ethnicity. 

Also called Amritsari Dal, you can find this dal commonly served in many Dhabas outside Golden Temple in Amritsar. But this dal served at the Langar at Golden temple is very special and delicious. So what is special about this? Langar does not have so much to do with the quality of the food. There are number of devoted volunteers who prepare it with much love, every single day. This is what makes it delicious and special. To know more, we should go a little deeper in to Langar concept.
What is Langar & Langar wali dal?
The Langar concept was an innovative charity and symbol of equality introduced by the founder of Sikhism, Guru Nanak around 1500 CE. It was the third Guru, Amar Das, who established Langar as a prominent institution, and required people to dine together irrespective of their caste and class to uphold the principle of equality. People sit on the floor and eat together served by community volunteers. Since the time it started, Langar has become a practice with all Gurudwaras around the world.
No need to mention that the roots of such community kitchens and volunteer run charitable feeding is very old in the Indian traditions. Many Indian temples and pilgrim places of worship feed the visiting travellers for free till today. Anna Daanam is the roots of Indian tradition. The community kitchens called Dharmashala or Chathram exist in every part of India.
Coming back to this Langar wali dal, basically, it is a very rustic and simple dal. It uses very basic, nutritious lentils combined with simple spices. No fancy ingredients, no finesse in cooking. Based on its rusticity, you do not need to chop the vegetables finely nor do you need to sauté the onions to golden brown. But prepare it with lots of love that would reflect in the dal and make it delicious. It is better known as Kali daal/ Maa Cholleyan di Dal (Split Black Gram & Split Bengal Gram Lentils). However, you can use whole black gram too. Ideally, the authentic dish served at Gurudwaras use ghee for tempering and also while serving. Needless to say, I have used minimum oil and not ghee.
Try this simple, rustic and delicious Kaali daal / Amritsari Dal / Langar wali Dal / Maa Cholleyan di Dal with hot rotis or rice. It is divine and heavenly. You can also check Amritsari Dhuli Dal, a different variety of  split urad dal that I posted earlier.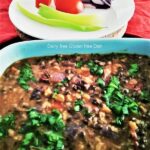 Print Recipe
Langar wali Dal | Maa Cholleyan di Dal | Kaali Dal
This is a special Dal served at Gurudwaras around the world.
Ingredients
1 cup urad dal with skin

(whole or split)

½ cup channa dal

3 to 4 green chillies

1" piece ginger

1 cup onion roughly cut

1 cup tomato roughly chopped

1 tsp chilli powder

1 tsp coriander powder

salt to taste

½ tsp turmeric powder

1 tsp oil

1 bay leaf

asafoetida
Instructions
Soak Urad dal and channa dal for minimum 4 to 6 hrs.

Pulse green chilli and ginger to a coarse paste (preferably in mortar and pestle).

Pressure cook dal adding half of green chilli paste, salt, turmeric powder
and bay leaf

Let the dal be cooked till soft. Mash the mixture

Heat oil and add cumin seeds

Once they splutter add asafoetida and onion

Sauté for few minutes and add balance green chilli paste.

Mix well and add chopped tomatoes and salt for the gravy

Add little water and cook till tomatoes become mushy

Add dry spices and cook further for few more minutes

Once the mixture becomes thick, add to the boiled & mashed dal

Cover and cook for 10 minutes on a slow flame, till the dal blends with the spices

Serve garnished with fresh coriander
Notes
You can even use Matki or Rajma for this recipe
If you are fine, you can use ghee for tempering and also on dal after serving.
You can add half of dry spices with the gravy and other half in hot ghee / oil at the end to pour over the dal
There is no need to brown the onions. 
You can also use garlic and garam masala powder, if you wish