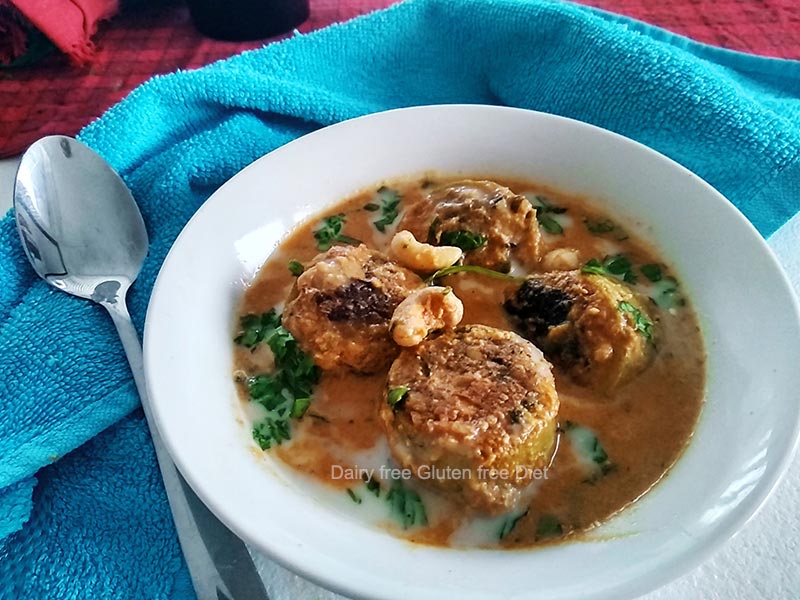 30 Oct

Shahi Lauki | Stuffed Bottle gourd

This Shahi Lauki is inspired by a Mughlai dish Lauki Nazakat. While Lauki Nazakat is a rich dish using paneer, khoya, dry fruits, ghee, etc, I have tweaked it to suit my dairy free theme here.

The most common dish with Lauki (suraikkai / ghia/ dudhi) are simple sabzi, dal / kootu, Lauki paratha, Lauki kofta, halwa, etc. In general people consider Lauki to be a boring vegetable. To burst the myth, I have already shared one Lauki dish Kashmiri Al Yakhni. The reason for making one more exotic dish with this so called boring vegetable is to try and include it in your diet more. Because Lauki has multiple health benefits. Worldwide, more and more people are accepting bottle gourd in their lifestyle after realising its health benefits.

Coming back to Lauki Nazkata, as I already said it is an exotic dish using rich ingredients. This dish was a part of Mughlai Cuisine and dates back to few hundred years. Mughlai Cuisine is famous for its extravagant cooking. Nazakat involved stuffing the bottlegourd with paneer, khoya and dry fruits and frying in ghee and topping with rich gravy.

Living in the present age means becoming more health conscious. We cannot afford to have dishes like Nazakat in everyday life. I wanted to make it more amenable to healthy lifestyle, so that you can reap the optimum benefits of this healthy vegetable more often.
Tweaks I made for this Shahi Lauki
1. I used potato and peanuts for stuffing in place of paneer and khoya. Added a few spinach (palak) leaves to give the green touch.
2. For the gravy, just added few cashew and raisins to give that richness without compromising on the traditional recipe. To make it richer, I ground the masala with peanut curd.
3. Lastly, forget ghee, made it totally oil free too. ? I roasted the stuffed Lauki in my cast iron pan thus avoiding oil.
However, as I always insist, please feel free to use oil, ghee, paneer, khoya, etc, if you wish.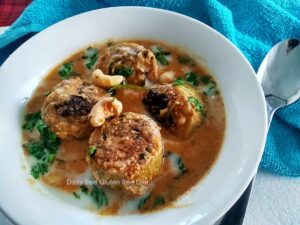 Please do try this healthy variation of stuffed bottlegourd / Shahi Lauki.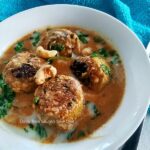 Print Recipe
Shahi Lauki | Stuffed Bottlegourd
An inspiration from famous Lauki Nazakat, this is a healthier version.
Ingredients
1 medium sized Lauki

(Bottle gourd, ghia, dudhi, sorekkai)

For Stuffing:

5 to 6 potatoes boiled and mashed

1 tsp chilli powder

½ tsp turmeric powder

2 tsp coriander powder

1 tsp garam masala powder

1 tsp lime juice / amchur powder

2 tbsp coarsely ground roasted peanuts

salt to taste

2 tsp coarsely ground green chilli & ginger

3 tbsp spinach (palak) chopped finely

For gravy:

1 tsp cumin seeds

2 cloves

10 whole cashew

1 cup onion roughly chopped

1 cup tomato roughly chopped

2 green chillies

1" piece ginger minced

5 to 6 raisins

1 tsp chilli powder

2 tsp coriander powder

½ tsp turmeric powder

½ cup peanut curd

(dairy curd for non vegans)
Instructions
Peel and cut the Lauki into 2" pieces (about 5 to 6 roundels).

Scoop out the middle portion carefully and reserve the portion.

Steam cook or boil for few minutes till the lauki becomes soft.

Mix the stuffing ingredients to the mashed potatoes and make a filling.

Roast in a cast iron skillet on all sides.

Dry roast cumin, cloves and cashew in a pan. (you can use oil if you wish)

Add roughly chopped onion, green chilli, ginger and sauté for few minutes.

Add tomatoes, raisins, chilli powder, coriander cumin powder, turmeric powder and salt and sauté for few more minutes.

Add scooped out lauki portion and cook everything till they become soft.

Cool and grind to a paste with curd.

Add to the pan again with enough water and boil on a slow flame.

Gently drop the stuffed lauki pieces and boil for few more minutes.

Turn the lauki pieces around to make sure that every side is coated with the gravy.  

Serve garnished with few cashew and coriander.
Notes
You can use paneer for stuffing if you wish