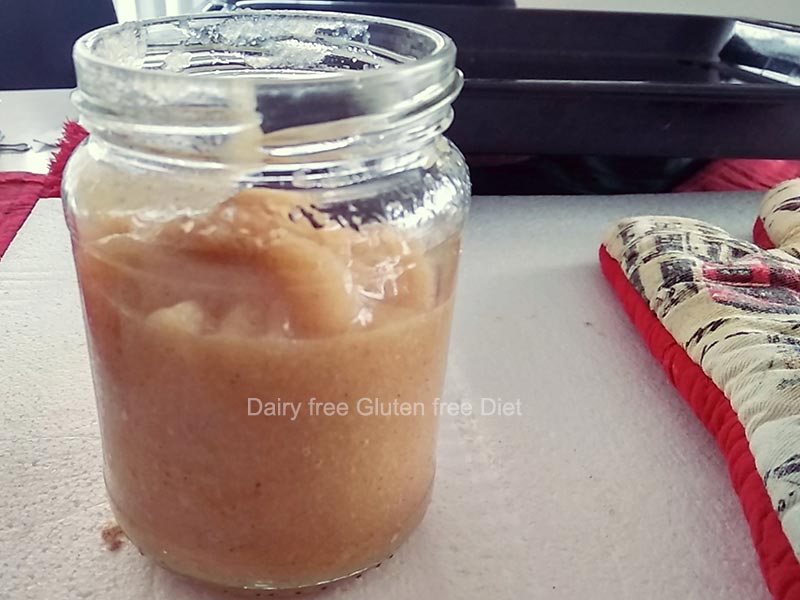 01 Nov

Apple sauce Homemade

Apples have always been in the top five fruits to be consumed by us to keep the doctor away. Apple sauce is the puree of cooked apples without any added sweetener.

The best part I love with apple sauce is that it works great as a substitute for butter or oil in baking. Of course, it does give different texture and taste. But the fact that it is healthy and delicious makes it more and more interesting ingredient in baking. I normally like to avoid the use of butter / oil as much as possible. Unless the recipe is such that it cannot be made without oil, I prefer not to use oil.

Apple sauce has many health benefits. It aids in good digestion and helps remove waste from the body.

Being such a simple recipe it is worth making it at home. All you need is to cook the apples in very less water and blend them. Adding any spices is your choice. However, apples and cinnamon are great pals. Hence, I prefer to add cinnamon to the apple sauce.
Ingredients:
4 apples, peeled, cored and cut into pieces.
1 tsp cinnamon powder
Directions:
1.To cook the apples, add just about a tbsp or so of water. Just to barely cover the apples. Add the cinnamon powder and cook on a slow flame covered until the apples are tender.
However, I always prefer to steam cook the vegetables to retain the nutrients. Hence, I steam cooked the apples too with cinnamon powder in my electric steamer. It does not require any water.
2. The apples may leave water. If you feel they are sticking to the bottom, please add little more water. Idea is not to add lots of water and drain it to lose the nutrients.
3. Once the apples are cooked, blend them in a blender along with the water (if any) and store in a clean bottle.
Notes: 
You can add any sweetener with apples if you wish.
You have a choice to cook the sauce again for 3 to 4 minutes. However, I prefer not to do so.
Will post few recipes using this apple sauce soon.
Check for my other sauces and chutneys here