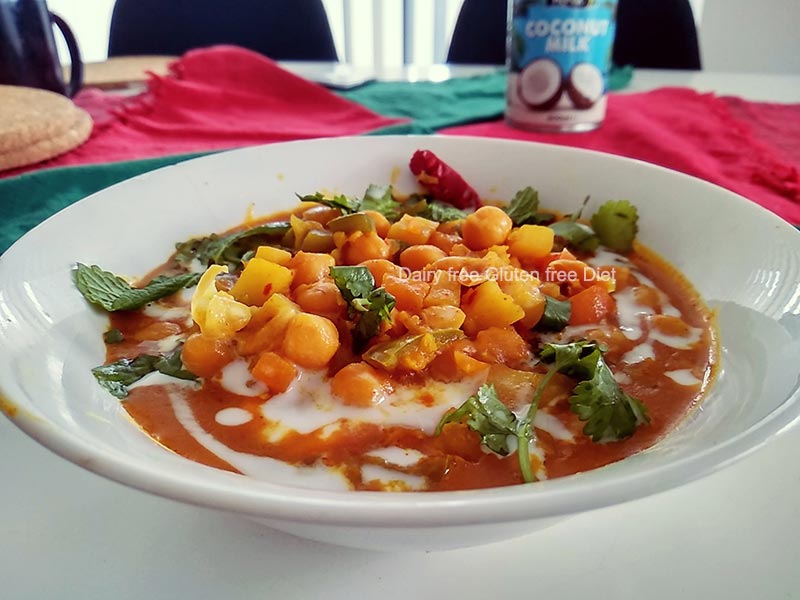 04 Nov

Chole Stew | Chickpea Stew

Stew is a popular Kerala delicacy. With Potato, onion and few choicest green vegetables, it is the best side dish for Kerala famous Aappam and Idiyappam. This Chole Stew is a deviant that goes well with Rice and Roti as well.

Chole is a popular dish from North India that has found its legitimate place in South India as well as across the globe. A side dish delicacy that goes with Roti or Rice, it has various forms. Channa Madra for roti lovers, Chole without onion and garlic for Satwik people, Crispy channa for a party starter are some of the few. This Chole Stew is a cross between North and South India.

Chickpeas are a type of legume in the same family as peanuts. Known as Garbanzo Beans in the West, Chole / Channa / Kabuli Channa in India and widely used in Middle east cuisine, they have a buttery, nutty flavour and creamy texture. In India, the brown variety, smaller, darker, and less round, is more common. Chickpeas have a number of possible health benefits. They are high in dietary fibre, that makes you full for longer and thereby lowering overall calorie intake. We had it with brown rice for lunch yesterday and trust me, we had to skip dinner. ?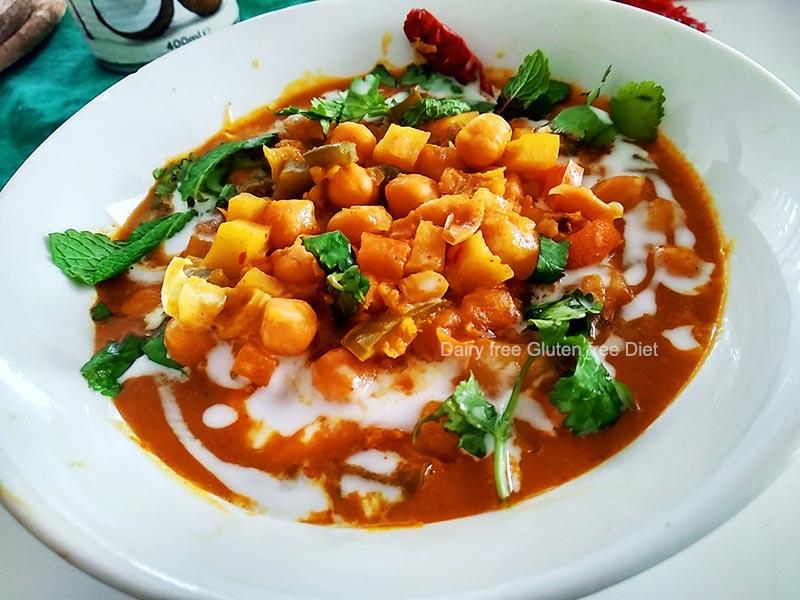 This recipe does not use Tomatoes nor any souring agent. I have added lots of vegetables including potatoes and sweet potatoes to make it healthier. You can even add Spinach (Palak) in this. Unfortunately I didn't have stock, so couldn't use it. It adds a touch of green as well. Carrots are good too but I feel peas may not be a good choice. The final addition of coconut milk is the master stroke. This is what makes it different from the North Indian version. This gives a unique palate to the dish.
I have added finely chopped fresh ginger and garlic. However, you can add ginger garlic paste if you wish. Also, I have avoided green chillies and preferred dry spices to add colour. As we do not add any tomatoes, the colour comes from the chilli powder and the garam masala powder.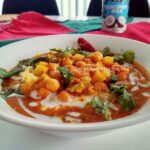 Print Recipe
Chole Stew | Chickpea Stew
This recipe is a cross between Kerala Stew and North Indian Chole. North meets South.
Ingredients
2 cups boiled Chole

1 onion finely chopped

6 cloves garlic

1" piece ginger minced

2 cups finely chopped mixed vegetables

(Red, yellow and green peppers, potato, sweet potato, spinach, etc)

1 tsp chilli powder

1 tsp cumin powder

1 tsp turmeric powder

1 tsp garam masala / chole masala

2 cups coconut milk

salt to taste

2 tsp oil

Finely chopped coriander leaves and coconut cream for garnishing
Instructions
Soak the chole /chickpea overnight or for 7 to 8 hrs.

Boil, drain and reserve the water.

Mash the chole coarsely with potato masher

Heat oil and sauté the onion, ginger and garlic till the onions become translucent.

Add the chopped vegetables and sauté further

Add the reserved water just to cover the vegetables and cook covered till the potatoes are done.

Add salt and dry spices and mix well

Mash the vegetables with the back of the ladle.

Add cooked chole and coconut milk.

Mix well and cook covered on a low flame till chickpea / chole absorbs all flavours.

Garnish with coconut cream and coriander / mint.
Notes
Check for the consistency.
If you want to eat with rice make it little thinner. If it is for roti / puri, make is thicker.
You can even add Spinach (palak) in this. Unfortunately I didn't have stock, so couldn't use it. It adds a touch of green as well.