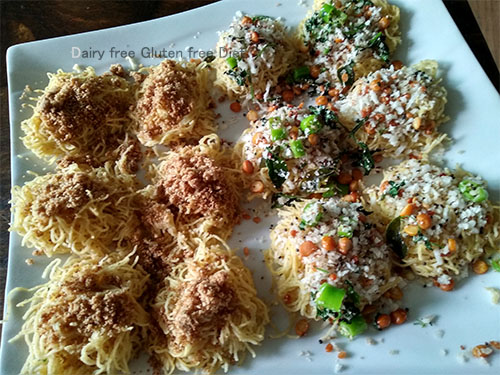 22 Dec

Maize Idiyappam / Cholam String Hopper

Idiyappam / stringhoppers is a healthy, delicious & easy to make dish from South India. Maize idiyappam is the noodle like steamed dish with maize (corn / cholam).  It is best & nutritious dish for both elders and children. To top it all, it is so versatile that you can serve them for breakfast / snack / main course.

Idiyappam is not only popular dish from South India, It is also popular in Srilanka, Malaysia, Singapore and Indonesia.

This Maize version is a twist from the original recipe that uses rice flour. You can serve it either as a sweet version or salted version.

I have however included both here.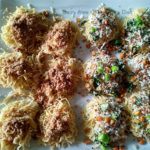 Print Recipe
Maize idiyappam
Do not confuse corn flour with maize flour.
Maize flour is milled from entire corn kernel. It is good for making Tortillas.
Whereas corn flour is refined maize flour after removing the proteins and other substances from corn kernel. It is purely starch. It is good for thickening.
Ingredients
1/2

cup

Maize flour (Corn atta / yellow chola maavu)

1/4

cup

rice flour

1

cup

water

1/2

tsp

salt

1/2

tsp

oil
Instructions
Mix both flours and dry roast for few minutes till they become warm. Do not over roast.

Heat water in a vessel, add salt and oil and bring to boil.

When the water starts boiling, reduce heat and add the flour mixture.

Keep cooking till it forms a lump.

Remove from fire and cool

Knead to smooth consistency and make big balls.

Take Idiyappam press, fill with one ball and squeeze through to make small idiyappams in each idli mould.

Steam for 5 to 7 minutes and cool. Do not over cook as it might become hard.

Topping:Salted version—Heat 1 tsp oil and add 1 tsp each mustard seeds, urad dal, channa dal and roasted peanuts. When the dal becomes brown, add 1 green chilli chopped, 2 tbsp freshly grated coconut and salt. Sauté for few minutes.Sweet version—Dry roast 1 tbsp sesame seeds (til / ellu), and 2 tbsp grated coconut separately till they become slightly brown. Add 1 tbsp roasted peanuts and 2 tbsp jaggery powder and blend / pulse in a mixer to a coarse powder. Add a dash of cardamom power.


Serving:

Arrange the idiyappams in a plate. Divide into 2 and spoon 1 tblsp of sweet version on each in one part and 1 tbsp of salted version in the other part.

Alternately, keep the plain idiyappams and the toppings separately. Let the members serve themselves with whatever toppings they desire.
Notes
Quantity of water depends on the quality of flour. Adjust accordingly.
If the dough is dry, it will be hard to press. If it is watery, the strings will stick to each other. 
Keep the dough covered with wet cloth when making batches.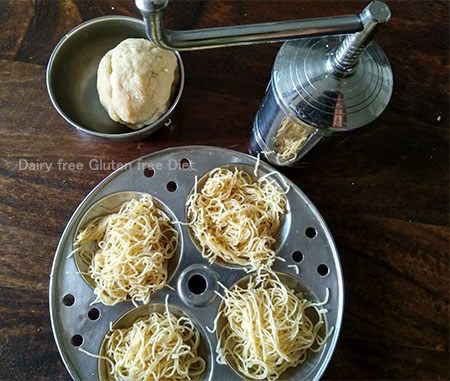 Check for more such nutritious recipes here