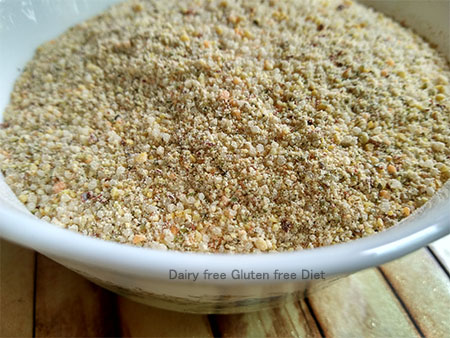 27 Jan

Thavala Adai Ready Mix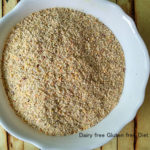 Print Recipe
Tavala Adai Ready mix
Ingredients
1 cup Little millet (sama) / Raw rice

½ cup mung dal with skin (Whole or split)

¼ cup channa dal

¼ cup red masoor dal

2 tablespoon urad dal (preferably whole white urad)

1 tablespoon black pepper

½ tablespoon cumin seeds
Instructions
Wipe the dals & millet with a clean dry towel. dals & millet with a clean dry towel.

Powder to a coarse rawa consistency in a blender. Yields 2 cups flour.


You can store this powder in an air tight container in refrigerator for months.
"Thavala Adai" is a treasured recipe from the cuisines of Tamil Nadu. Like many heirloom recipes, this has slowly faded into oblivion with the widening of horizons. Here's my attempt to revive these forgotten recipes back. This is a very healthy snack item. This Thavala Adai ready Mix makes your job easier.
Traditionally, rice and different dals are used to make this dish. The ratio differed from house to house. In order to make it healthier, I have tweaked the traditional recipe by replacing rice with millet and few other dals.
How to make Thavala Adai?  To make Thavala adai  you just soak this powder in just enough hot water for 25 minutes. Add some curd and bring the batter to thick pouring consistency. Follow the instruction in the link and make adai.
I have already posted the recipe. You can find it here.