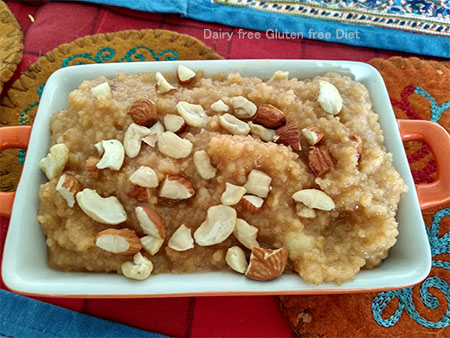 15 Jan

Thinai Kalkandu Saadam
Thinai Kalkandu saadam (Foxtail millet sugar candy rice)
Wishing all my dear subscribers and followers A very Happy Makar Sankranti.
Every festival in Indian Culture has its own significance. Sankranti is the time to promote love among kith and kin & friends.
On Sankranti, it is a custom in some Indian States to offer a mixture of jaggery and sesame seeds (til / ellu) to all. Jaggery is sweet and is a symbol of love. Til is known for sneha (friendship).
In State of Karnataka they give this jaggery and til mixture to all and say "ellu bella thindu olle maathadi", in Maharatshtra they say "Tilgul Ghya God God Bola". Both of which translate to "eat the mixture of sesame seeds and jaggery and speak only good".
Therefore, the offer of the jaggery-til mixture means offering 'love surcharged with friendliness' to people. To put in simple terms, it advocates to leave all grudges from the past and promotes forgiveness. Scientifically both sesame seeds and jaggery help in keeping your body warm during winter. The message of Sankranti is to keep your mind too warm and friendly.
Since I have already done a post- Ragi Poli–with sesame seeds and jaggery yesterday, I decided to make Sweet rice as per practice in Tamil Nadu. Sakkarai Pongal (sweet rice) is the main offering to Sun God on this day of Sankranti in Tamil families.
However, I decided to make it with Foxtail Millet. But again, a fried of mine in Bangalore gifted me this rare Orange coloured Sugar Candy (picture given below) last year. I had preserved it all these days. So I decided to use it in the place of jaggery.
Finally, the result is this awesome kalkandu saadam.  I'm loving it ?
You can make this with normal Misri (sugar candy / Kadi shakkar) / diamond sugar.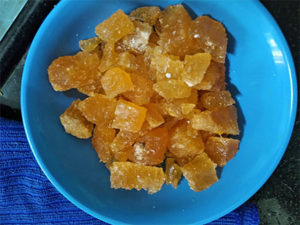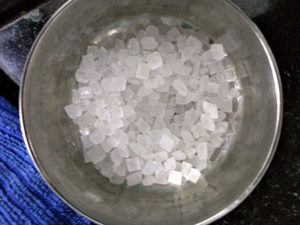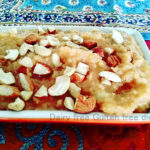 Print Recipe
Thinai Kalkandu saadam
I have used standard measuring cup here. 1 cup=250 ml
Ingredients
½

cup

foxtail millet

½

cup

sugar candy

½

cup

coconut milk (dairy milk if you are non-vegan)

1

cup

water

2

tbsp

mixed nuts

¼

tsp

cardamom powder
Instructions
Cook the foxtail millet with 1 cup water and ½ cup milk (3 times the quantity of millet)

Powder the sugar candy if you are using the big candy.

Heat a tbsp of water and add the sugar candy. Let it melt on low flame.

Add the cooked millets and cook till everything mixes well.

Alternately, you can add the sugar candy to the cooked millet and cook both together.

Add cardamom powder and nuts.
Notes
I have used foxtail millet here. However you can make it with rice or any other millet.
By default I don't use ghee. You can roast the nuts in ghee and add.
I didn't have edible camphor today. If you have, adding a pinch adds to the flavour