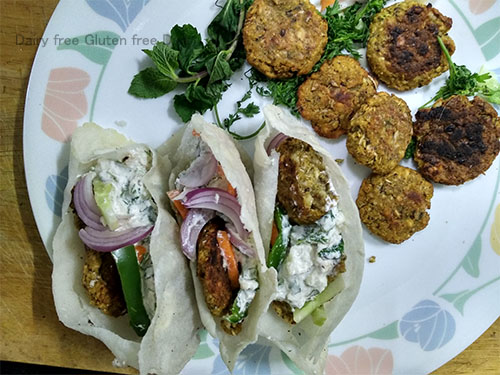 27 Mar

Gluten free Pita Falafel

Falafel pita is a popular food in Middle East & Mediterranean countries. The two main ingredients are pita bread and falafel.  The pita bread is normally made with wheat flour. But I have used Rice Flour to make healthy Gluten free Pita with Falafel. I have already given a recipe for Falafel. 

What is Pita bread?

Pita bread has its origin from Middle East & Mediterranean countries. Its other names are Arabic bread, Syrian bread & Greek pita. Its mainly a family of flat breads made with wheat flour & leavened with yeast. The common versions of Pita are steam puffed that have interior pockets.

Having gone gluten free, I found it hard to find gluten free pita in the markets. Though there are plenty of gluten free flours available off shelf in the West, it has still not caught up in India.  That left me with making my own pita.

This Gluten free Pita with Falafel is easy to make and contains no yeast and simple ingredients. I added boiled and mashed potato and coconut milk with rice flour for the extra softness. The result was, it turned out soft & fluffy. However, if you are concerned about adding potatoes & coconut milk, you can still make normal rice rotis (Bhakri) or any gluten free rotis. But make sure they fluff up so that you get pockets for stuffing.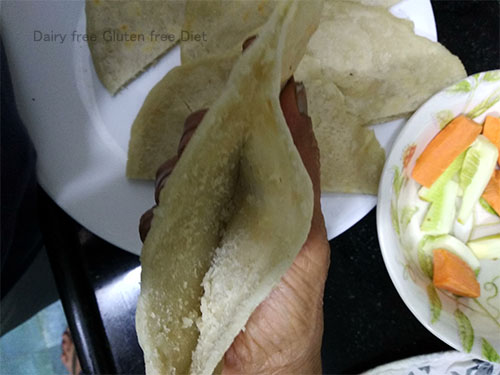 It becomes a wholesome food when you stuff protein filled Falafel and other green vegetables in these pockets. More so since it is Gluten and Dairy free.
Print Recipe
Gluten free Pita Falafel
I havee used standard measuring cups in this recipe. 1 cup=250 ml
Ingredients
1 cup Rice flour

¼ cup boiled and mashed potato

¼ cup coconut milk

¼ cup water

Salt to taste
Instructions
Lightly roast the rice flour jut till it warms. Do not over roast.

Blend the mashed potato and coconut milk in a blender / or beat with a beater.

Pour the mixture in the flour, add salt and knead to a soft dough adding water.

You may or may not need ¼ cup water. Go slow with the water.

When the dough becomes soft, cover and rest for 10 minutes

Take a big lemon (medium sweetlime) sized ball.

Keep between 2 parchment sheets / butter paper and press in roti press / tortilla press

Do not make very thin. It should be thick enough.

Gently remove from baking sheet and heat one side on a medium flame till you see bubbles on the upper side.

Flip and bake the other side. When you flip again, it fluffs up. Press the corners gently to aid puffing.

Cool and cut in the middle, making it half.

Gently open the flatbread to make pockets.

Smear the inside with tomato sauce (optional) and stuff with falafel, and raw veggies of your choice. Top with yoghurt dip.
Serve Pita stuffed with Falafel, green veggies, topped with yoghurt dip. (Recipe for the dip given in Falafel link)