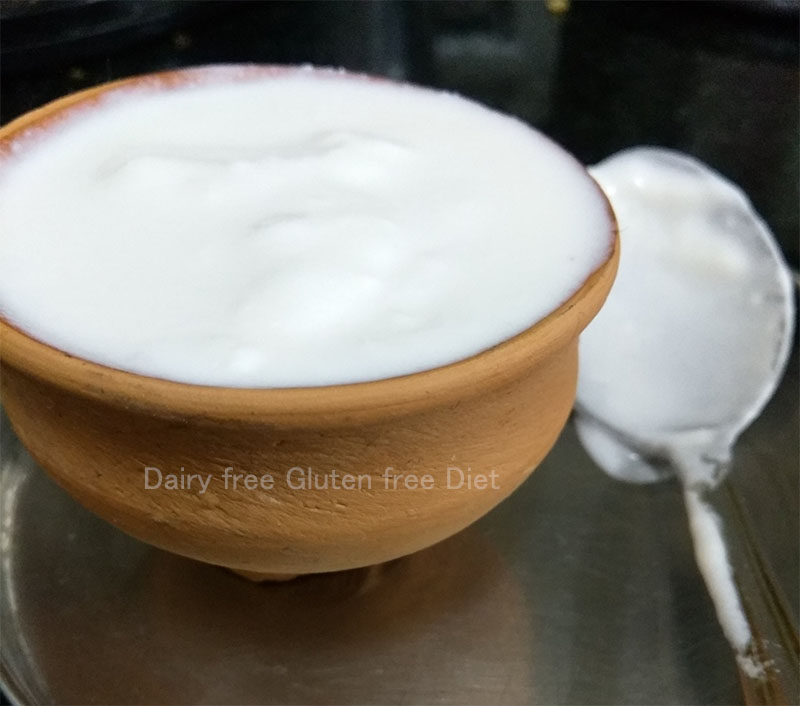 28 Mar

Groundnut Curd / Vegan Yoghurt

Groundnut curd is the best choice for people who love curds but are dairy intolerant. For children with special needs who are advised medically to have cassein free diet, this groundnut curd is the answer.

Soak 1 cup raw groundnuts in water for 6 to 7 hrs, adding 1 tsp sea salt. (Soaking nuts adding a tsp of sea salt is advisable for breaking down phytic acid by enzymes and other helpful organisms).

Drain, rinse with fresh water and grind to a fine paste adding 3 cups pure drinking water slowly.

Extract milk with a nut milk bag, muslin cloth or a fine sieve. Boil on a slow fire. Mix 1 tablespoon rice flour in 1/4 cup water and add to the boiling milk. Keep stirring on a slow fire till the milk froths up. Make sure it doesn't burn at the bottom.

Set with curd starter* / previous curd / any culture when the milk is warm enough.
You can replace Rice flour with Arrowroot /Tapioca flour
Adding flour reduces the raw smell of groundnuts and makes thick curd.
*Curd starter:
Take  1/3 C (80ml) milk. When warm, add 6 green OR red chillies with stems. Set for 12 hrs/overnight.
Pl note that Chilli stems are a 'must'.
Non-vegans can skip this step and directly set the entire milk with diary curd
You can check for many recipes using groundnut curd here