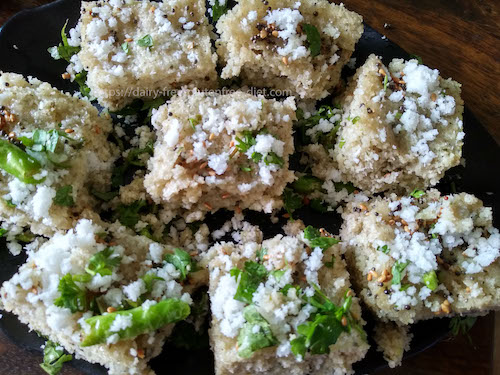 21 Oct

Millet Dhokla / Gujarati Dhokla

Though a popular Gujarati Snack, Dhokla has found its way in all cuisines across the country. Normally made with Chick pea flour (besan) / Rawa, its quite a healthy snack being steamed one. I have made Barnyard Millet Dhokla instead of usual besan.

Try this crumbly soft Millet Dhokla for your breakfast or as an evening snack with tea.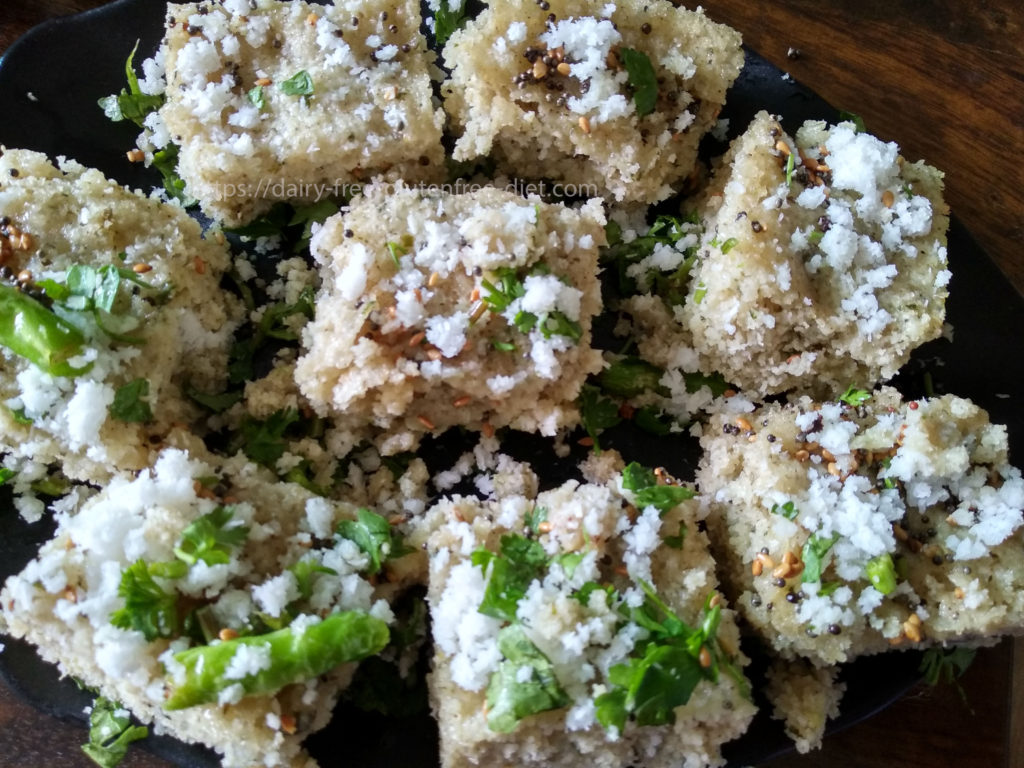 Ingredients: 
1/2 cup Barnyard millet
3 tablespoon Sago (Sabudana)
1 cup groundnut curd (you can use normal curd if you want)
2 green chillies
1" piece ginger
Salt to taste
1 teaspoon Eno fruit salt
1 tsp jaggery powder and 1 tsp lemon juice mixed in ¼ cup water
Tempering:
1 tsp oil
1 tsp mustard seeds
1 tsp white sesame seeds
2 green chillies slit
Garnishing:
1 tablespoon fresh grated coconut
1 tsp chopped coriander
Direction:
Dry grind the Barnyard millet and Sabudana in a mixer to a fine but coarse powder, as in fine rawa. (This can be stored in an airtight container for future use).
Take the millet rawa in a bowl and mix the curd and salt.
Pulse the chillies and ginger to a coarse paste and add it to the mixture. Rest for 15 minutes.
Check the consistency after 15 minutes. It should be like idli batter. If its too thick, add some water.
Boil the water in a steamer.
Mix Eno fruit salt to the batter, give it a quick stir and immediately pour it in an oiled a plate or container and steam for 10 to 15 minutes. If a toothpick inserted comes out clean, dhokla is done.
Let it cool.
Make the tempering and add the water with lime and jaggery on it.
Spoon this mixture on dhoklas, cut into squares and garnish with coriander and coconut.
This quantity of flour gives 10 dhoklas.