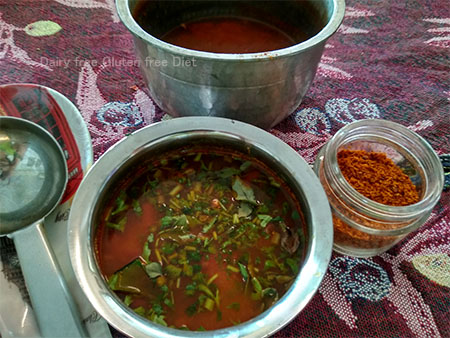 14 Dec

Resplendent Rasam 1— Mysore Rasam
Rasam 
This South Indian delicacy needs no introduction. It is so popular that it has gained entry into all households & all cuisines. Everyone knows that it is a thin soup of tamarind, tomatoes, asafoetida and few spices. But do you know how many kinds of rasams are there?
This series of Rasam that I would be publishing regularly will give you the answer. As I go on discovering, I might dig up more than what I know personally. So I'm not going to commit to any answer to that question myself right now.
However, I can tell you that there are rasams with therapeutic value like the Kandanthippili rasam which I posted recently, there are rasams that dispense cold & fever, there are rasams that aid digestion… the list goes on.
To sum up, the first in this series is Mysore Rasam, which is a cross between sambhar and regular rasam. To say the least, It tops the list. Shall I say it is the King of Rasams? Because this Royal Rasam finds place in the menu on special days or weekends.  Kudos to whoever discovered it. I'm sure they must've had a real good penchant for taste and high creativity.
Here it goes.
Ingredients you need:
One small gooseberry sized ball of tamarind / 1 tbsp tamarind paste
¼ tsp Asafoetida
1 tomato cut into medium size bites
Salt to taste
2 tbsp boiled tur dal
Dry roast the following:
1 tbsp Coriander seeds
1 tbsp Channa dal
3 dry red chillies
½ tsp black pepper
1 tsp cumin seeds
2 tbsp grated coconut
Tempering:
1 tsp oil
1 tsp mustard seeds
Sprig of curry leaves
1 dry red chilli (optional)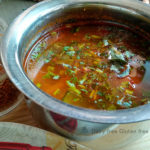 Print Recipe
Resplendent Rasam 1—Mysore Rasam
This recipe uses the standard measuring cups. 1 cup=250 ml
Instructions
Soak tamarind in 2 cups water and extract the pulp. If you are using tamarind paste, add 2 cups water and dilute.

Add asafoetida, salt and tomatoes and boil till tamarind loses raw smell and tomatoes are cooked.

In the meantime, dry roast coriander seed, channa dal, red chillies and pepper till they give nice aroma. Switch off flame, add cumin seeds and grated coconut and roast in the retained heat for few minutes.

Coarsely grind to a powder. It yields 6 tbsp powder.

Add 3 tbsp to the boiling rasam.

Mash the tur dal with 2 cups water and add to the rasam and continue to boil on low flame.

When you see froth around the sides, remove from fire. Do not over boil after adding dal water.

Heat oil and add the tempering ingredients. Once they crackle, pour it on rasam. Garnish with Coriander leaves.
Notes
The quantity of ingredients for roasting yields 6 tbsp of rasam powder. Though 1 have suggested to use 3 tbsp, adjust according to your spice level.
The spiciness of this powder depends on the chillies you use. I use Byadgi chillies which is spicy and lends good colour too.
Normally ONLY ghee is used to temper rasams. By default, I have used oil. However, you are free to use ghee. 
Traditionally rasam is prepared in a special vessel made of high class lead called 'Eeyachombu" which lends an authentic flavour to it. As this is a very rare commodity, you can make it in any normal vessel. 
Serve hot with rice or drink hot like a soup.